Denmark: Students Learn Falun Dafa in Folkeskole
Jan. 9, 2018 | By a Danish practitioner
(Minghui.org) When a practitioner in Copenhagen, Denmark, called a teacher during the holiday to wish him a Happy New Year, the teacher excitedly said, "Our kids liked learning the exercises very much! Could you come back and help more students learn?"
This teacher had invited several practitioners to teach the Falun Dafa exercises to two 9th grade classes in the Folkeskole public school system during the previous semester. Forty-five students learned the exercises, and the response was very positive. More teachers and students heard about it, and were interested in learning the meditation system that improves mind and body.
This time, the practitioners visited three 7th grade classes, totaling over 70 students and teachers. They first played an introductory video in which a few practitioners told their own stories about the physical and spiritual benefits of Falun Dafa. The audience watched attentively and were eager to give it a try.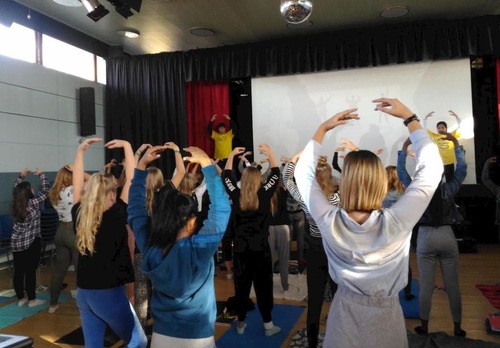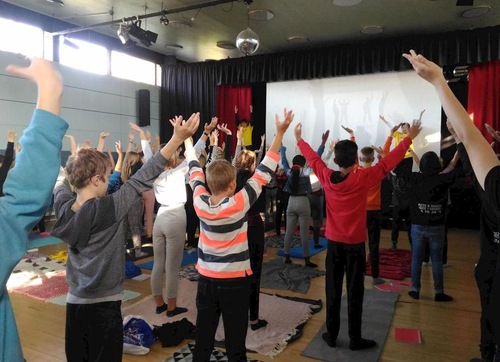 Seventh grade students in Copenhagen, Denmark learn the Falun Dafa exercises.
After playing the exercise instruction video by Mr. Li Hongzhi, the founder of Falun Dafa, two practitioners performed an exercise demonstration. Marco explained in Danish step by step and corrected the movements for some of the students and teachers.
Marco explained that consistent with traditional Chinese culture, Falun Dafa practitioners follow the principles of Truthfulness-Compassion-Forbearance. He shared his experience of how to apply the principles in daily life.
During a subsequent discussion, many students said that they agreed with these principles. One student said, "If we can follow these principles with everyone we meet, either at home or at school, this world will be a much better place."
During the break, one practitioner taught the students how to write the words Truthfulness-Compassion-Forbearance in Chinese. The students were curious and put much effort into it. Some wrote very well and wrote the Chinese pronunciation in pinyin along with the Danish translation next to the Chinese characters.
A practitioner presented a slideshow after the exercise instruction, which described how the Chinese communist regime had suppressed the group during the past 18 years, along with the global support received to help stop the persecution.
At the end of the event, the practitioners gave each student and teacher a hand-made paper lotus flower, with a bookmark containing the words Truthfulness-Compassion-Forbearance. A practitioner explained that the lotus flower represents happiness and purity, "and we practitioners constantly improve our mind nature just like lotus flowers maintain their beauty while rising from mud." The students were very impressed and also took Falun Dafa pamphlets to their parents.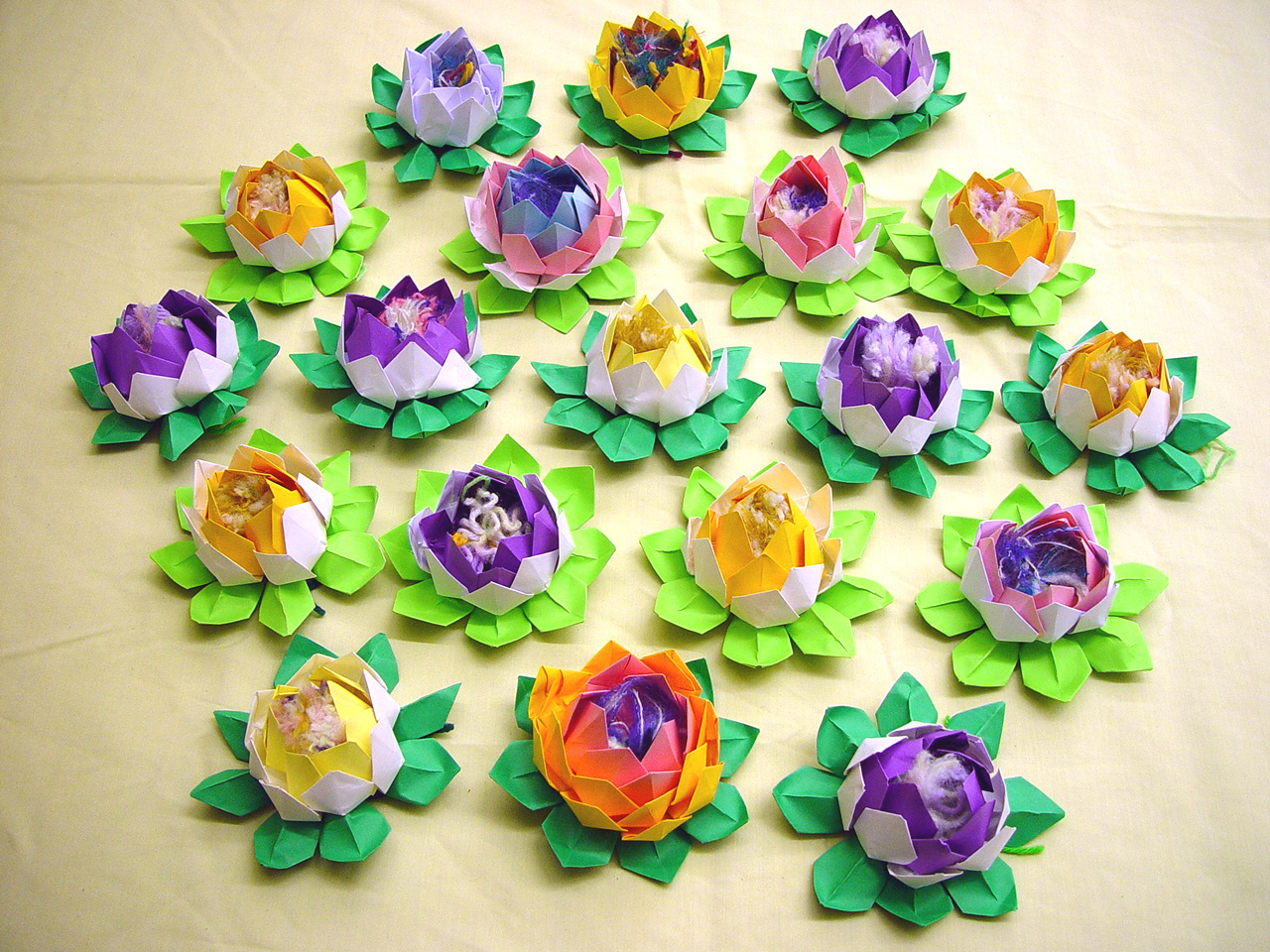 Hand-made lotus flowers made by Falun Dafa practitioners.
Upon leaving, the practitioners said farewell to the teacher who organized the event and gave her a copy of the book Falun Gong. The teacher thanked them and said it was a very meaningful day for her and the students.