Falun Gong Practitioners in Taichung Thank Master Li for Renewing Their Lives
January 04, 2018 | By Minghui correspondent Xia Jun
(Minghui.org) On New Year's Day, hundreds of Falun Gong practitioners in the Taichung area held a group exercise demonstration in front of the city hall.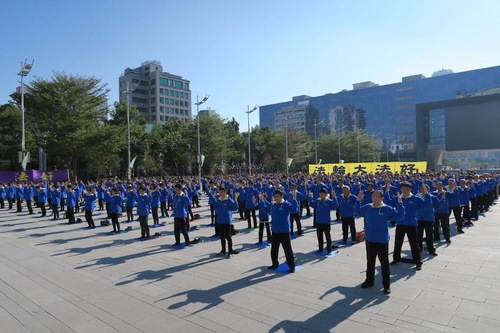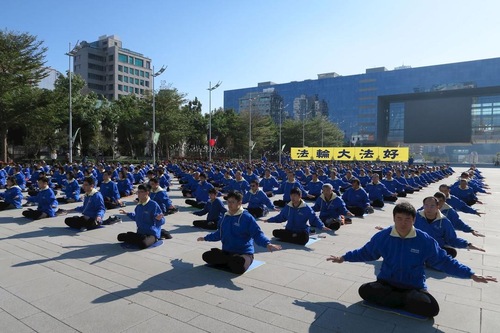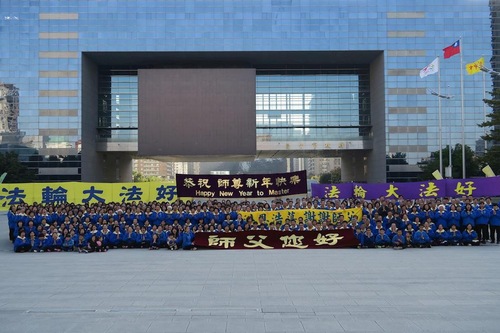 The banner in the front row says: "Greetings, Master"
After the exercises, some of the attendees shared their experiences of practicing Falun Gong and how they have benefited from it physically and spiritually.
Liu Yugui thanked Master Li Hongzhi (the founder of Falun Gong) with tears. She recalled her life 14 years ago: "I had diseases everywhere: my heart, eye, shoulder, and digestive system. I had jars of medicine," Mr. Liu said, "I also had a short temper and often fought with my wife."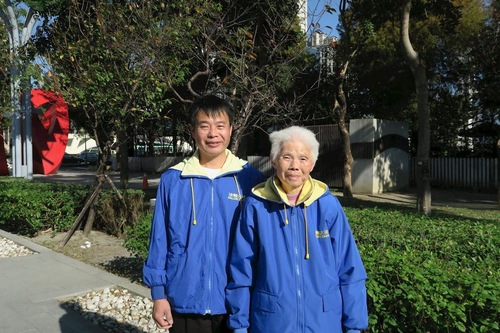 Mr. Liu Yugui and his mother, Liuhuang Yuye
Mr. Liu started to practice Falun Gong in 2003. One week later, he found that many of his illnesses were gone. He didn't feel tired after working for a long time.
"I felt that I had a new body," he said, "and I made up my mind to practice forever."
"My temper was improved, too. The relationship between me and my wife became harmonious. I got along well with my mother-in-law and my neighbors. They also said I was a different person."
Mr. Liu's 80-year old mother, Liuhuang Yuye, also joined the group exercises. A few months of practicing healed her diseases. She no longer needed the medicine that she previously relied on for sleep and energy.
"I often had pains everywhere. I had no energy to walk. But now, I can climb four flights of stairs with no problem," she said, "I have practiced Falun Gong for 11 years. I really appreciate everything Master Li has done for me."
Lin Enru, who started to practice three years ago, could not help her tears when she talked about what Falun Gong has brought to her: "I just wanted to give it a try at the beginning. But two months later, I found that my stomach and nose problems were healed. I also changed my attitude towards others. I no longer complain about others at work. Instead, I try to be kind to everybody," Ms. Lin said.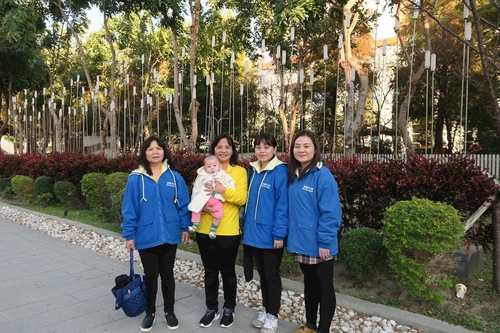 Ms. Lin Enru (second from left) and her daughters, Gu Yiqin (right) and Gu Zhiling (second from right)
Ms. Lin's daughter, Gu Zhiling, told of a similar change: "Now, I can treat everything around me peacefully," she said, "I used to have a competitive mentality towards everything, but now I would first calm down and look inward for my own shortcomings when conflicts occur."
She said, "Before, I always insisted on my opinions and had co-workers follow me. But now, I would listen to others and not be attached to myself. When I let go of my own desires, people around me have also become friendlier."
Ms. Gu said, "I feel fortunate because I found the truth."
Her sister, Gu Yiqin, started to practice four months ago. She also believes that Falun Gong has changed her temper: "If somebody cursed me, I would always curse back. But now, I would look inward and see if it was my fault," she said.
All of these practitioners had one feeling in common: they started to practice too late.