Pingtung, Taiwan: Tian Guo Marching Band Praised in Red Bean Festival
January 03, 2018 | By a Falun Dafa practitioner in Taiwan
(Minghui.org) The Tian Guo Marching Band performed on December 30, 2017, at the Red Bean Festival where it received warm feedback from both spectators and local officials.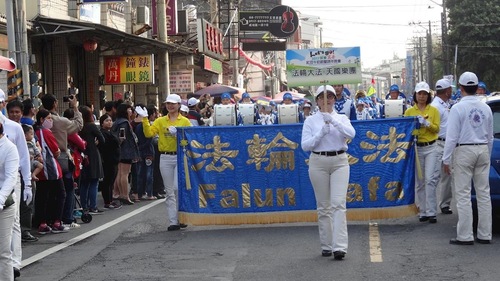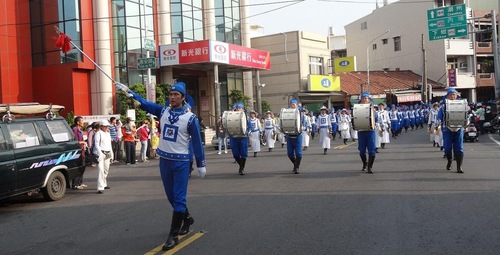 Tian Guo Marching Band performing at the Red Bean Festival.
Located in Pingtung of Southern Taiwan, Wandan Town has an economy that is largely based on agriculture, especially high-quality red beans. The annual Red Bean Festival, an event first launched in 2006, not only celebrates this product's success, but also draws a large number of tourists.
This year's festival coincides with the New Year holiday, making it especially popular among local residents and tourists. Among many participating groups, the Tian Guo Marching Band was well received by spectators. Throughout the parade from Wandan Elementary School to Wandan Park, the band was warmly applauded wherever it went.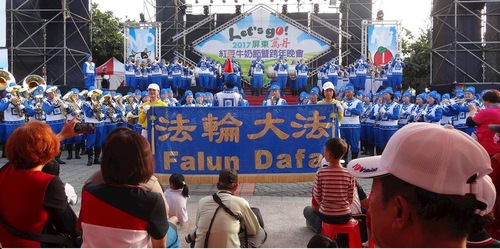 Performance on stage.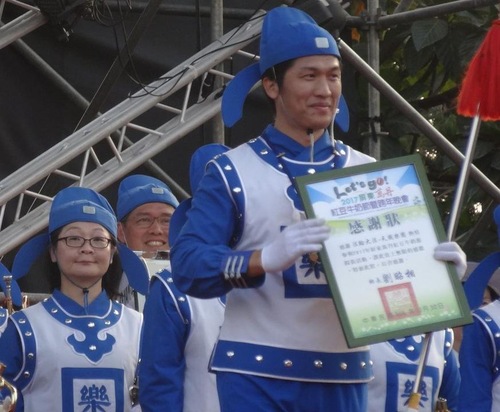 Band director accepted a reward for the band.
Liu Shaoxiang, head of Wandan Town awarded the band for its participation and performance. Another officer in Pingtung, Mr. Chen from Household Registration Office, praised the band and its 200 plus members, "This is the largest group and it is well coordinated."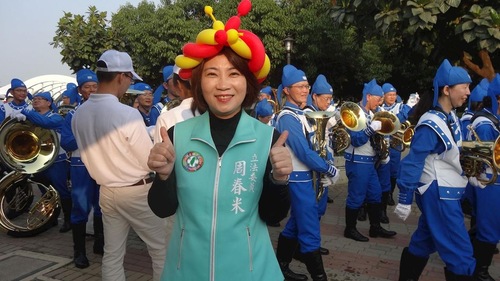 Zhou Chunmi, a member of the Legislative Council, thanked practitioners for their contribution to the community.
Legislative Council member Zhou Chunmi said she liked the band very much: "It performed unbelievably well." She was glad that band members live by the principles of Truthfulness-Compassion-Forbearance, and said such a synergy is important for Taiwan.
Many spectators including community leaders visited the Falun Dafa booth. They took informational materials and asked how they could learn the exercises.
The band members were also glad to celebrate this special occasion with the community. Ms. Ma from Taoyuan in Northern Taiwan said this was the fourth time for her coming to the Red Bean Festival. "It was a long trip for me, but I am very happy that more people could hear about Falun Dafa and the principles of Truthfulness-Compassion-Forbearance," she added.
Ms. Lin, another member, is a graduate student at National Taiwan University in Taipei. Her entire family practice Falun Gong, and they have benefited from the practice both physically and spiritually. "Falun Dafa teaches me to get along well with other," she explained, "I hold these principles closely in my heart."