Guangdong Woman Appeals Guilty Verdict
January 22, 2018 | By a Minghui correspondent in Guangdong Province, China
(Minghui.org) A Maoming City resident was sentenced to 2 years in prison and fined 3,000 yuan after two court appearances.
Ms. Cao Junyi, 56, was arrested on July 6, 2017 after being reported for tearing down a poster defaming Falun Gong, a mind-body practice being persecuted by the Chinese communist regime.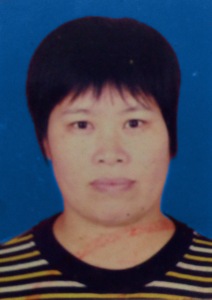 Ms. Cao Junyi
Ms. Cao first appeared in court on January 11, 2018. Her sentencing hearing was held five days later, and judge Jiang Guowei convicted her in less than 20 minutes. Ms. Cao hired a new lawyer and is appealing her case.
Lawyers Refute Prosecution Evidence at First Hearing
The first hearing of Ms. Cao was held in a room in the Maoming First Detention Center, where she remains. There were 20 seats in the makeshift courtroom, but only her husband, their two sons, and her cousin were allowed to attend the trial.
The road in front of the detention center was blocked, with more than four dozen plainclothes officers pacing around. Ms. Cao's family saw about ten heavily armed police officers standing directly outside the room where the hearing was held.
The two prosecutors presented four pieces of prosecution evidence: First, Ms. Cao gave her husband's sister a Falun Gong book ten years ago. Second, Ms. Cao ripped down the anti-Falun Gong poster. Third, police found many Falun Gong books in Ms. Cao's home. Lastly, Ms. Cao was once given forced labor for refusing to renounce Falun Gong.
Ms. Cao's two lawyers refuted the prosecution evidence. They pointed out that no law in China criminalizes Falun Gong and that their client should never have been arrested for exercising her constitutional right to freedom of belief. Therefore, her forced-labor term in the past was a violation of her legal rights. There was also nothing wrong with her owning and sharing Falun Gong books. As for the poster, Ms. Cao had every right to address false propaganda against Falun Gong.
Determined to Fight for Justice after Sentencing Hearing
The second hearing was also held in the detention center. Ms. Cao's family members were again present to support her.
Judge Jiang announced a guilty verdict against Ms. Cao in less than 20 minutes. She soon hired a new lawyer to help appeal her case. When the lawyer met with Ms. Cao on January 19, 2018, she expressed her determination to fight for justice.
Related Article in Chinese:广东茂名曹君艺、朱石雄被非法庭审
Related Report:Ms. Cao Junyi Arrested, Family Threatened