Woman Detained for Practicing Falun Gong, Citizens from Her City Call for Her Release
September 08, 2017 | By a Minghui correspondent in Shandong Province, China
(Minghui.org) Falun Gong practitioner Ms. Li Yujun from Longkou City in Yantai City experienced a relapse of her allergic subsepsis after being detained for over a month for her belief in Falun Gong. (Allergic subsepsis is a rheumatic disease that has similar symptoms as sepsis.)
Citizens of Longkou City signed petitions calling for her release. Over 500 people signed the petition in less than 20 days.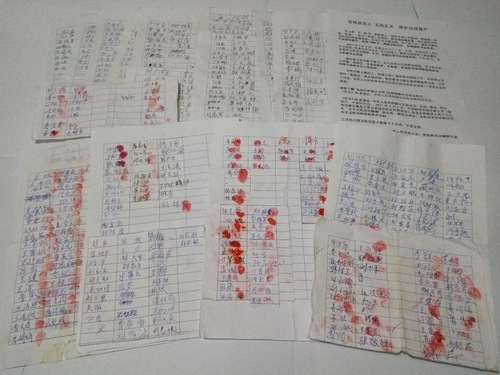 More than 500 signatures collected calling for releasing Ms. Li Yujun
Ms. Li is 63 years old and is a resident of Zhugaolu Village, Xinjia Town. She had many illnesses, and could not take care of herself. After she began to practice Falun Gong in 1996, her illnesses disappeared.
Several officers from the Xinjia Police Station went to her home on July 5, 2017, and found Falun Gong books and informational materials. They called domestic security policeman Guo Fudui, and they arrested her. They took her to the Yantai Detention Center the next day.
In the detention center, about 17 inmates were held in a small cell. Each person had only a couple of square feet of space to move around. There was no air-conditioning, in spite the blistering summer temperatures. She was not able to do the Falun Gong exercises in the detention center, and the symptoms of allergic subsepsis reoccurred, which were very painful. She passed out and fell.
Her case was submitted to the Longkou Procuratorate on July 13, who approved her arrest and returned her case file to the Longkou Domestic Security Division on July 20.
Her lawyer tried to reach the domestic security officers and procurator responsible for the case, but was given the runaround.
The domestic security division resubmitted her case to the Longkou Procuratorate on July 31.