Chicago: Falun Gong Float the Finale of Naperville Labor Day Parade
September 06, 2017 | By a Falun Gong practitioner in Chicago
(Minghui.org) Falun Gong practitioners participated in the annual Labor Day Parade held in Naperville, a suburb of Chicago on September 4, 2017. The Falun Gong contingent, as the finale of more than 80 parade entries, displayed the serenity and joy of Falun Gong (also known as Falun Dafa) to local residents.
Naperville is located 30 miles southwest of Chicago. Its great neighborhoods and school districts make it popular among affluent Chinese, with an Asian population of 12.7 %.
The Falun Gong group's procession included dozens of practitioners who gave spirited performances on traditional Tang Drums.
Following the drummers was a beautifully decorated float covered with origami lotus flowers, on which practitioners demonstrated the Falun Gong exercises, or performed traditional Chinese dance.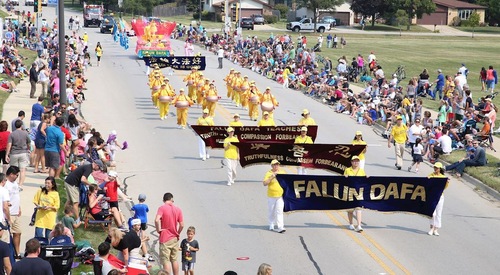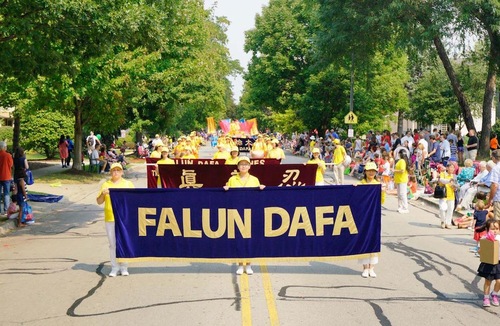 Falun Gong contingent in the Labor Day Parade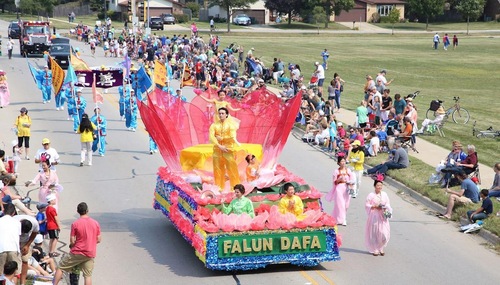 Exercise demonstration on the Falun Gong float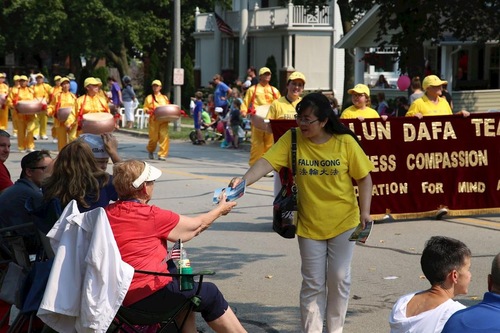 A practitioner passes a flyer to a spectator
Mr. Liu, a Chinese resident in his 80s, watched the Falun Gong procession pass by with great interest. He exclaimed, "I feel it's amazing [seeing Falun Gong in the parade]!" He said it was the first time since he came to the United States that he saw such a large Falun Gong contingent in a parade.