Sweden: Experience-Sharing Conference Benefits Attendees
September 06, 2017 | By Minghui correspondent He Ping
(Minghui.org) The 2017 Sweden Falun Dafa Experience-Sharing Conference took place in Stockholm on September 3. Twelve practitioners presented papers, sharing their understandings and experiences from studying and applying the teachings of Falun Dafa.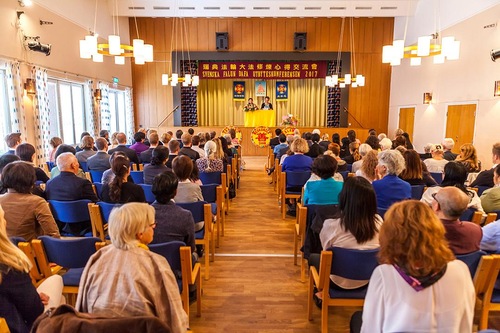 The 2017 Sweden Falun Dafa Experience-Sharing Conference in Stockholm on September 3, 2017.
Coordination Work Is Essentially Cultivation Practice
Ms. Wang, a volunteer coordinator, has practiced Falun Dafa for a long time and was a part of it when the practice was first taught in Sweden.
When Master Li came to Sweden in 1995, Ms. Wang saw that Master was very patient when talking with Western practitioners or teaching them the exercises. But seeing so many things to do, Ms. Wang could not maintain a good attitude and sometimes failed to be considerate. "Once Master pulled me aside and told me that others are fellow practitioners of mine, and some of them had cultivated better than me. Master told me to treat them well; otherwise, I would regret it later. Through the years, I always kept Master's words in my mind. When I was impatient towards other practitioners, I would feel guilty," she said.
Ms. Wang also came to understand that we cannot just focus on results, as the process is part of cultivation. She also began to better see the strength of other practitioners as well as her own shortcomings. "It took me a long time to learn how to interact with and communicate with Western practitioners. Later when contacting government officials, we were able to encourage each other, and let go of pursuit and attachment to comfort. This way, we are able to cultivate more genuinely, with a pure heart," she said.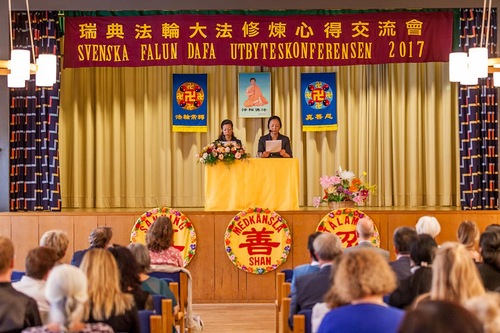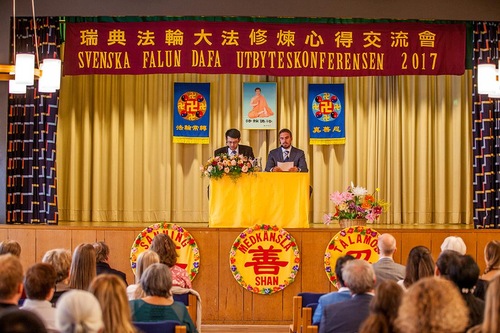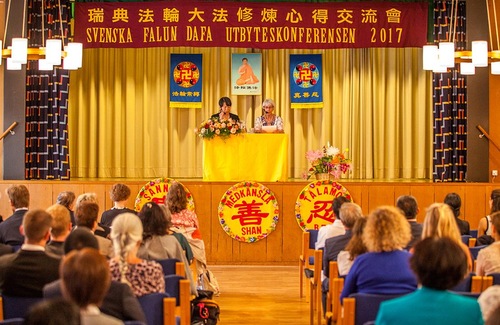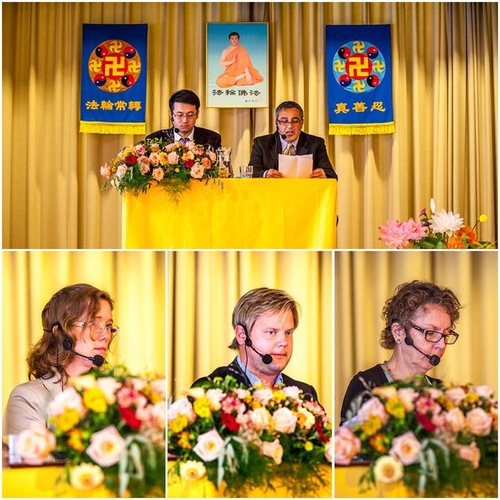 Twelve practitioners discussed their experiences with simultaneous translation.
Looking Within
Anders, another practitioner who has practiced Falun Dafa for over 20 years, shared his experience of looking inward during hardships.
Three weeks before his company filed for bankruptcy, Anders experienced severe itchiness on his legs, which made it hard to fall asleep. "The itchiness did not stop even after the company went bankrupt. With little sleep every day, I felt tired most of the time," he said. His frustration also affected his relationship with his coworkers, and they hardly spoke with each other for a few months.
Anders realized it was time for him to look inward to check if he had follow Falun Dafa principles, "Thinking back on my words and actions, I noticed I had strong ego in certain areas. Interestingly, the more I considered these cultivation issues, the better I could see through the situation at the company." Gradually, he changed his mindset and took initiative to talk with his coworkers. They were able to laugh together and he noticed many strengths in them that he had not seen before.
"Once I resolved the conflict with my coworkers, I realized that the itchiness on my legs was gone," he shared.
An Interview
Tobias often met politicians during the annual political forum Almedalen Week in the city of Visby and told them about Falun Dafa and the persecution in China. "Through the years, I have found that when I am able to let go of attachments, the environment around me also changes. Without human notions, I did not feel the pressure and many opportunities arose," he added.
During Almedalen Week this year, a radio station invited him for an interview, but he needed to arrive within one hour.
Despite having had little preparation for radio station program, Tobias had a strong will to reach more people with the information about Falun Dafa and not to let anything interfere with this. "With this thought, a lot of interference was cleared away," Tobias said.
From this and other projects he worked on, Tobias said he could feel his attachments being exposed and pulled out from the root. "In my heart, I also became more sincere. Now I know that, we have to face attachments when they surface, instead of evading the problem. This way, we can eliminate them fundamentally. I am so grateful for Master's help," he added.
A Mirror
Cecilia talked about a xinxing conflict she had with another practitioner. "We used to work on one project for a long time, plus group Fa-study and Dafa activities." One day, however, that practitioner angrily left the project that Cecilia led. This made Cecilia confused because she did not notice anything wrong before that.
"I began to reflect on what had happened," Cecilia said. She then realized that she had the same attachment as the other practitioner, "That is, if I do not get what I want, I would get upset and frustrated. To some extent, that practitioner is like a mirror that reflects my own problem," she said. Since then, she paid attention to things that made her angry on a daily basis and she was able to make progress.
As Cecilia continued to work on her attachment, one day she found that the relationship between herself and the other practitioner had returned to normal, as if nothing had happened. From this she learned that, "Cultivation really means I have to look within and improve myself."
Practitioners who attended the conference that the practitioners' sharing was very beneficial. "I have felt even more that cultivation is sacred and wonderful," said one practitioner.
Another practitioner said, "Through the sharing today, I now see areas where I fall short and I am determined to catch up!"