Police Travel 1,500 Miles to Arrest Falun Gong Practitioner
September 05, 2017 | By a Minghui correspondent in Heilongjiang Province, China
(Minghui.org) Police in Wuxi, Jiangsu Province traveled more than 1,500 miles to Mudanjiang, Heilongjiang Province in May 2017 and arrested Falun Gong practitioner Ms. Zhang Yulian, who was caught on surveillance camera posting information to the public about the persecution of Falun Gong while visiting her daughter in Wuxi in April 2017.
According to source, the Domestic Security Division in Wuxi arranged the long-distance arrest of Ms. Zhang mainly to fulfill their arrest quota.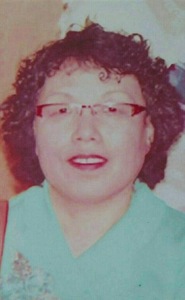 Ms. Zhang Yulian
Two officers from Wuxi and a few officers from Mudanjiang waited all day outside of Ms. Zhang's apartment building on May 25, 2017. They turned off her electricity in the evening. While Ms. Zhang came out to check on her electricity, the police broke into and ransacked her home.
Ms. Zhang was arrested and kept at Mudanjiang Detention Center before the police took her back to Wuxi on May 27. She was detained at Wuxi's No.2 Detention Center.
Ms. Zhang's husband was traumatized by the police's sudden raid and dared not to stay at home by himself.
The procuratorate in Wuxi soon approved Ms. Zhang's arrest and also accepted the case submitted by the police.
Ms. Zhang's lawyer visited her at the detention on August 22, 2017. She appeared to be in good condition.
Ms. Zhang was seen by the neighborhood security personnel on the surveillance camera while posting the information in Wuxi in April 2017. The security staff followed her and reported her to the police.
The police harassed her at her daughter's home and confiscated her ID. After that, Ms. Zhang went back to Mudanjiang, Heilongjiang.