Falun Gong Events in New York City and Los Angeles
September 04, 2017 | By Minghui correspondent Cai Ju and a practitioner from Los Angeles
(Minghui.org) For years Falun Gong practitioners have been a visible part of the community, taking part in local parades, health expos and seasonal festivals throughout the year. Practitioners also maintain a presence at public parks, tourist spots and neighborhoods, to introduce this traditional mind-body-spirit self-improvement discipline from China. This report covers recent activities in New York and Los Angeles.
New York City
Since June, practitioners from the New York City and New Jersey areas have been coming to the Chinese community in Brooklyn, to demonstrate the exercises and hand out informational flyers. They have been warmly welcomed by many in the neighborhood.
Fifty practitioners do the exercises together at a park in the Bensonhurst neighborhood of Brooklyn.
Ms. Chen from Bensonhurst, the second largest Chinese neighborhood in the New York City area, learned about Falun Gong this year and took up the practice. She often tells her neighbors and friends about the benefits of Falun Gong.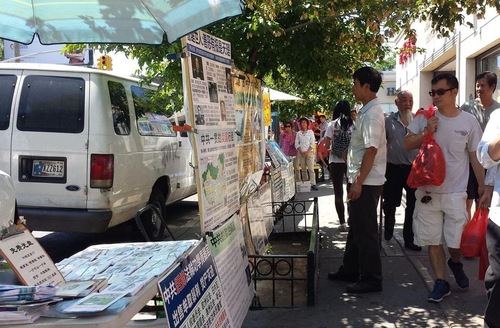 Falun Gong practitioners' informational booth on Eighth Avenue, Brooklyn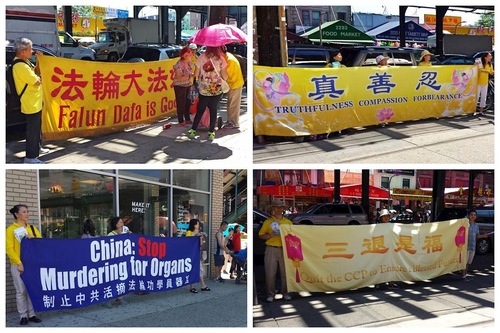 Falun Gong banners in Bensonhurst
A Major Change in Attitude
When practitioners first began to clarify the truth in the area, many ethnic Chinese were wary and even hostile toward Falun Gong due to the onslaught of negative propaganda produced by the Chinese Communist Party against Falun Gong. Over the years, however, most people have since had the opportunity to get to know practitioners and learn the facts about the practice and the persecution, and they have changed their stance from antagonistic to one of support.
A store owner, who 16 years ago would not allow practitioners to set up a booth outside of her store and even threatened to call the police, recently came out and asked practitioners for Falun Gong materials.
An older Chinese couple told practitioners that they received Falun Gong information, and they really appreciated reading it. The wife thanked the practitioners and asked them to come again the following week.
Another couple stopped by to pick up a copy of Zhuan Falun that they'd pre-ordered from practitioners. The husband said, "I have heard that Falun Gong is good for one's health. In China, we didn't get to learn about Falun Gong. Now we are here. We cannot miss this opportunity."
The couple was pleased to receive additional informational materials from practitioners.
Practitioners have maintained a booth on Eighth Avenue in Brooklyn for 17 years. Many Chinese have learned the truth from practitioners and support their peaceful resistance against the oppression in China. From time to time, however, there are still some people, presumably ordered by the Chinese Consulate, who come out to harass practitioners.
However, these bullies often meet with resistance from the local residents. Last weekend, a person tried to burn a practitioners' banner with a cigarette lighter. A Chinese passerby yelled at him, "Don't you dare! You cannot treat them this way!" The person quickly left. Another passerby comforted the practitioners, "That guy was sent by the Chinese Consulate."
Los Angeles
Practitioners in Los Angeles often go to local tourist spots to introduce Falun Gong to the public. Santa Monica Beach is a popular location where practitioners often gather.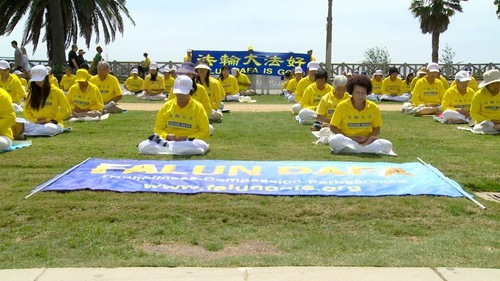 Group exercises at Santa Monica Beach on the last Sunday in August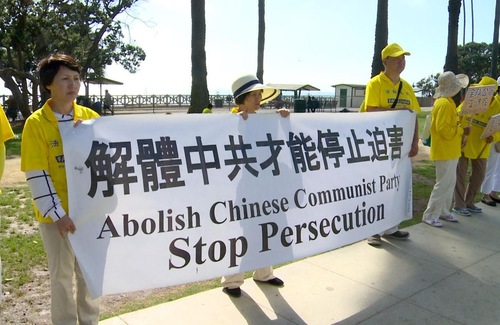 Banners inform the public about the persecution in China.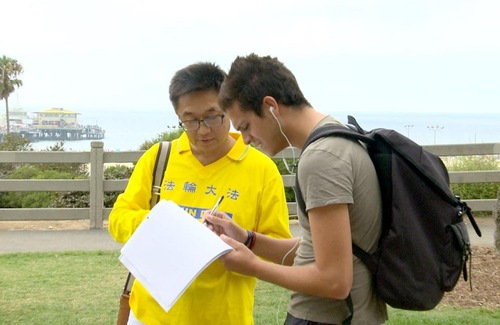 A passerby signs a petition to condemn the Chinese regime's state-sanctioned organ harvesting of prisoners of conscience.
Besides introducing the principles and benefits of the practice, practitioners also collect signatures on a petition to condemn the Chinese regime's forced organ harvesting of prisoners of conscience, the majority of whom are Falun Gong practitioners. The signature campaign has received a great deal of public support.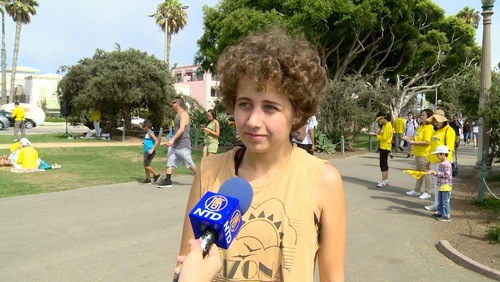 Katie, a student from England, strongly supports practitioners' standing up for freedom of belief.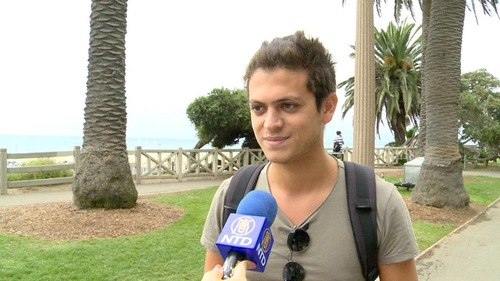 Jacob Saade from France said that people should actively help stop the forced organ harvesting.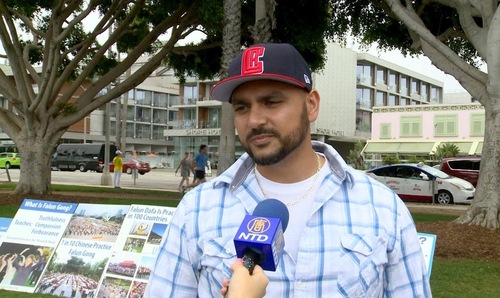 Mansor Jaber from Palestine said that people need to support each other when human rights are being violated.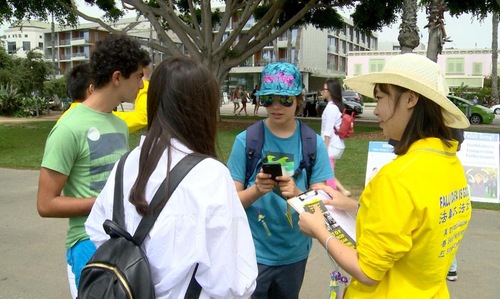 Fourteen-year-old Kainoa Kanter wants to make a short documentary about the practitioners' event, which she hopes will raise more awareness of the persecution in China. She is angry about the state-sanctioned organ harvesting and believes that everybody in the world should stand up against it. She signed the petition and said she would tell her friends about it as well. "This [petition] expresses our concerns," she said.