Introducing Falun Gong in Finland
September 04, 2017 | By a Falun Gong practitioner in Finland
(Minghui.org) Falun Gong practitioners in Finland had a busy end of August, taking part in various community events including the popular Night of the Arts in Helsinki on August 24th and Espoo Day on August 26th and 27th, 2017. Thousands of people, drawn to a diversity of arts, entertainment, sports and gourmet food, had the opportunity to learn about Falun Gong, a traditional Chinese discipline that cultivates mind, body and spirit.
Helsinki Night of the Arts
On August 24th, practitioners in Helsinki set up a photo display about Falun Gong around the world with information about the Chinese Communist Party's (CCP) persecution of this peaceful practice. They also demonstrated the Falun Gong exercises to the soothing exercise music. Many people stopped to learn more.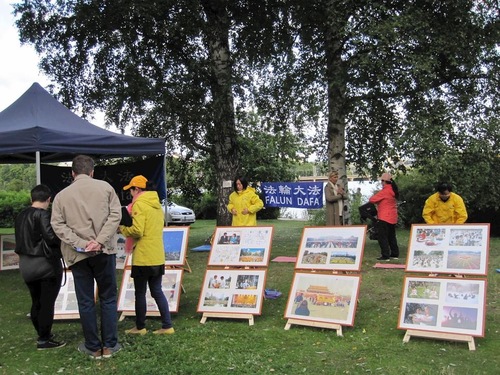 Practitioners introduce Falun Gong at the popular Night of the Arts festival in Helsinki.
An older woman from Sweden was fascinated by the photos of large groups of Falun Gong practitioners doing the exercises together. Her eyes filled with tears when she heard about the brutal persecution in China. She had heard about Falun Gong before and had signed a petition calling for an end to the persecution. She said, "I'm seventy-four. I would like to read the Falun Gong books and learn the exercises." She left with a beautiful hand-folded paper lotus flower and information about a local practice site.
Another woman became very interested in Falun Gong after she heard about its health benefits and its core principles of Truthfulness, Compassion and Forbearance. She learned the exercises right there at the booth.
Many other visitors read through the photo display and signed a petition calling for an end to the persecution.
Espoo Day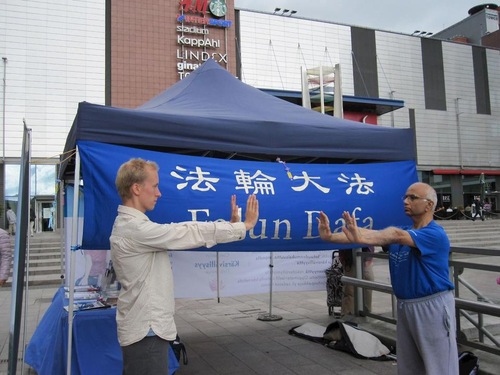 A man learns the Falun Gong exercise in Espoo, Finland.
Practitioners visited Espoo on August 26th and 27th for a major city-wide festival. Local residents were happy to learn about this traditional cultivation practice and the health benefits of Falun Gong.
A woman named Alja wondered, "How could the Chinese Communist Party stop people from doing an exercise that improves health and morality? I have to read the [Falun Gong] book." She signed the petition and took introductory flyers for herself and her friends.
Many people signed the petition along with Alja. They condemned the CCP's crimes and expressed their support for practitioners' efforts to bring an end to the persecution.