Toronto: Tourists at Queen's Park Learn About Ancient Meditation Practice
September 30, 2017 | By Minghui correspondent Zhang Yun
(Minghui.org) Groups of Falun Gong practitioners can often be seen meditating at Queen's Park in downtown Toronto. As one of the oldest urban parks in North America, it is a well-known historic site that attracts a large number of tourists every day.
Impressed by the serene environment and gentle exercise movements, many tourists took pictures or talked with practitioners to learn about Falun Gong.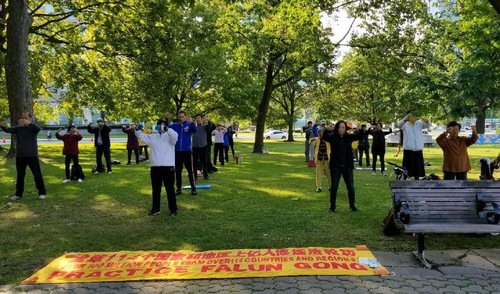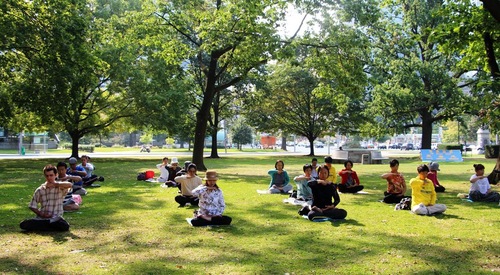 Falun Gong practitioners meditate at Queen's Park in downtown Toronto.
European Tourists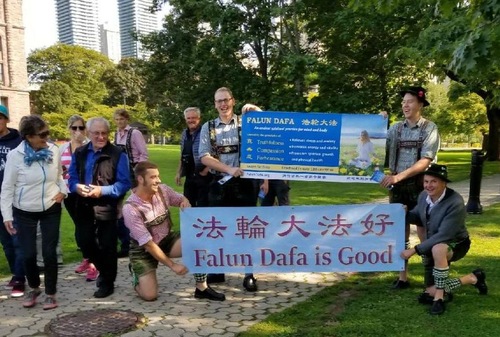 Tourists from Belgium take pictures with the banners.
"Recently, there have been many tour groups from Europe," said practitioner Ms. Wang. One group from Belgium was excited to see the practitioners. Each member of the group picked up a pamphlet and took a group photo with a banner reading "Falun Dafa is good."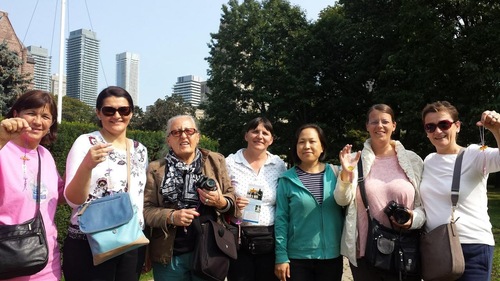 Tourists from Croatia took flyers and handmade paper lotus flowers before taking a photo with the practitioners.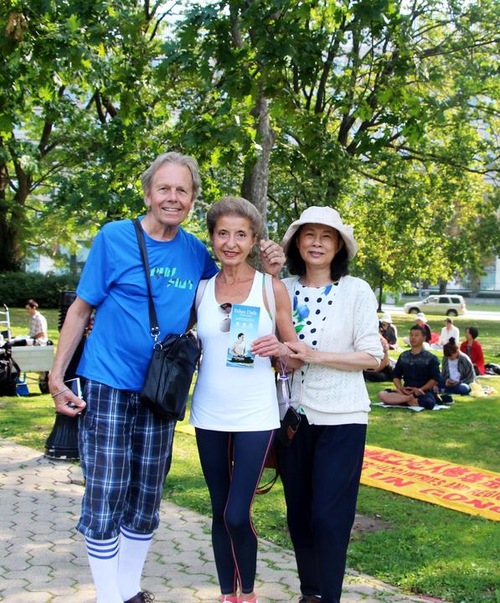 Per (left) and Ursula (middle), husband and wife, said they like the principles of Falun Dafa.
Per and Ursula, husband and wife from Norway, watched the exercises and took many pictures. "We have seen reports about Falun Gong back in Norway. We also saw the exercises at a park in Quebec. Glad to meet you again here," said Ursula. She likes both the exercises and principles of Falun Dafa. "Truthfulness-Compassion-Forbearance is the best for the world, for everyone, even for the universe," she added.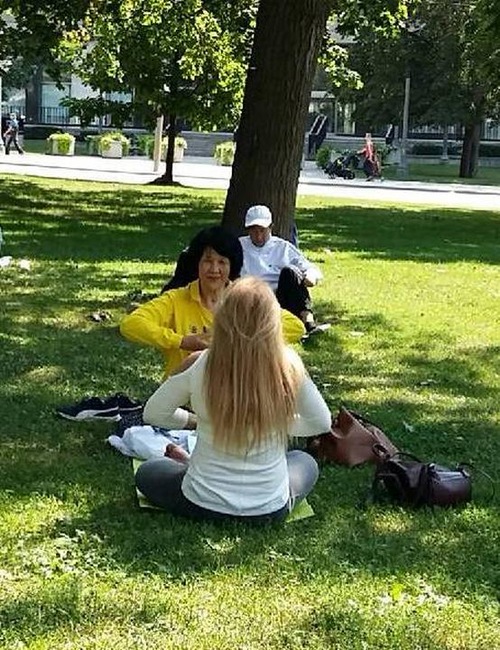 A woman learns the Falun Gong exercises from a practitioner.
Retired Chinese Government Official
Mr. Sun, a retired government official from Henan Province in China, came with his family. As practitioner Ms. Zhang began to tell him about crimes committed by the Chinese Communist Party, Mr. Sun raised his fist to hit her before his daughter stopped him. Ms. Zhang said calmly, "Please, first listen to me. I am a volunteer, and I am telling you this for your own good. You are the first one who has done this to me, but have you thought about why we continue to stand here and do this? It is because we are concerned about you and care about your future."
Mr. Sun's tone softened, "Keep talking, then." Ms. Wang then explained Falun Gong to him. "One of my friends believed in the government's propaganda and stopped visiting me after the persecution stated in 1999. Then, she left China with her son and was later diagnosed with uterine cancer. Her doctor said she only had three months left. It was her son who contacted Falun Gong practitioners and helped her learn the exercises. Her health quickly improved, and her cancer disappeared in one month."
They continued talking, and Ms. Zhang explained how the Communist Party defamed Falun Gong using fabricated cases, such as the self-immolation hoax on Tiananmen Square. They also discussed the state-sanctioned killing of practitioners for their organs in China. Mr. Sun was moved to tears and said, "How can something like this happen in China?!"
Upon learning that Ms. Zhang was nearly 70, Mr. Sun and his family were surprised. "Now I have seen with my own eyes how good Falun Gong is," said Mr. Sun. His family agreed to quit the Communist Party. Mr. Sun bowed and said, "This is a blessing for my family. Thank you!"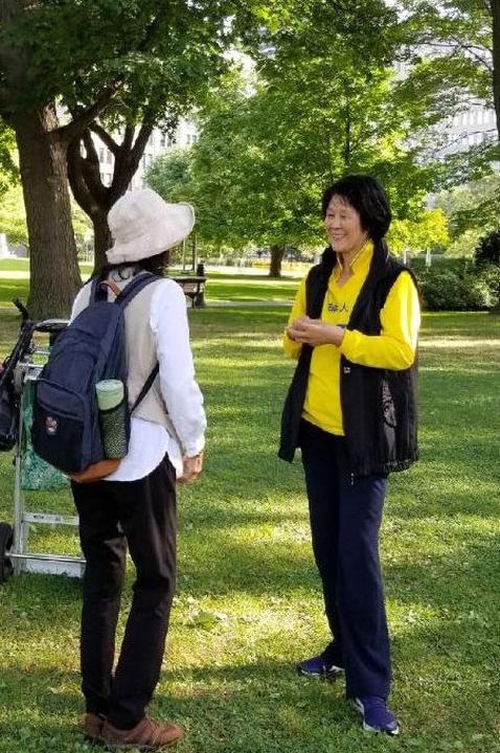 A Falun Gong practitioner talks with a Chinese tourist.
Chinese Students Spread the Message
Luan and Gao, two Chinese students studying at the University of Toronto, talked with the practitioners and both decided to withdraw their memberships in the Communist Party. Gao asked for a copy of the Nine Commentaries on the Communist Party and took some pamphlets. "I know some other Chinese students on campus, and I will give these to them," he said.
Ms. Wang, a Chinese Canadian working in downtown Toronto, recorded video of the scene and all the posters the practitioners displayed. She had previously talked to her parents about the Chinese Communist Party's violent campaigns, but they have not agreed to quit the Party yet.
"Both of them are Party members, and I really do not want them to sink with the regime. Hopefully these videos will help change their attitude," she said. "They are my parents, so I have to do this."