Falun Gong at Vienna Cross-Cultural Activity
September 29, 2017 | By a Falun Gong practitioner in Austria
(Minghui.org) Falun Gong practitioners in Vienna participated in a cross-cultural activity sponsored by the Korean Cultural Center on September 23, 2017. Visitors to the event had the opportunity to learn about this traditional cultivation practice from China.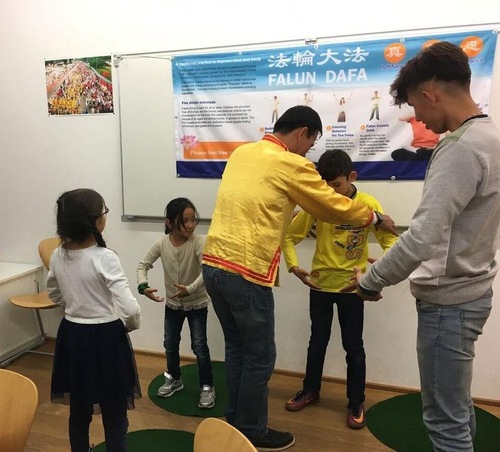 Visitors learn the Falun Gong exercises at a cross-cultural activity in Vienna.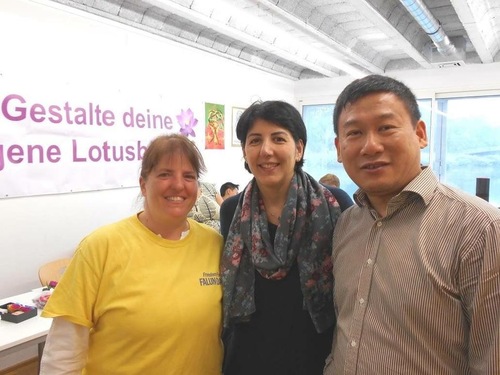 Ms. Safak Akcay (middle), Deputy to the Vienna Landtag, with Falun Gong practitioners.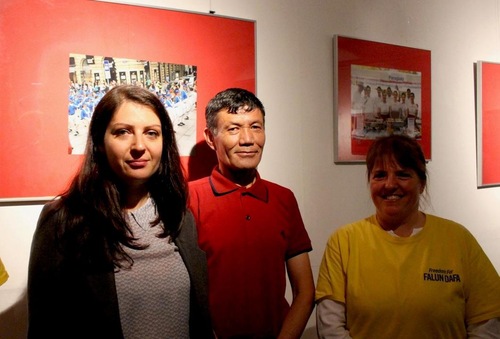 Ms. Muna Duzdar (left), State Secretary of the Federal Chancellery in Austria, has her photo taken with a photographer (middle) who has taken pictures of the Tian Guo Marching Band, and a Falun Gong practitioner at the Falun Gong booth.
The Falun Gong photo exhibit and exercise demonstration fascinated many visitors, and several people learned the Falun Gong exercises during the event.
A number of people had already heard about Falun Gong and the persecution of the practice in China. One woman said that she had watched a documentary on the Chinese Communist Party's organ harvesting from living Falun Gong practitioners. A Korean woman said that she was aware of the persecution of Falun Gong in China and had often seen practitioners peacefully protesting in front of the Chinese Embassy.
Ms. Muna Duzdar, State Secretary in the Federal Chancellery in Austria, attended the activity and visited with practitioners at the Falun Gong booth.
Practitioners also taught visitors how to make folded paper lotus flowers, a symbol of noble character in the face of adversity, and introduced the benefits and principles of Falun Gong cultivation practice. Ms. Safak Akcay, Deputy to the Vienna Landtag, was among those who enjoyed learning how to make paper lotuses.