1,361 People Sign Petition Calling for Ms. Zhang Guihuan's Release
September 26, 2017 | By a Minghui correspondent in Liaoning Province, China
(Minghui.org) Falun Gong practitioner Ms. Zhang Guihuan, from Jiumen Township, Liaoning Province, was arrested in July 2017 by the local police, and held in the Huludao Detention Center. More than 1,361 people have signed a petition calling for Ms. Zhang's release. The petitions have been submitted to the court.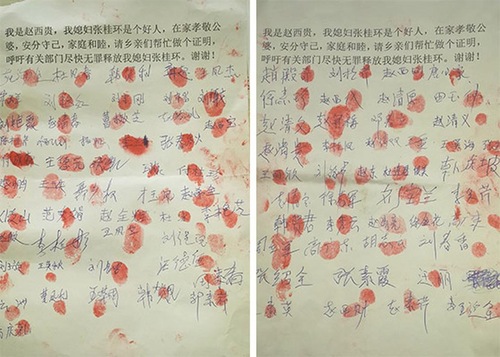 Signed petitions calling for Ms. Zhang's release.
Ms. Zhang, 58, began practicing Falun Gong in 2002. Prior to that, she had suffered from gastroptosis, which made it difficult for her to eat or lie down comfortably. She was often dizzy and could not work. Ms. Zhang also had a bad temper and often quarreled with her husband.
After she started practicing Falun Gong, her illnesses disappeared, and her family life became more harmonious.
Her father-in-law, 88, often praised her, "My third daughter-in-law is very caring. She is like my own daughter!"
Arrested and Tried
Ms. Zhang submitted a complaint against Jiang Zemin, the former Chinese Communist Party head who initiated the persecution of Falun Gong, with the Supreme Procuratorate in June 2015.
She was arrested by officers from the Jiumen Town Police Station at a farmer's market on July 14, 2016. Ms. Zhang was released on bail to await trial three days later.
She was arrested again on July 28, 2017 when she visited her mother, and was taken to the Huludao Detention Center.
Her most recent trial, on September 8, 2017 at the Xingcheng Court, was scheduled to begin at 8:30 a.m., but was delayed for 90 minutes without an explanation. Ms. Zhang was cuffed and shackled when she entered the courtroom.
The more than 30 family members and friends who had come to attend were told by judge Cui Baomin to leave because the trial was not open to the public.
Ms. Zhang's relatives stated that it was illegal to prevent people from attending a trial, according to Article 183 of Criminal Procedure Law and Article VIII of Court Regulation. In addition, they reminded judge Cui that he had already given them permission when they talked to him on August 24.
Cui responded, "When I ask you to leave, just leave. If you want to sue me, go ahead and do what you want."
During the trial, Cui repeatedly interrupted Ms. Zhang's lawyer, who entered a not guilty plea and requested her release. The trial ended abruptly without a verdict.