Falun Gong Popular at University of the West of England Welcome Fair
September 24, 2017 | By a Falun Gong practitioner in the U.K.
(Minghui.org) Falun Gong practitioners participated in the Welcome Fair at the University of the West of England on September 21, 2017. The fair gave new students the opportunity to learn about the more than 140 students organizations that they could participate in. Many students lined up at the Falun Gong booth to join the organization.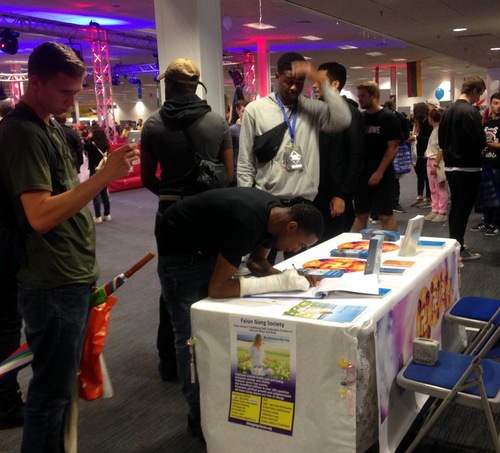 Students sign up for the Falun Gong student organization at the University of the West of England.
Severals students and university employees said that they could feel a strong energy from the Falun Gong booth and they were drawn to find out more about this traditional Chinese cultivation practice. Falun Gong turned out to be one of the most popular organizations this year, with more students joining than before.
A university staff member at a business booth told a Falun Gong practitioner, "There should be a regular course on Falun Gong at our university. It's what young people really need."
A student who had observed the Falun Gong booth for a long time asked a practitioner seriously, "What motivated you to teach it for free?" The practitioner told the student how he had personally benefited from the cultivation practice, and shared his wish to introduce this great practice to more people. The student was deeply moved by the practitioner's answer, and said that Falun Gong practitioners had made his day!