New York City: Practitioners Raise Awareness of Persecution During UN General Assembly
September 22, 2017 | By Minghui correspondent Cai Ju
(Minghui.org) Falun Gong practitioners came to One Dag Hammarskjöld Plaza on the morning of September 18, 2017, calling for a stop to the suppression in China, during the United Nations General Assembly.
The 72nd session of the UN General Assembly began on September 12 at its headquarters in Manhattan, New York, with the annual General Debate taking place on September 19-25. The theme for this year's debate is "Focusing on People: Striving for Peace and a Decent Life for All on a Sustainable Planet."
With group meditation, banners, and posters, practitioners urged world leaders to pay attention to the 18-year-long persecution in China, and help stop these severe human rights violations.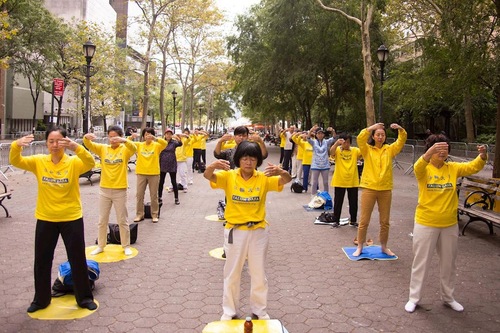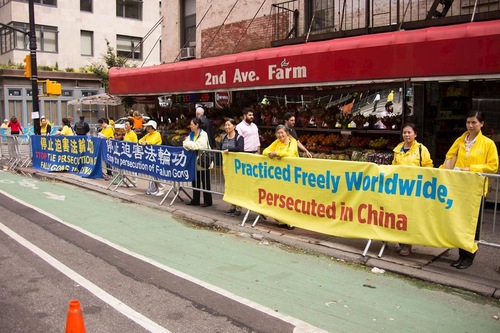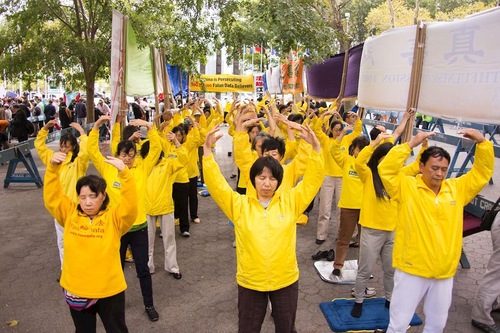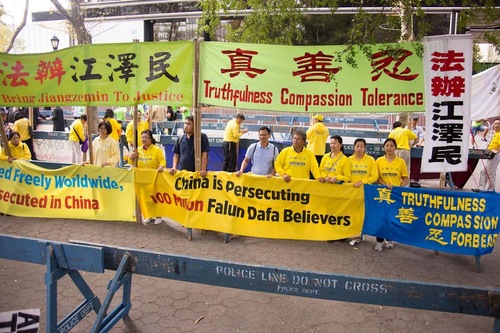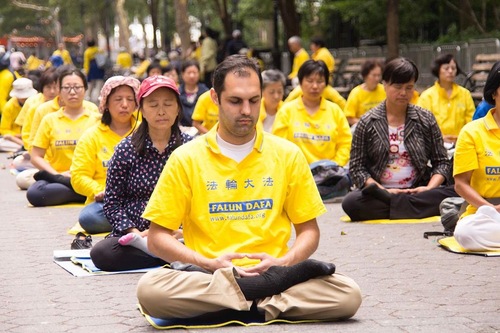 Group exercises and banners from Falun Gong practitioners during the UN General Assembly.
Blessings to the World
Ms. Yi Rong, president of the Global Service Center for Quitting the Chinese Communist Party (CCP) in New York, said that the principles cherished by Falun Gong practitioners—Truthfulness, Compassion, Forbearance—not only help China's peace and stability, but also bring blessings to the world.
"Because of bad deeds that Chinese communists have committed against practitioners and Chinese people in general, we are helping people quit the regime to oppose human rights violations and state terrorism." She said she hopes that world leaders will be aware that China has a totalitarian communist regime, "Its existence poses a threat to the Chinese people, and is a high-level risk to international society. In addition, saying 'No' to those human rights perpetrators will lead to a safer world, including the United States."
Encountering President's Motorcade
Practitioners came to the One Dag Hammarskjöld Plaza again on the morning of September 19. Some practitioners held up banners alongside major roads nearby. Later in the morning, police officers were dispatched to the adjacent 2nd Avenue. At the crossing of 2nd Avenue and 50th Street, police officers not only allowed practitioners to stay, but also helped make them highly visible at the spot.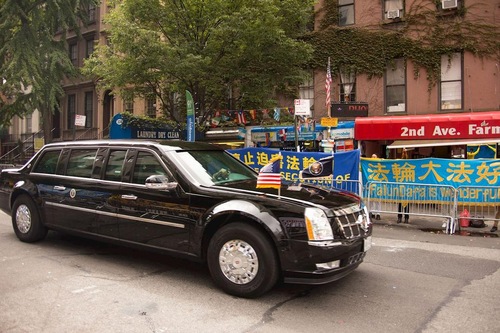 President Donald Trump's motorcade passed in front of practitioners' banners.
President Donald Trump's motorcade came shortly afterward and passed in front of the large banners at the crossing. It began to rain in the afternoon. As the President's motorcade came out of the UN headquarters, it passed again in front of the banners and practitioners standing in the rain, calm and determined.
Falun Gong practitioners will continue their efforts until Friday. From morning to dusk, practitioners will maintain a presence at One Dag Hammarskjöld Plaza, nearby roadsides, and surrounding areas, telling people the benefits of Falun Gong and urging a stop to the atrocities in China.