Introducing Falun Gong in Winnipeg, Canada
September 02, 2017 | By a practitioner from Winnipeg
(Minghui.org) Falun Gong practitioners from Winnipeg, Canada were invited by a local business, Sagehill Stables Centre, to hold a free workshop on August 20. About 20 people came to the workshop to learn about this traditional Chinese mind-body discipline.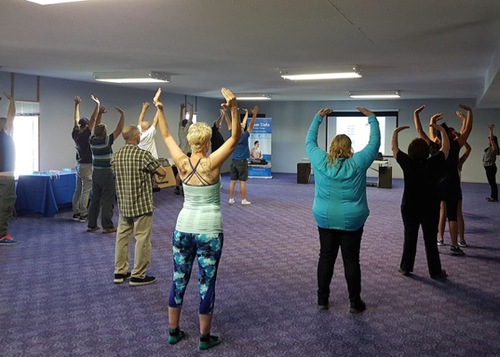 Learning the Falun Gong exercises during an introductory workshop in Winnipeg.
During the workshop practitioners briefly introduced the basic teachings of Falun Gong (also known as Falun Dafa), touching upon the benefits of the practice and how to begin learning.
David, a western practitioner, shared his experience of practicing Falun Gong. Since taking up the practice, he has been able to quit many addictions, including alcohol and video games. He noted that the people around him are happy about his changes.
After the introduction, practitioners showed a video of the exercise instruction, as well as segments of Master Li Hongzhi's lectures (Master Li Hongzhi is the founder of Falun Gong.) Then everyone learned the five sets of exercises.
A middle-aged gentleman said that he felt a rotation along his arms while doing the second exercise, the Falun Standing Stance.
"During the sitting meditation, I felt a great sense of tranquility. My mind was empty. This is a state that I have not been able to reach before," he said.
Dozens of people signed up for the workshop, but many could not make it this time. The practitioners plan to hold future workshops at the same location and it is expected that more people will be able join over the next several weeks.
The owner of Sagehill Centre had heard about Falun Gong and the persecution in China at an event a few weeks ago. She supported practitioners' peaceful resistance to the persecution and wanted to learn the exercises. So she invited them to present a workshop at her place of business.
"This was excellent, and I am looking forward to the next workshop," she said.
Many people who attended the workshop wanted to continue with the practice and asked for details about the local exercise site.