Rallies in California Protest Chinese Regime's Extension of Persecution Outside China
September 17, 2017 | By Minghui correspondent Ruoyun Li
(Minghui.org) Falun Gong practitioners in southern California held rallies in Los Angeles and San Diego on September 12 and 13, 2017. They protested the interference of the Chinese Consulate in San Francisco with the passage of resolution SJR-10 in the California State Senate.
SJR-10 was initiated by California State Senator Joel Anderson and co-signed by four Assembly Members. SJR-10 expresses the legislature's support for Falun Gong practitioners, and condemns the Chinese Communist Party's (CCP) state-sanctioned persecution of the spiritual practice in China. The resolution commended the practitioners' 18 years of nonviolent resistance, which "exemplifies uncompromising courage and human spirit."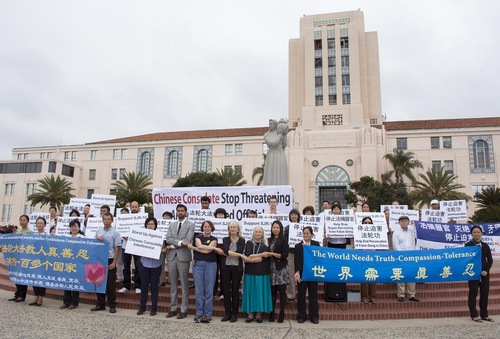 Falun Gong practitioners and supporters rally in front of the San Diego County government building on September 13, 2017.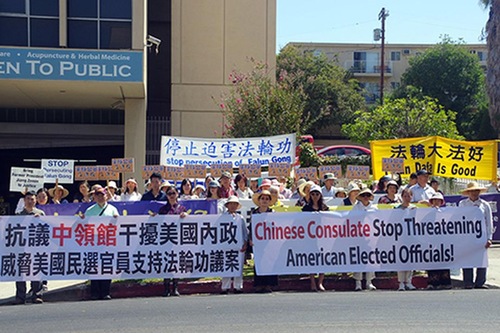 Falun Gong practitioners in Los Angeles rally in front of Chinese Consulate on September 12, 2017.
The resolution cited U.S. House Resolution 343, which was passed in June 2016 and expresses "concern regarding reports of non-consenting organ removal from prisoners of conscience."
It also added, "Between 3,000 and 4,000 practitioners of Falun Gong marched on Market Street in San Francisco on October 25, 2016, to raise awareness of the alleged mistreatment of Falun Gong practitioners imprisoned in China."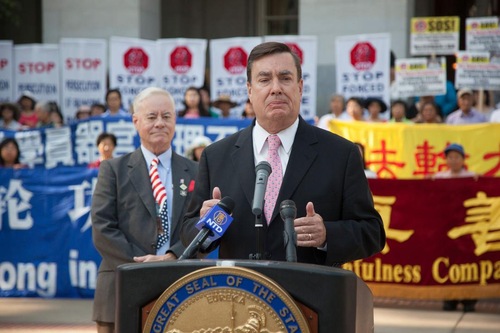 State Senator Joel Anderson
SJR-10 was passed by the senate judiciary committee on August 31. The Chinese Consulate in San Francisco emailed senators and suggested that passage of the resolution might "sabotage the friendship and sustainable development of relationship[s] between California and China." The senate suspended the vote on the resolution.
Senator Joel Anderson said he would continue his efforts to uphold justice.
Falun Gong practitioners held rallies in San Francisco, Sacramento, Los Angeles, and San Diego in the past week to expose the Chinese regime's infiltration of Western countries and extension of its persecution of Falun Gong to other countries.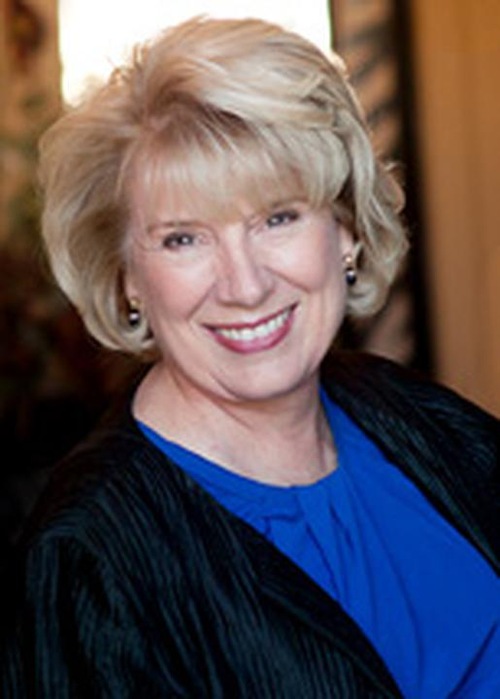 California State Senator Jean Fuller of District 16
Senator Jean Fuller said in an interview that it is important for the Senate to hear about SJR-10, and that if it is not allowed to reach the Senate, it is an infringement of the freedom of every individual.
Legislators Speak Out Against CCP Interference
Senator Anderson wrote to the San Diego rally and expressed outrage at the Chinese regime's extending its suppression of freedom of speech to the state senate, as well as interference in legislative procedure by a foreign power abusing human rights.
Senator Anderson said, "I will not stop. I will not yield until we get the bottom of this and the people of California see that we stand and are united against the genocide in China."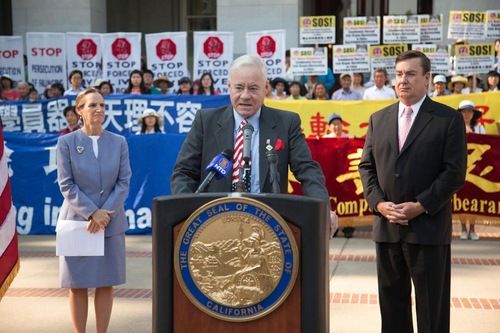 California State Assemblyman Randy Voepel, a co-signer of the SJR-10, speaks at a rally.
Assemblyman Randy Voepel, a co-signer of the resolution, received a letter defaming Falun Gong from the Chinese Consulate in Los Angeles when he was the mayor of Santi City in Santiago County for his support of Falun Gong. He responded then that it is unacceptable for a communist regime to suppress freedom in the United States.
Assemblyman Voepel praised the practitioners' 18-year effort to end the persecution and said, "They are peaceful and compassionate." He wrote to the rally in San Diego and stated that SJR-10 is to protect those following Truthfulness-Compassion-Forbearance.
Professor Emerita: "Californians Should Be Alert"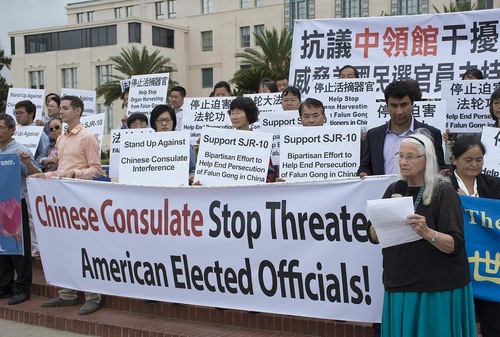 Professor Emerita Gwendalle Cooper attends the rally in San Diego and gives a speech to support the practitioners' effort against the persecution.
Professor Emerita Gwendalle Cooper of San Diego State University spoke at the rally and said, "There is no human rights, no freedom of belief, and no freedom of speech under the Chinese Communist Party's control."
On the Senate's yielding to the Chinese Consulate's pressure not to vote on the resolution, she said, "What will happen to our democracy if we cave in to such interference? What will happen to America if we allow the regime to extend its reach to U.S. soil?" The CCP is persecuting Falun Gong now. What is its next target? Californians should be alert!"
British Tourist: We Support You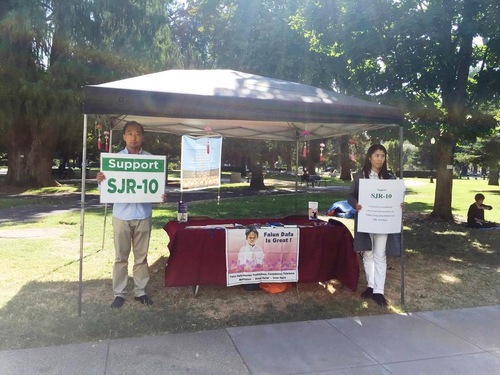 Practitioners set up an information booth in front of the state capitol in the last week before recess of the California State Legislature.
A tourist from London came across the rally in Sacramento and met Falun Gong practitioners. She said, "I come from Britain. I see you everywhere. Your effort has earned wide support in society. I know the CCP brutally persecutes Falun Gong practitioners and tries to extend the persecution to other countries."
She said that there are Falun Gong practitioners in front of the Chinese Embassy in London every day and that many people have become to know about Falun Gong as a result.