Minnesota: Over 100 State Legislators Co-Sign an Open Letter to Xi Jinping
August 06, 2017 | By a Falun Gong practitioner in Minnesota
(Minghui.org) A public letter addressed to Xi Jinping, president of China, drafted by senator Jim Abeler was co-signed by 103 legislators in the State of Minnesota. The letter expressed concern about the persecution of Falun Gong, condemned organ harvesting atrocities, and urged the current president of China to end the persecution as soon as possible.
The letter was also copied to President Trump and the U.S. Senators and U.S. Congressmen of the State of Minnesota.
Legislators from Minnesota have openly expressed support for Falun Gong and condemned the persecution many times before.
The Minnesota Legislature has been very active in exposing organ harvesting in China since March of 2014, when former representative Phyllis Kahn wrote a letter to the Minnesota Department of Health and the Department of Higher Education requesting an inquiry into the use of prisoner organs in China, including those of prisoners of conscience and from "large numbers of Falun Gong practitioners."
The letter stated: "We are greatly troubled by the possibility that any of these organs might be used by hospitals or health care providers in the state of Minnesota," and asked for assurances that such a thing is not happening. The letter was signed by 35 Minnesota state representatives.
The legislators requested the health department and universities not to use illegal organs from China.
Three years later, Senators and House of Minnesota unanimously passed a bill (SF2090) expressing concern over the systematic, state sanctioned organ harvesting practice from dissidents, mostly Falun Gong practitioners and other religious believers and minorities.
The Senators and House both drafted bills condemning forced organ harvesting in China in 2017.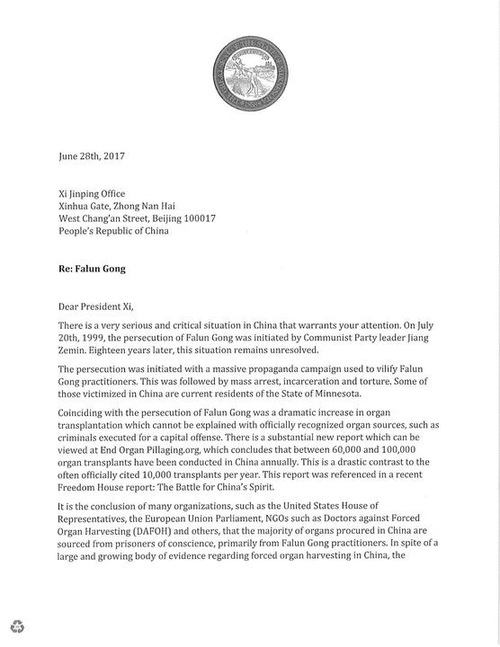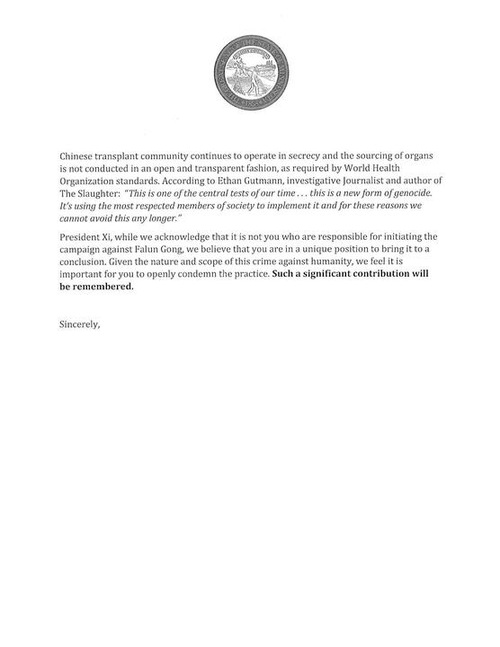 An open letter to Xi Jinping, the president of China, drafted by Jim Abeler, Senator of Minnesota, and co-signed by other 103 legislators.