Former Septicemia Patient Persecuted for His Belief
August 31, 2017 | By a Minghui correspondent in Liaoning Province, China
(Minghui.org) Mr. Wu Junde, 55, is a Falun Gong practitioner from Shenyang City, Liaoning Province. He filed a lawsuit against Jiang Zemin, the former head of the communist regime, for initiating the persecution of Falun Gong in 1999. The suit was filed with the Supreme People's Procuratorate and the Supreme People's Court on July 2, 2015.
Harassed by Police and Fired by Employer
At the onset of the persecution in 1999, I was 40 years old and worked at the Xinmin Power Supply Section in Jinzhou City. I could not understand why it was wrong to be a good person.
Under pressure from the Chinese Communist Party officials, the management at my workplace put me on administrative leave without salary from July 2000 to July 2001.
After the police harassed me at work and home in May 2003, I left home to avoid further harassment. Several days later, the upper management from my work unit, including Zhang Mingcun, Gao Fuan, and Lang Xianming, went to my home, told my wife that I had resigned, and had her sign a document.
Wang Guoxuan promised to give me my job back, but Gao Fuan, who was in charge, demanded a 5,000 yuan bribe from my mother. I asked my mother not to cooperate, so they refused to give me my job back, which left me without an income.
Police continued to harass me, causing me to be unable to find work locally. I had to leave my hometown to find work elsewhere.
When I reached the legal retirement age, I went to my former employer to begin the retirement process. One of the managers secretly took a photo of me and sent it to the police. While I was in the waiting room at the train station, I was questioned by the police. After I explained the situation, they just left.
Tortured in Police Station
I was arrested in January 2005 by captain Zhang Tai and officers from the Pingluo Police Station in the Yuhong District. They ransacked my home and arrested me without showing a search and seizure warrant. They confiscated 5,000 yuan that they refused to return.
I was taken to the Pingluo Police Station and tortured. They handcuffed me and tried to put me under a bed, but I did not cooperate. Wang Jian, Chen Shaoqing, and over ten other officers viciously beat me.
During one of the coldest winter days in northern China, the officers took off my coat and handcuffed me to a metal chair in a cold, dark cell at around 9:00 p.m. I was wearing only thin clothes and slippers. I was returned to my cell at around 1:00 a.m.
I was given no food or water during the three days I was held at the police station. The police tried to transfer me to the Yuhong Detention Center, but I was not accepted due to the injuries on my body. I was instead taken to the Dabei Prison Hospital.
Tortured in Labor Camp
I was taken to the Yuhong Detention Center again 20 days later and held for 6 months, then transferred to the Shenxin Forced Labor Camp, where I had to do hard labor for two years.
Immediately upon arriving at Shenxin Forced Labor Camp, Deputy Guan Feng ordered the guards to put me on a "dead man's bed" torture device. My arms and legs were stretched out and cuffed to a bed. I was unable to move for seven days and seven nights.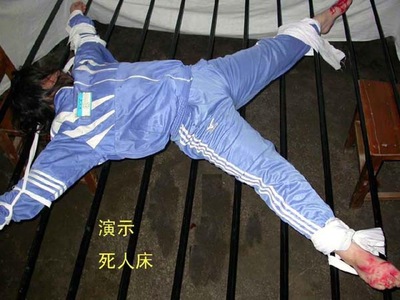 Torture re-enactment: "Dead Man's Bed"
I went on a hunger strike, so Guan ordered the guards to force-feed me a very salty and bitter liquid. My stomach felt numb, and I kept retching. My weight had dropped from about 190 pounds to 110 pounds by the time I was released.
Family Members Persecuted
My younger brother does not practice Falun Gong, but he was still persecuted. The police broke into his home, arrested him, and confiscated two copy machines in January 2005. He was subjected to two years of forced labor.
His wife divorced him as a result of pressure, and their six-year-old son was taken care of by my mother.
The police also frequently harassed my wife throughout my years of detention. She became so fearful that even in the day time she was afraid to stay at home or go out alone.
Blood Poisoning Disappeared after One Week of Practicing
I started practicing Falun Gong in July 1997. Before that, I had been diagnosed with late-stage blood poisoning with loss of hematopoietic function and very low blood platelet count. There was no treatment available for the condition.
I was only in my thirties and wanted to find any means to cure my illness. I tried many qigong practices but to no avail. One of my colleagues suggested that I practice Falun Gong since it helped people achieve good health.
The first time I did the Falun Gong exercises, I felt so comfortable that I continued to do them every day. I also read the book Zhuan Falun and learned the reasons why people develop illnesses.
I learned that I should follow the Falun Gong's principles of Truthfulness-Compassion-Forbearance in my everyday life, cultivate my xinxing, and maintain virtue.
A week into the practice, my body felt light and all the symptoms of blood poisoning disappeared.