Taiwan: The Amis of Fengbin Welcome Falun Dafa
August 28, 2017 | By a practitioner in Taiwan
(Minghui.org) Hualien County Falun Dafa practitioners went to the rural town of Fengbin, which is inhabited primarily by the Ami, Taiwan's largest group of indigenous inhabitants, on August 20, 2017, to tell the local residents about the practice of Falun Dafa. Fengbin's beautiful coastline also attracts large numbers of tourists.
In front of the Fengbin township building, practitioners demonstrated the exercises, displayed posters, and distributed materials about the practice of Falun Dafa and about the persecution in China. Many people were interested in reading the information and talking with practitioners to learn more. Some asked about how to learn the exercises and signed petitions to oppose the persecution in China.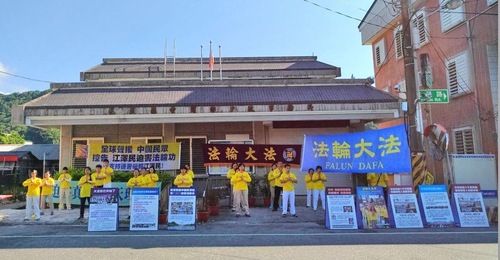 Falun Dafa practitioners do the exercises together at the Fengbin township building in Hualien County on August 20, 2017.
The head of nearby Shuilian Village also owns a restaurant. He allowed practitioners to speak with his customers about Falun Dafa. After one practitioner spoke, the village head said it was important for people to do their best to help stop the persecution in China, because it was barbaric and inhumane. He urged his customers to sign the petition calling for an end to the suppression.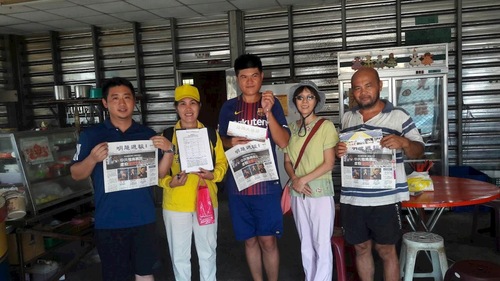 Shuilian Village head (first on right), a restaurant owner, said he and local residents support practitioners.
An officer with the Fengbin Police Station said he had already read about organ harvesting from living Falun Dafa practitioners in China. "One person in my village went there for an organ transplant and was able to find a matching organ almost in no time. It was unbelievable." He said the man later died anyway when his body rejected the transplanted organ.
Chen, an officer in Gangkou Village, said he had seen a television program about forced organ harvesting in China some time ago. "I did not know it was still going on. I wish everyone in the world would say no to this crime."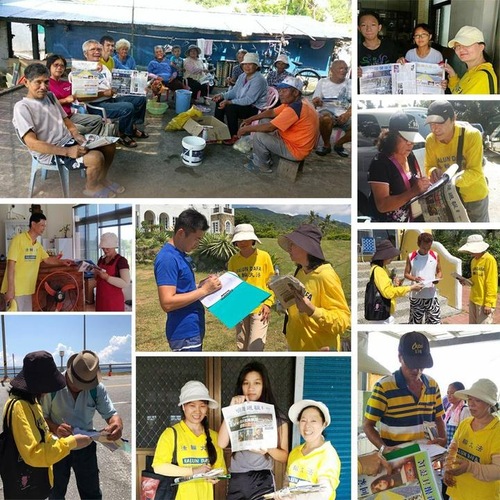 Local residents signed a petition calling to end the persecution of Falun Dafa practitioners in China.
Lai, who goes to college in Taipei, said he had seen the documentary Human Harvest on campus. "Many students and I signed a petition to support Falun Dafa practitioners, because we want the persecution to end soon."
He said there were some exchange students from China on campus. "They are aware of the human rights violation in China. But due to fear and being brainwashed by the Chinese Communist Party, they always avoid talking about such issues."
Nonetheless, Lai said he thinks those students, as well as everyone in China, should try their best to find out what is really going on.
"If the suppression ends soon, everyone will benefit," he added.