Falun Dafa Band Performs in Kickoff Parade for Taipei's Largest Ever Sports Event
August 19, 2017 | By Minghui correspondent Huang Yusheng
(Minghui.org) The Falun Dafa group's Tian Guo Marching Band in Taiwan participated in the parade that kicked off the 2017 Universiade games. This is the largest international sports event ever held in Taipei, and it begins this weekend.
The 200-member band performed along with 30,000 other performers in 400 groups and over 1000 floats.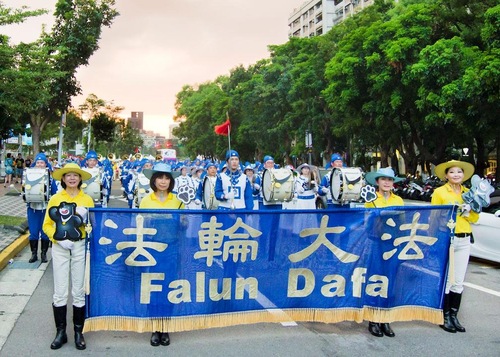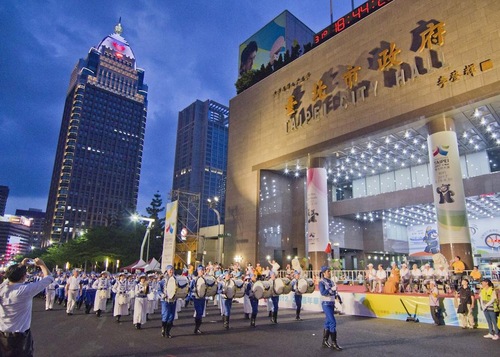 The Falun Dafa band in the parade
The chief of the Chungshan District of Taipei, Ms. Li Meili, highly praised the Tian Guo Band "They are extraordinary. They have performed all over Taiwan and even in other countries. The band is sure to help make this event a big success," she said. Ms. Li later called the band leader to express her appreciation for their participation in the event.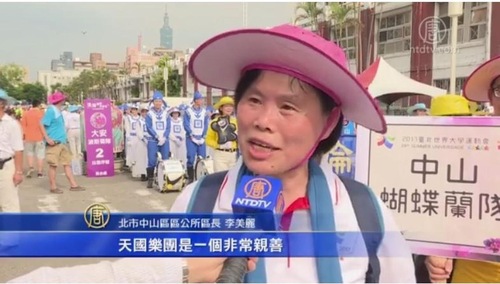 Chungshan District Chief Ms. Li Meili said the Tianguo Band is "extraordinary."
The band was also warmly received by the crowd.
"I hear about this band all the time. Today, I finally get to see them," said one woman. "They are full of energy...and on such a hot day!" The temperature outside was 99 degrees.
Some spectators asked band members to tell them more about Falun Dafa. Some of them wanted to know more about why it has been persecuted in China.
Many were pleased to learn that the practice was available to learn free of charge online or at local practice sites.