Toronto: Telling People about the Persecution of Falun Gong in China at the Pacific Mall
August 15, 2017 | By Minghui correspondent Zhang Yun
(Minghui.org) Falun Gong practitioners held banners and put up posters near Pacific Mall on August 12, 2017, to tell people about the practice and the ongoing persecution of Falun Gong in China. Pacific Mall is a large Asian shopping center in the Greater Toronto area.
The Tian Guo Marching Band also performed, and its music was applauded by pedestrians and people in the passing vehicles.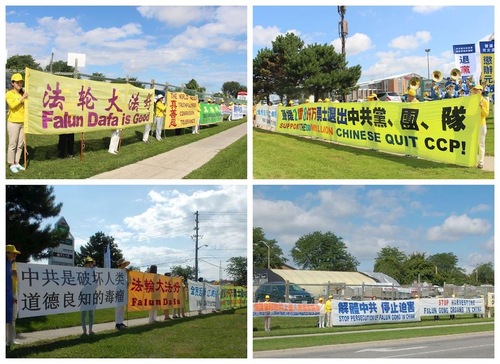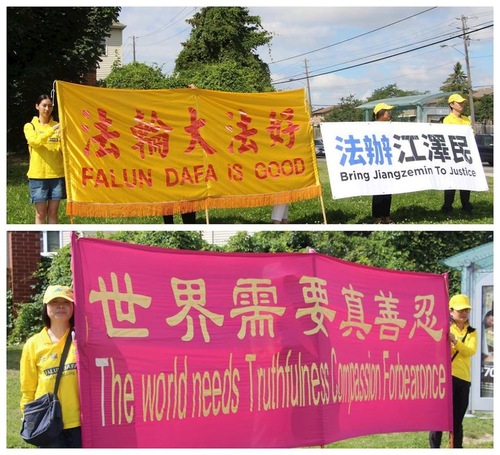 Banners outside Pacific Mall.
Positive Energy
Monika lives not far away from the mall, and said she had seen practitioners' events previously. She said, "I really enjoy the performances, because I could feel peace and compassion from it." She said the band brought people both beauty and positive energy.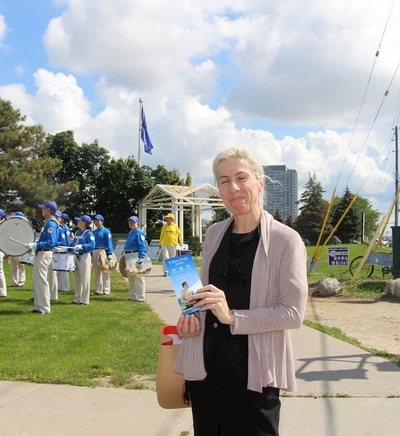 Monika said she liked the melody and message of the music played by the Tian Guo Marching Band.
As an immigrant from Albania, she knew that the Communist Party often suppressed people with violence and hate propaganda. She said, "I know about the severe suppression in China, and I have signed a petition hoping to stop the brutality."
College student Manbrwed and his friends said that this was the first time they had seen a performance by Falun Gong practitioners. He said, "We have signed petitions in the past, but the band performance today is very impressive." He felt that this was a very effective way to tell people about the human rights violations in China, and said that he looked forward to more events like this.
Quitting the Communist Party
Pacific Mall is a tourist site as well as a shopping center, and is open year-round. The mall attracts a large number of Chinese shoppers every day. After talking with practitioners at the mall, one visiting student from China said he was not surprised to hear that more than 280 million people had decided to separate themselves from the Chinese communist organizations.
He said, "Both my father and grandfather are high ranking officials, and they know how terrible the Party is." He said his father had arrested many corrupt officials, and had advised him to stay away from Party-related activities while staying in Canada.
Practitioner Ms. Zhao told him about the health and spiritual benefits that Falun Gong has brought her, and how the severe persecution forced her to leave home and later come to Canada. The young man said he would like to quit the Communist Party organizations, and also wanted his father to do the same.
Another Chinese visitor was a senior engineer from the Ministry of Electronics Industry. He also renounced his membership affiliation with the Party. He took materials in both Chinese and English, and thanked practitioners for their efforts, saying, "What you are doing is great. Otherwise, many people still would not know what is going on [in China]."
From Vietnam to Toronto
Phuong, 62, said she and other practitioners have all witnessed the health benefits of Falun Gong, and would like to introduce the practice to more people.
She said, "In 2012, I went to my hometown in Vietnam and visited my young sister. Her husband had learned the Falun Gong practice six months before, and they taught me the exercises." At that time, Phuong had stopped working for a number of years due to arthritis and lumbar disc herniation. Shortly after practicing Falun Gong, both problems disappeared and she was able to go back to work again.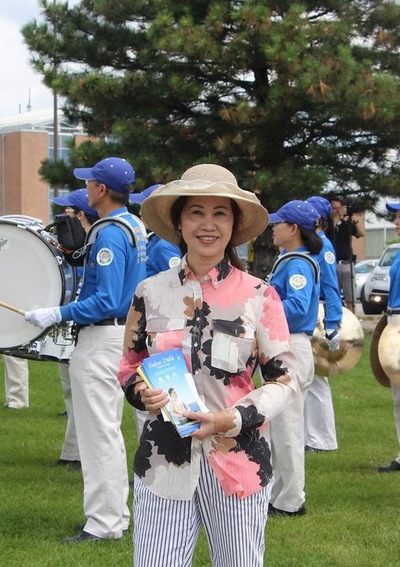 Phuong, 62, learned Falun Gong in Vietnam.
"We hope that more people can have a better life, like me," she said, "including those in China who have been suppressed for their belief."