Evanston, Illinois: Falun Gong Participates in Independence Day Parade
July 09, 2017 | By a Falun Dafa practitioner in Chicago
(Minghui.org) Falun Dafa, also known as Falun Gong, was invited to the annual Independence Day parade in Evanston, Illinois on the 4th of July. Evanston is located on the shore of Lake Michigan in the Chicago metropolitan area.
The annual event in Evanston has a history of more than a century and attracts tens of thousands of spectators every year.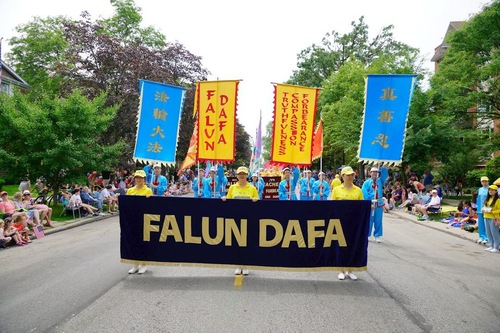 Falun Gong participates in Independence Day Parade in Evanston, Illinois.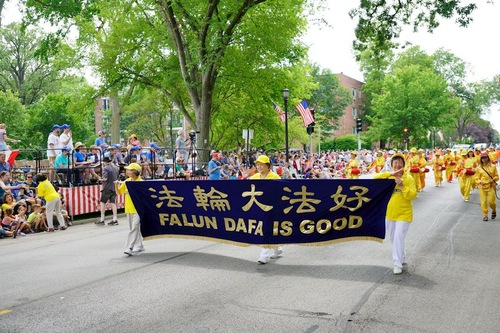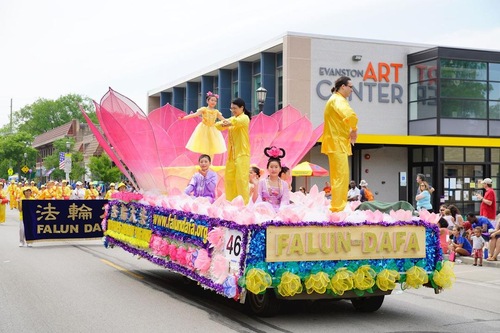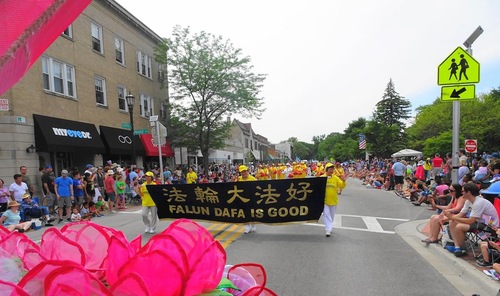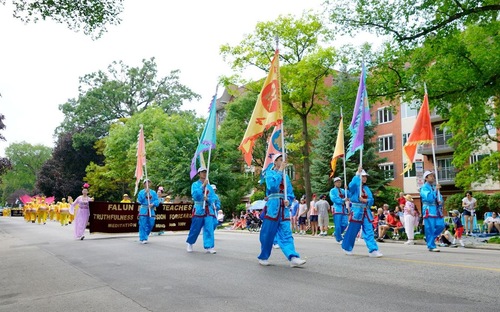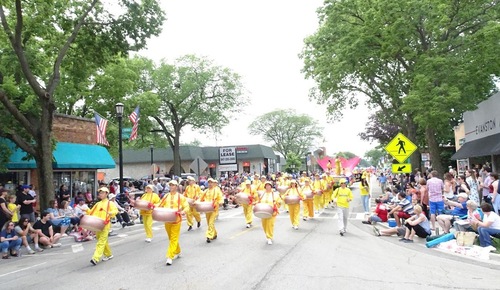 The Falun Gong group was one of the largest in the parade. The procession was led by a banner printed "Falun Dafa" and a flag team. Following the flag team were Tang drums and waist drum players.
The procession ended with a lotus flower float on which Western and Chinese practitioners demonstrated the exercises and young practitioners danced in large lotus flowers.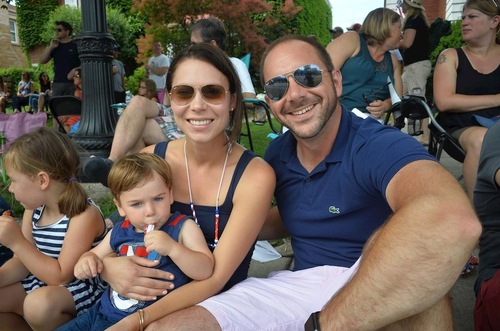 Kevin Hansen, a teacher at Maine South high school, saw the parade with his family. "Falun Gong's float is the best. I am their loyal fan!" he said.
Congresswoman Jan Schakowsky was also in the parade. She said that she has supported Falun Gong's efforts to end the persecution for many years.
Ms. Hou and seven members of her family were among the spectators. Having lived in America for more than 10 years, she commented that seeing a parade in America is different than in China. "People put on casual clothing with American flags on them, and every organization can present itself in the parade." She said, "I saw Falun Gong in the parade. It is still not allowed in China."
Mr. Oswin Valenberg, a software engineer, said he was familiar with Falun Gong. "They are always peaceful and serene. Their uniforms are colorful and beautiful."