San Diego, California: Falun Gong a Hit in Coronado Island Independence Day Parade
July 09, 2017 | By a Falun Dafa practitioner in San Diego, California
(Minghui.org) The largest Independence Day parade in the San Diego area was held on Coronado Island on July 4. Falun Gong practitioners and more than one hundred other groups participated in the parade in this popular resort community.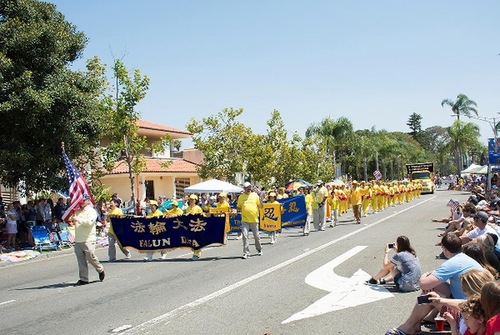 Falun Gong practitioners participate in the Independence Day parade on Coronado Island.
The Falun Gong group's waist drum team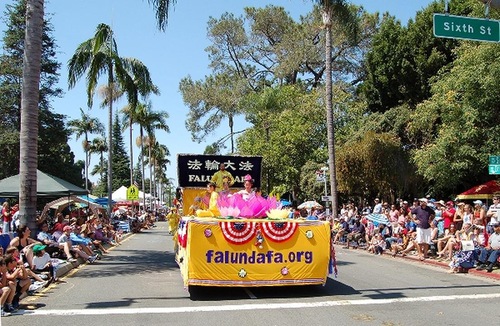 A decorated float with practitioners demonstrating the Falun Gong exercises
Falun Gong practitioners have participated in this event since 2004. Spectators packed the length of the parade route. This year, the Falun Gong procession was led by American flags carried by Western practitioners, followed by a beautiful violet banner with golden characters reading "Falun Dafa," as well as banners with the Chinese characters "Zhen," "Shan," and "Ren" (Truthfulness, Compassion, Forbearance) and another banner reading "The World Needs Truthfulness Compassion Forbearance."
In the middle of the procession was a decorated float on which five practitioners demonstrated the Falun Gong exercises.
Behind the float came the waist drum team performing along with the music "Falun Dafa Is Good."
Spectators applauded, took photos and videos, gave the thumbs up or took off their hats to show their support for Falun Gong.
"What beautiful music and beautiful drum performance!" exclaimed Stephanie Aston-Jones, a visitor from New Jersey.
Michelle Steiny, Aston-Jones' friend, also praised the performance and added that she knew that Falun Gong was persecuted in China. "I am really glad to see them in the parade, communicating good information to the public," she said.
Western practitioner Miles has participated in the parade for eight years. This time, his in-laws were among the spectators.
"I am happy they (Falun Gong practitioners) participate in the parade," said Rhona Cerviani, Miles' mother-in-law. "They worked very hard, made a lot of effort, to let more people know about Truthfulness, Compassion, Forbearance – a beautiful message."
Mario Cerviani added that this was one of the best processions he had ever seen. "It certainly is the best, because my son-in-law is in it," said Mr. Cerviani, with a big smile. "We are so happy to see him here."
Falun Gong practitioner and first time parade participant, Rudy is a chief officer for a technology company. He was very happy to have the opportunity to display the beauty of Falun Dafa and looked forward to being in the parade again next year.