Falun Gong Activities in Argentina Mark 18 Years of Peaceful Resistance
July 30, 2017 | By a Falun Gong practitioner in Argentina
(Minghui.org) In Argentina, a series of activities including a protest, a rally and a parade were held in Buenos Aires from July 20 to July 23. The events commemorated eighteen years of peaceful resistance to the persecution of Falun Gong in China.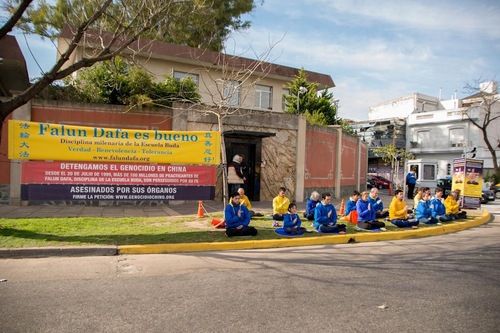 Falun Gong practitioners hold a peaceful protest in front of the Chinese embassy in Buenos Aires.
Practitioners peacefully rallied and protested in front of the Chinese Embassy to Buenos Aires on the morning of July 20. Many passersby stopped to learn about the practice and why it has been persecuted in China.
Employees of the Chinese Embassy called the police to intervene. However, the police officers told practitioners that they had come to protect them. Consular officials allegedly hired two Chinese men to beat Falun Gong practitioners years ago. The two attackers were wanted by the police. One of them escaped to China and has been thrown into prison for another crime he had committed.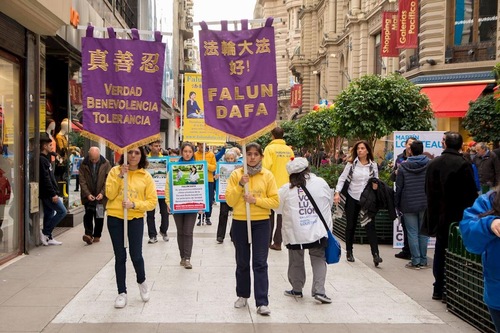 Falun Gong practitioners march in downtown Buenos Aires.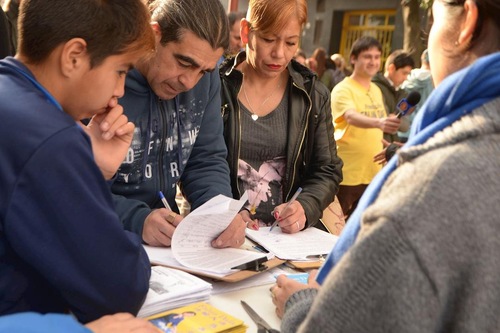 Many people sign a petition calling for an end to the persecution of Falun Gong in China.
On the afternoon of July 20, a march and more activities were held in downtown Buenos Aires to raise awareness about the peaceful spiritual practice and the persecution it faces in China. It was rush hour and many people were afforded the opportunity to see the activities and find out about the persecution. As they are the world over, locals in Buenos Aires were shocked to hear about the state-sanctioned organ harvesting atrocities targeting prisoners of conscience in China, most of whom practice Falun Gong. They were happy to sign a petition to help bring the persecution to an end.
Practitioners collected more signatures in the local Chinatown on July 22 and July 23. Many people asked, "I support you! What can I do to help?" They were touched to learn the truth about Falun Gong and thanked practitioners for their great work. Some people said they would help spread the word to their families and friends.
Local Chinese people in Argentina, as in so much of the world, are still under the sway of communist China's propaganda machine, which for the last eighteen years has worked around the clock to defame and turn public opinion against Falun Gong. Practitioners hence spend a lot of time in local Chinese communities, raising awareness of what Falun Gong truly is, and how it is persecuted in China.