Los Angeles and Seattle: Calling for an End to the Persecution of Falun Gong
July 28, 2017 | By Falun Gong practitioners in Los Angeles and Seattle
(Minghui.org) July 20 may be an ordinary day for most people, but for Dr. Xie Weiguo it is unforgettable. Since that day 18 years ago, his fellow students and mentor at Tsinghua University in Beijing have been subjected to the Chinese Communist Party's (CCP) persecution of Falun Gong. Some of them have even lost their lives.
Former Chinese leader Jiang Zemin launched a nationwide persecution campaign against practitioners of Falun Gong, also known as Falun Dafa, on July 20, 1999. Over the past 18 years, hundreds of thousands of practitioners have been detained, tortured and even killed. Countless families have been torn apart.
Many Falun Gong practitioners in Los Angeles have either personally experienced persecution in China or seen their friends and family suffer because of it.
At a rally held on July 23, 2017, practitioners in Los Angeles continued their efforts to raise awareness of the Communist regime's persecution and a call to help end the atrocities.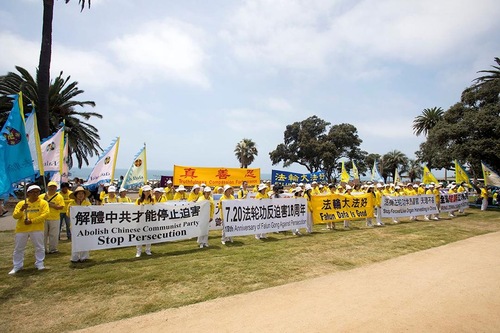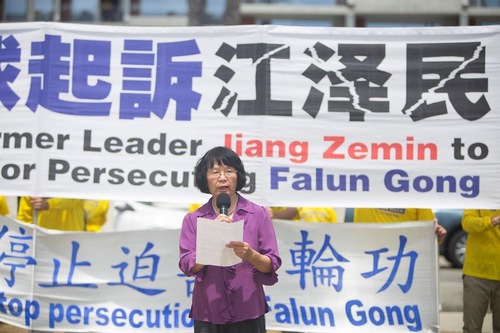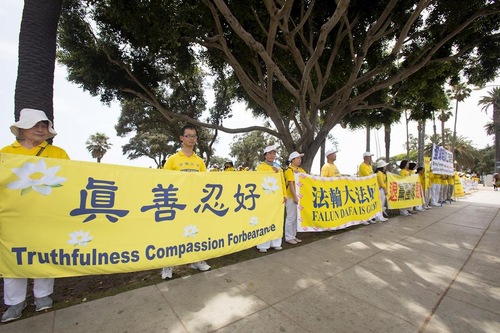 A rally held at Santa Monica Pier, Santa Monica, Southern California.
Sad Loss of Fellow Students and Mentor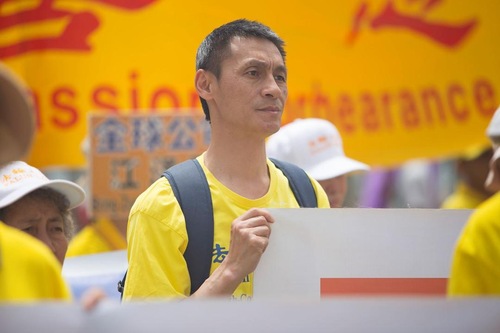 Dr. Xie Weiguo holding a banner.
Dr. Xie Weiguo, who recently visited the University of California, Los Angeles (UCLA) as a scholar from the U.K., participated in the local activities to mark 18 years of persecution in China.
Dr. Xie was admitted to Tsinghua University in 1991 and went to the U.K. in 1999 to study. He obtained a doctorate at the University of Manchester in 2003.
Dr. Xie recalled that his mentor Prof. Gao Chunman at Tsinghua University – who introduced him to Falun Gong – had to go to Russia to avoid persecution in 1999. Unfortunately, the Russian government repatriated 73-year-old Prof. Gao back to China under pressure from the CCP. He was not imprisoned, but he was not allowed to practice Falun Gong. Prof. Gao passed away in March 2011.
Dr. Xie's fellow student Mr. Yuan Jiang was arrested and tortured for nearly a month, resulting in his death in 2001. Many more students and teachers from Tsinghua University have lost their lives due to the persecution against Falun Gong.
Speakers at the Rally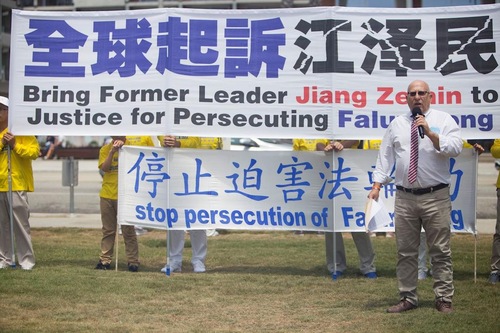 Mr. Barry Simon.
Mr. Barry Simon, vice president of the United Nations Association of the USA, Southern California Division, was shocked at the persecution Falun Gong practitioners have endured.
He said that such atrocities should not have happened in China or anywhere else in the world. "Killing people for their organs is disgusting. People must call for an end to the persecution."
Ms. Liu Yaya, president of the Los Angeles Visual Artists Association, also spoke at the rally. She said, "The CCP has persecuted religious beliefs since it seized power in China. This shows the regime's fear. Peaceful religious believers have no intention to overthrow the CCP, but the persecution has turned people against the regime."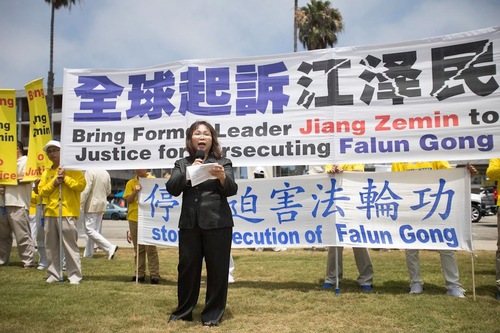 Thanh Le, representative of Falun Gong.
Thanh Le, a representative of Falun Gong practitioners in Los Angeles, reminded the audience that the passage of H. Res. 343 by the U.S. Congress on June 13, 2016, urges the CCP to stop state-sanctioned organ harvesting from prisoners of conscience, and to stop the persecution of Falun Gong.
Legislators Dana Rohrabacher, Ileana Ros Lehtinen and other members of Congress have continually spoken out for Falun Gong. Mr. Rohrabacher, in particular, remarked that forced organ harvesting "is an evil deed and a crime against humanity. We must make every effort to bring each individual involved to justice."
Seattle: Raising Awareness and Calling for an End to the Persecution
Falun Gong practitioners in Seattle gathered at Westlake Park, a public plaza in downtown Seattle, on July 22, 2017, to introduce Falun Gong to the public, raise awareness of the persecution, and collect petition signatures. The petition calls for an end to the persecution and to bring Jiang Zemin to justice.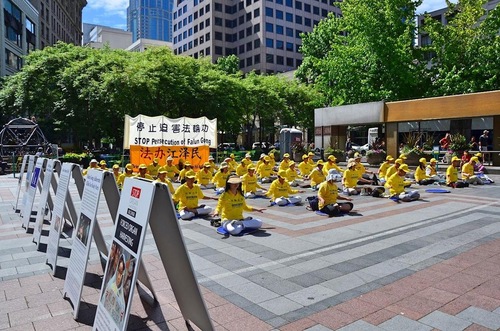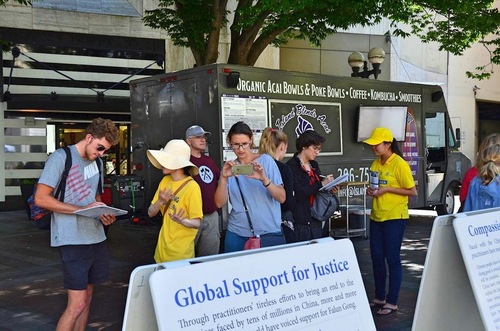 The exercise demonstration and signature drive in Westlake Park
Many people were fascinated after seeing practitioners' peaceful exercise demonstration. They took flyers and signed the petition after they learned about the CCP's killing of practitioners and harvesting of their organs for profit. Nearly 300 people signed the petition during the four-hour activity.
Samantha, a sophomore at Seattle University, heard about Falun Gong for the first time. After she learned about the persecution of this spiritual practice, she said, "It's terrible! More media outlets should be aware of this. I wasn't aware of it but will let more people know about it."
Mr. Johnston from Camano Island, Washington State approached a practitioner to find out what was going on. After he heard that 100 million people in China practiced Falun Gong within seven years of the practice being introduced to the public, he said, "When you said 100 million people practice it, I knew that it must be something great and remarkable. It must be the essence of the wisdom of the Chinese nation!" He then read the information about forced organ harvesting on the display boards and signed the petition.
A man named Meeka from Ethiopia learned about the persecution of Falun Gong and said, "I haven't signed a petition for more than ten years, but I must sign this one." A practitioner gave him an origami lotus flower. He held it delicately and kept saying, "Thank you."
Related articles in Chinese:http://www.minghui.org/mh/articles/2017/7/25/反迫害十八周年-西雅图学员传播真相(图)-351604.html