Hong Kong Rally and March Call for End of Persecution of Falun Gong
July 26, 2017 | By Minghui correspondent Zheng Yuyan
(Minghui.org) Despite the threat of the incoming Tropical Storm Roke, more than 1,000 Falun Gong practitioners and supporters in Hong Kong held a rally on the morning of July 23, 2017 and a march in the afternoon to raise public awareness of the 18-year long persecution of Falun Gong in mainland China.
The Hong Kong Observatory in the morning sent out a No. 8 Storm Signal (possible storm with a speed of 40-70 miles per hour). Practitioners held a group exercise demonstration and rally at Edinburgh Place in the rain.
At 11:00 am, the police suggested canceling the afternoon march. However, the organizers decided to wait and see. At noon, the rain and wind stopped, and the storm signal was downgraded from No. 8 to No. 3. The march kicked off as scheduled. The police officers were amazed. One said, "Falun Gong is amazing. The heavens are with them."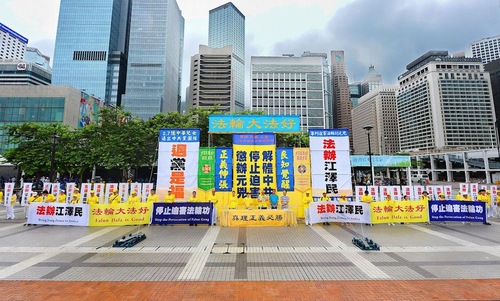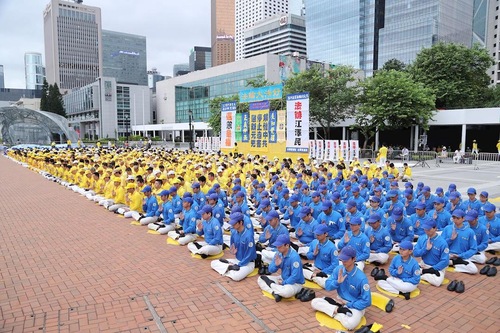 Rally and group exercise demonstration in Hong Kong
Kan Hongcheung, chair of the Falun Dafa Association in Hong Kong, gives a speech.
The chair of Falun Dafa Association in Hong Kong, Kan Hongcheung, spoke at the rally and gave a brief overview of the persecution. He emphasized that the trend is changing and that many perpetrators have been punished one way or another. He called upon Chinese government officials not to follow the Communist Party's persecution policies and choose a bright future for themselves.
Tsoi Yiu Cheong, vice chair of Hong Kong Alliance in Support of Patriotic Democratic Movements of China, spoke at the rally and expressed respect for the practitioners' courage. He said that the Chinese people have recognized the evil nature of the Communist Party, whose demise is only a matter of time.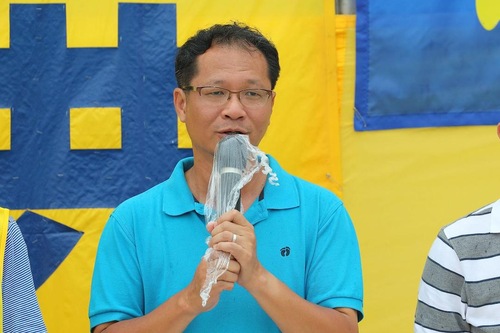 Tsoi Yiu Cheong called to bring perpetrators of the persecution to justice.
Several political leaders and Legislative Council members in Hong Kong and democratic movement activists in China gave speeches via audio recordings. They condemned the persecution, supported the practitioners' peaceful resistance, and called for an investigation of the state-sanctioned harvesting of organs from living Falun Gong practitioners in China.
These speakers included the chair of the Hong Kong Democratic Party Wu Chi-Wai, Legislative Council members Leung Yiu-Chung and Lam Cheuk-Ting, government official Chu Fok-Chiang, former Chinese government official Bao Tong, human rights lawyer from Shanghai Zheng Enchong, and Chinese writer Lu Xuesong.
Grand March Moves Chinese Tourists
The 1,200-person march conveyed a message of peaceful resistance, called on Chinese citizens to withdraw their memberships in the Communist Party, and displayed the graceful Falun Gong exercises.
Many Chinese tourists were amazed to see such a large-scale Falun Gong event. A few students from Beijing happily accepted Falun Gong newspapers from practitioners. One of them, Jonathan, felt lucky to see such a march on his first trip to Hong Kong.
Jonathan said he would show his friends in Beijing what he saw today, adding that freedom of belief should be respected instead of suppressed.