Washington State: Falun Gong Wins Award at Kent Cornucopia Days Celebration
July 25, 2017 | By a Falun Dafa practitioner in Seattle
(Minghui.org) Kent Cornucopia Days is a three-day annual event in Kent Washington, which is the largest of its kind in King County. The event often attracts over 200,000 spectators.
Falun Gong practitioners from the metro Seattle area participated in the event on July 14-16, 2017 by setting up a booth to raise awareness of the persecution, and joining the parade with a decorated float and waist drum performances.
The lotus flower-themed float also won the award "Float–Best Community Theme."
Falun Gong's lotus-themed float.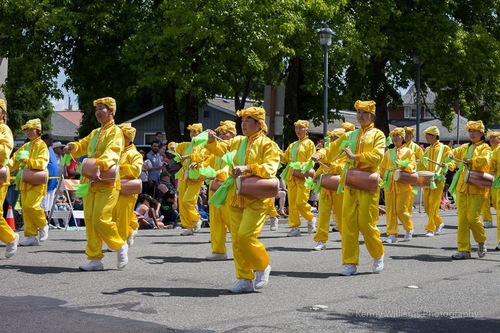 Waist drum performance at Kent Cornucopia Days grand parade.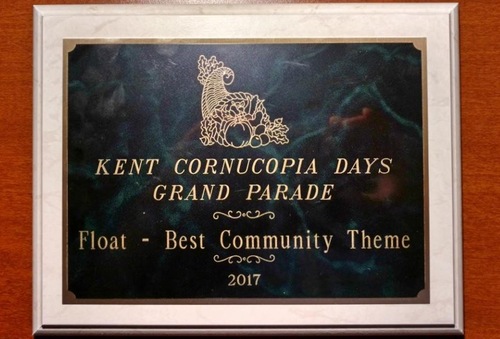 The Falun Gong group won the "Float–Best Community Theme" award.
Kent is the sixth largest city in Washington State. The annual Kent Cornucopia Days event is organized by the Kent Lions Club. The celebration activities included sporting events including running, football, racing boats, and skateboard competitions, as well as arts and crafts, music, and a grand parade.
Falun Gong practitioners marched in the grand parade on the afternoon of July 16, with a large leading banner reading, "Falun Dafa," followed by a waist drum performance and completed with a lotus flower-themed float.
Spectators offered warm applauds and cheers. After the parade, two of the organizers came to the Falun Gong booth specifically to thank the participating practitioners.
Event goers signed a petition opposing forced organ harvesting and the persecution of Falun Gong.
Many people talked to the practitioners at the booth. One middle-aged man with his son said that the organ harvesting crimes were "beyond disgusting."
A woman with three children said that she liked the message of "Truthfulness-Compassion-Forbearance."
Some members of an Indian martial arts group came to the Falun Gong booth. After hearing the facts about the persecution, they commented that they could feel the pain of being persecuted for a belief themselves. All of them signed the petition.
Russell, a yoga practitioner commented, "(The persecution) originates from the greed of power. It's hard to image that human beings can be so cruel and brutal."
He talked with practitioners for a while, and picked up a few papers and fliers. Before leaving, he added, "I want all the information about Falun Gong. I wish more people were aware of the evil things exposed in these fliers. Good luck!"