Falun Gong's July 20th Commemorations in Singapore and South Korea
July 24, 2017 | By Falun Gong practitioners from Singapore and South Korea
(Minghui.org) On this 18th anniversary of the peaceful resistance to the persecution of Falun Gong in China, practitioners have held events around the globe, including in Singapore and South Korea.
Singapore
Practitioners in Singapore demonstrated the exercises, collected signatures, displayed photos, and held a candlelight vigil at Hong Lim Park last Monday in their continuing efforts to inform people about the persecution of Falun Gong in China.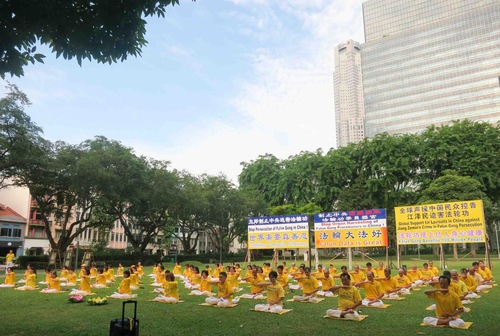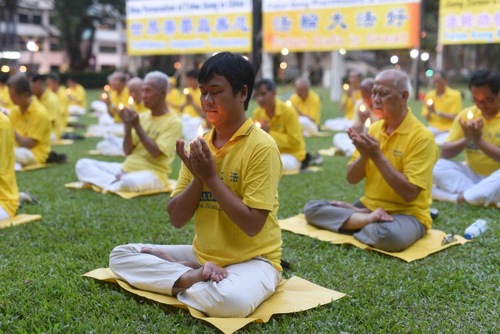 Many tourists appreciated the peacefulness of the protest.
Anne from Germany said, "I like the way Falun Gong practitioners express themselves. They are very peaceful. I want to meditate with them."
Archana also liked the information that practitioners tried to convey. "They are not noisy like other protesters. That makes it easier for people to want to talk to them."
Both ladies condemned the persecution and signed the petition demanding that it end.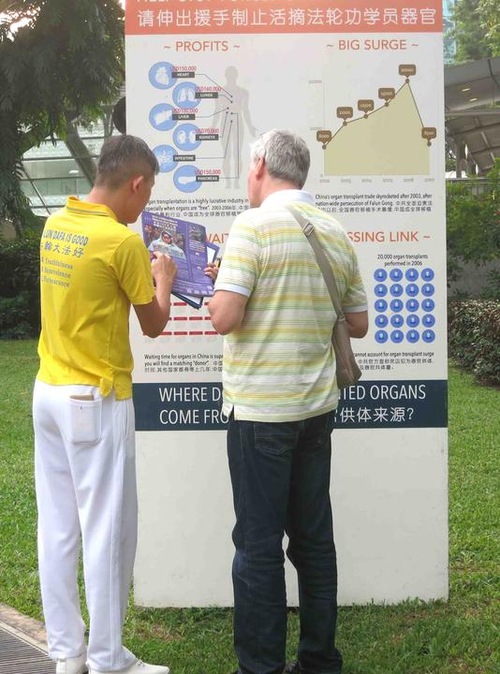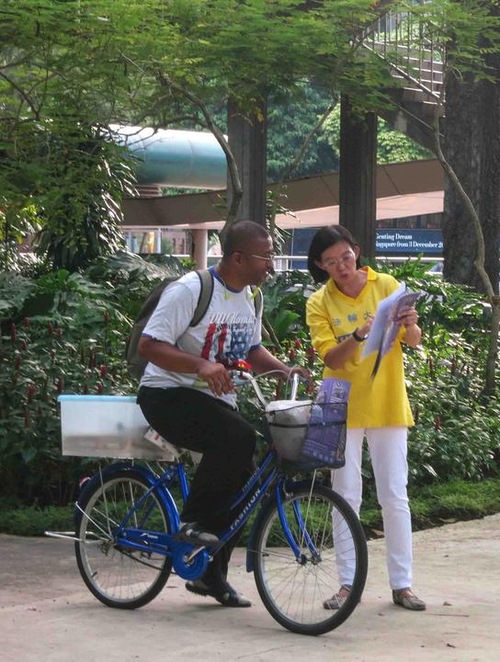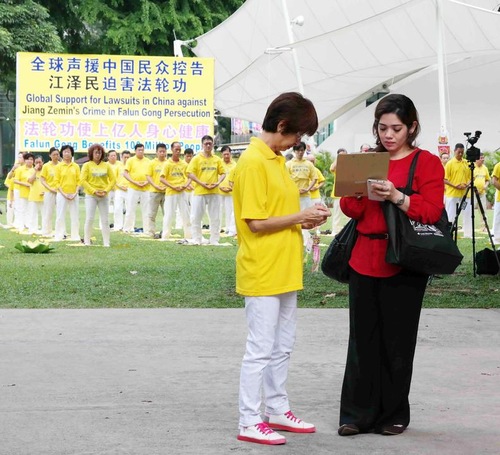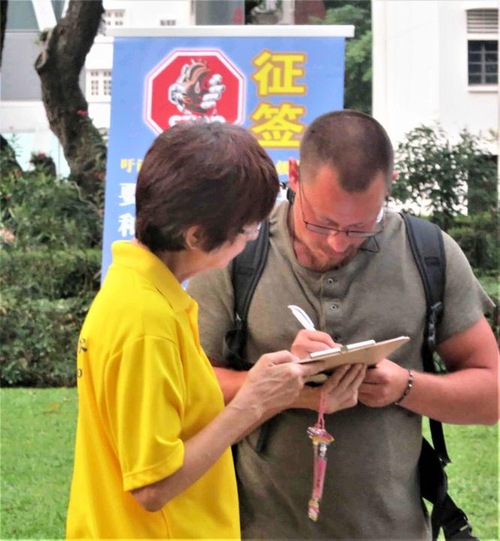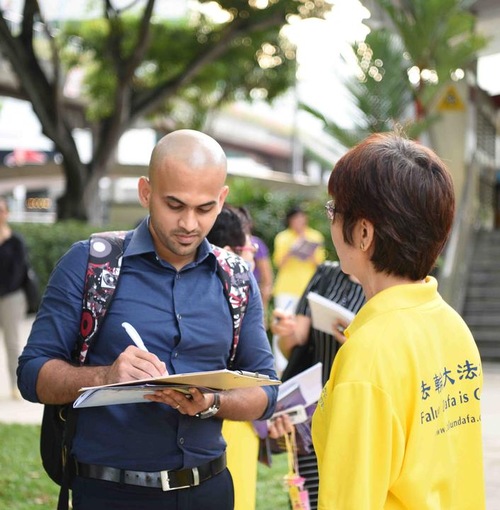 Many tourists talked to practitioners and signed the petition.
John had seen Falun Gong's peaceful protests in other countries and was glad to see this one in Singapore.
"We need to make our voices heard in the face of injustice," John said. "The forced organ harvesting is horrifying. We need to get this information out—through all kinds of channels. When the criminals see what they are doing made public, they might be frightened and stop."
An elderly lady from Shanghai commented, "Everybody should have freedom of belief. Falun Gong is a great practice. The communist party tries to brainwash people. I've lived in China my entire life, and I know their tricks."
She took some flyers and wished the practitioners success. "I hope more and more people join you," she said.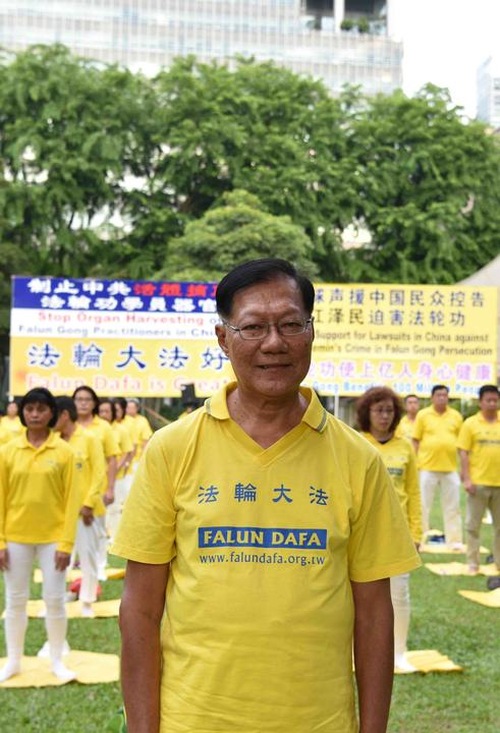 Mr. Huang Chang has practiced Falun Gong for 18 years.
A few practitioners shared their experiences with the public.
Mr. Huang Chang, who started practicing 18 years ago, had tried all kinds of eastern and western cultivation practices. When he first read Zhuan Falun(the main book of Falun Gong), he knew that he had found what he was looking for.
"Over the last 18 years, I didn't have to take any medicine. I am even healthier than I was 18 years ago," he said. "I have been trying to tell everybody I know what Falun Gong really is and how the practice has improved me physically and spiritually."
South Korea
Practitioners and supporters held a large rally on Plaza Seoul and marched through downtown on July 20.
At the rally, the chair of the Falun Dafa Association in South Korea reviewed the facts of the persecution, noting that more than 4000 deaths due to torture have been confirmed and that overwhelming indirect evidence suggests that the Chinese government harvests organs from living practitioners for profit.
Wu Zhenrong, a Chinese democratic movement activist, praised the practitioners' spirit. He believes that other groups should learn about peacefulness from Falun Gong. He also called upon the Chinese people to work together to end the communist tyranny.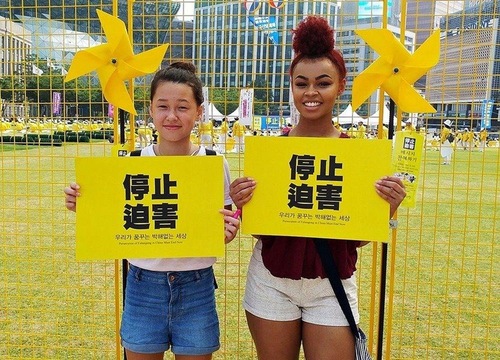 Two tourists hold a sign that reads "Stop the persecution."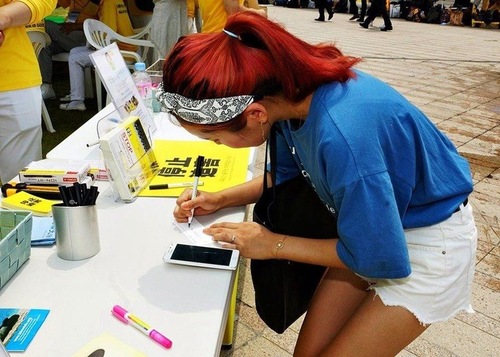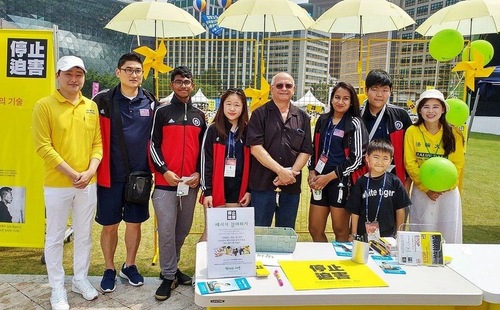 Practitioners collected signatures on a petition that condemns the persecution.
Related article in Chinese:http://www.minghui.org/mh/articles/2017/7/23/韩国集会游行纪念法轮功反迫害18年-351528.html