Falun Gong Welcomed at Festival of India, Toronto
July 23, 2017 | By a Falun Gong practitioner
(Minghui.org) The Falun Gong Youth Club was invited to participate in the 45th annual Festival of India in Toronto, Canada on July 15 and 16, 2017. Falun Gong was well received and many people wished to know more about this traditional spiritual discipline from China. Many people condemned the Chinese Communist Party's (CCP) persecution of Falun Gong and the state-sanctioned live organ harvesting from Falun Gong practitioners for profit in organ transplantation surgeries.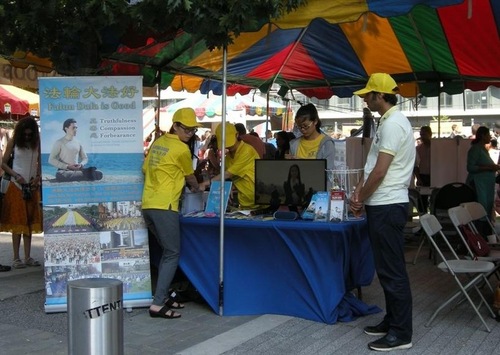 Falun Gong Youth Club's booth at the 45th annual Festival of India in Toronto.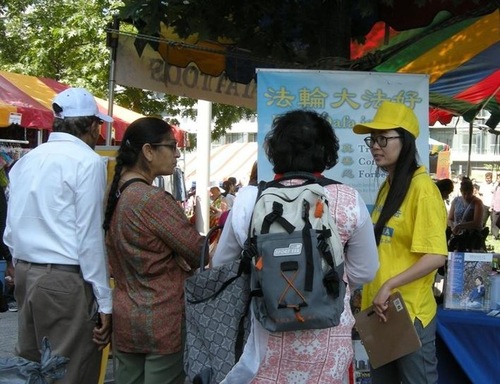 Introducing Falun Gong to festival visitors.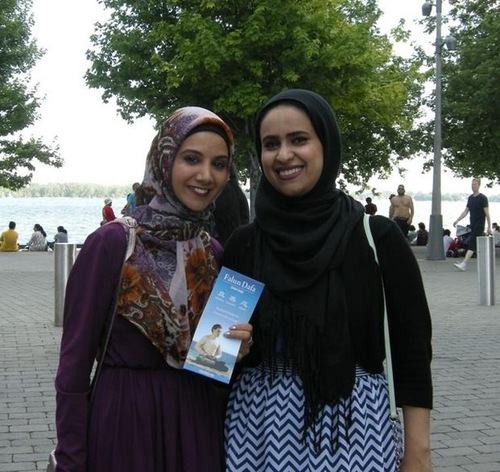 Foadeh Yahya (left) and Angam Alhaithami (right).
Foadeh Yahya and her friend Angam Alhaithami from Michigan stopped by the Falun Gong booth. Yahya works in a civil rights organization as an administrator. Alhaithami is a civil engineer. Both signed the petition against the CCP's live organ harvesting.
Yahya said, "I know the CCP persecutes many groups, including Falun Gong. Falun Gong practitioners are beaten, detained and subjected to live organ harvesting. It is tragic! There is no freedom of religion and belief in China."
Alhaithami said, "I believe everyone has the right to freedom of belief. No government or party can force people to believe or not to believe anything. Everyone has his rights and freedom."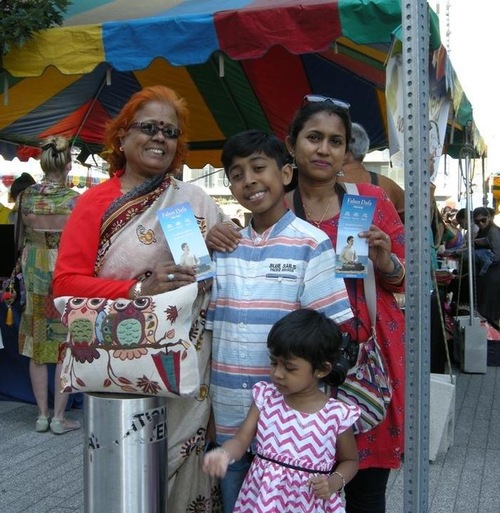 Dr. Shambi Aich, from Bangladesh (right in the rear row), and her family.
Shambi Aich is a doctor in Bangladesh. She came to Toronto to attend the festival of India. Aich said, "I like Falun Gong's principle of Truthfulness-Compassion-Forbearance. My husband has mentioned Falun Gong before. A practitioner just talked to me about the CCP's persecution of Falun Gong and the live organ harvesting. I think this violates human rights. This is why I'm signing the petition to support Falun Gong practitioners' efforts against the persecution."
Realtor Dharmendra Dholakiya signs a petition against the persecution of Falun Gong.
Dharmendra Dholakiya, originally from India, is now a realtor in Toronto. Dholakiya said, "I saw that there were practitioners practicing Falun Gong in several locations in Toronto. I browsed the internet to learn more about it. I like Falun Gong."
Dholakiya signed the petition against forced organ harvesting. He asked about group practice sites and contact information before he left.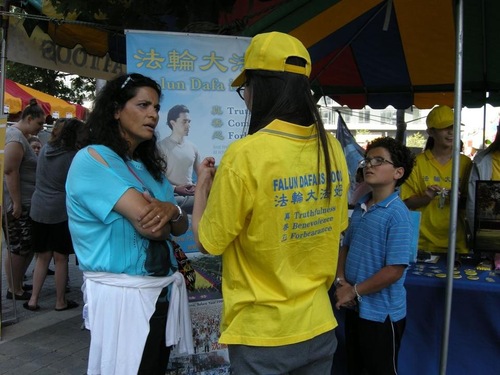 Gail (left) and her son talk to a practitioner about Falun Gong.
Gail, a property manager in Toronto, visited the festival with her son. She had many questions about Falun Gong, including why it is persecuted in China, and spoke with practitioners for a long time.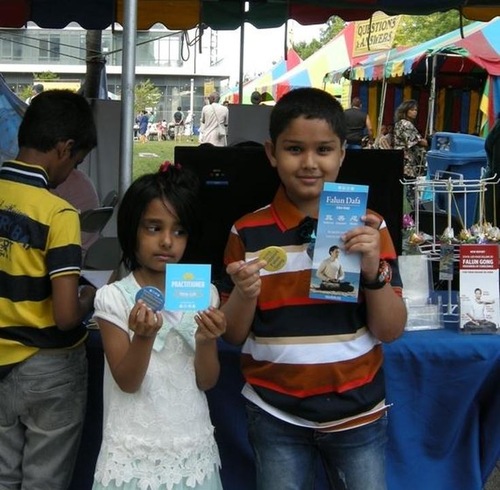 Aritra Kundu (right) and his friend Puibasha (left).
Aritra Kundu, a boy from Bangladesh, and his friend Puibasha were drawn to the colorful Falun Gong booth. They left their contact information after listening to a practitioner's introduction to the practice. Aritra said, "We like Falun Gong!"