Sweden: Introducing Falun Gong at Princess Victoria's Birthday Celebration
July 22, 2017 | By a Falun Gong practitioner in Sweden
(Minghui.org) Celebrations were held in Stockholm and Öland Island on July 14, 2017, to mark the 40th birthday of Crown Princess Victoria of Sweden.
Falun Gong practitioners participated in the festivities by setting up a booth to inform people about the practice, demonstrate the exercises, and offer free instruction.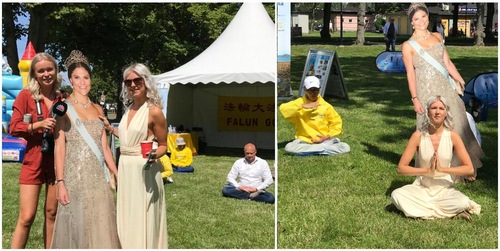 Reporters for HÄNT, with a cut-out of the Crown Princess, take a group photo with Falun Gong practitioners.
Dressed for the occasion, one of the reporters covering the event approached Falun Gong practitioners demonstrating the exercises. She said, "I like Falun Gong. Please take a photo for me!" She then sat down and started to learn the meditation.
Two HÄNT reporters had a group photo taken with the practitioners. HÄNT is a well-known media outlet in Sweden with nearly a million TV viewers weekly.
Demonstrating the Falun Gong exercises and explaining Falun Gong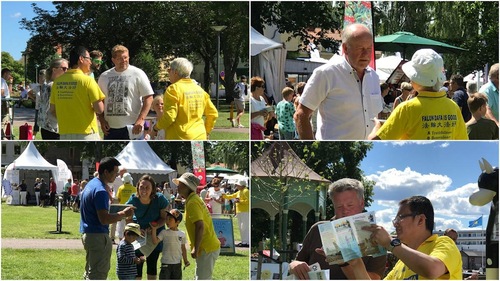 Explaining Falun Gong and the facts about the persecution in China
Alice, a teacher from Stockholm, watched the practitioners' exercise demonstration. She said, "I know that Falun Gong teaches people to be good, because I have read your informational materials. The Chinese regime's persecution is unacceptable."
A middle-aged man came to the practitioners' booth in the afternoon. He picked up information materials and said, "I watched your exercise demonstration this morning and really liked it. I've heard of Falun Gong before, but I need more information so I can learn about it."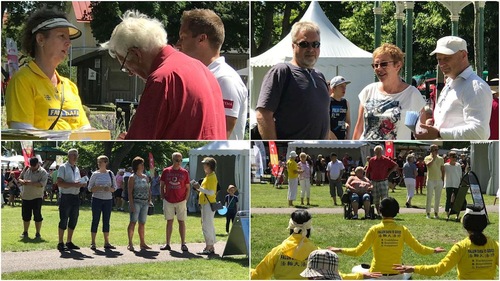 Introducing Falun Gong on Öland Island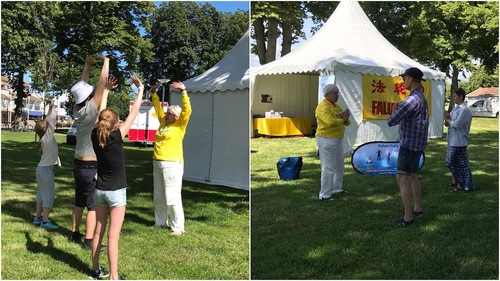 Residents learn Falun Gong at the event.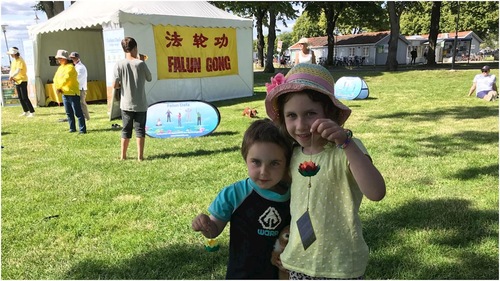 Two children like the paper lotus flowers.
Two children came to the booth, and a practitioner gave them hand-folded paper lotus flowers. Their father said to them, "You should read the words on the card. What is Falun Gong? What is Truthfulness-Compassion-Forbearance? Like everyone all over the world, you should know what it means." The children nodded in agreement.