Sydney, Australia: Public Learns About Falun Gong and Signs Petition to End the CCP's Persecution
July 20, 2017 | By Minghui correspondent Hua Qing
(Minghui.org) Falun Gong practitioners in Sydney set up mobile information displays to raise awareness on Falun Gong and the Chinese Communist Party's (CCP) persecution. People can see the areas in downtown Sydney as well as in many smaller towns.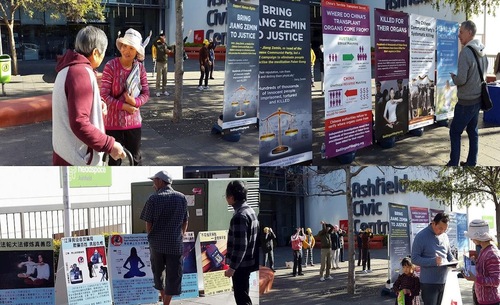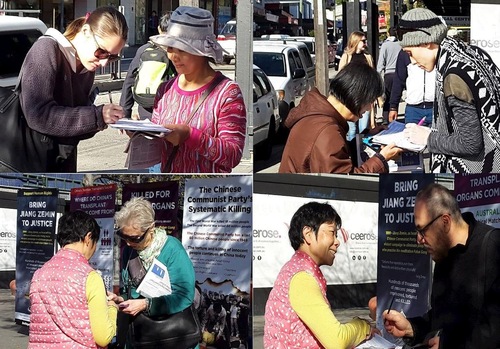 Sydney people learn about Falun Gong and sign the petition opposing the persecution.
Zeynel Arslan, a man from Turkey, came to the Falun Gong display in Ashfield on July 16, 2017. He said, "I don't like communism. It brings negative factors to the world. The CCP persecutes Falun Gong. Its live organ harvesting from Falun Gong practitioners is inhumane.
"Falun Gong practitioners follow Truthfulness-Compassion-Forbearance for better health and mind nature. Falun Gong can help people become peaceful, and make the world better. I hope everyone can learn about Falun Gong's contribution to the world."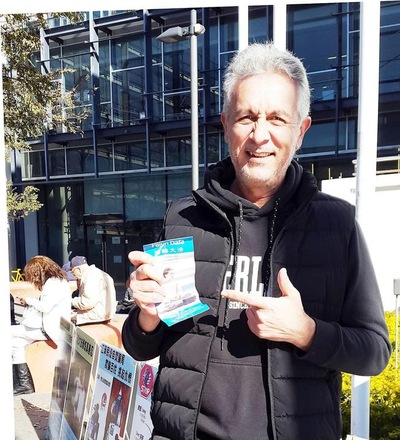 Zeynel Arslan said he hopes everyone will learn about Falun Gong.
Margaret Omysky supports Falun Gong practitioners' efforts to end the persecution. She said, "I have seen you for a long time and have signed many petitions. Why is the persecution still going on? Falun Gong is doing a righteous thing. I hope the persecution will end soon."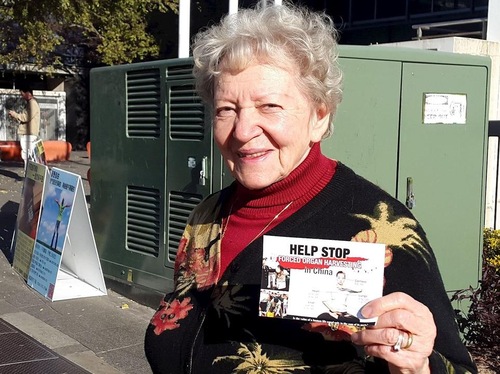 Margaret Omysky
Kasia Krol and Bartosz Mazur, a couple from Poland, live in a small town near Sydney. They were startled upon learning of the CCP's state-sanctioned live organ harvesting from Falun Gong practitioners for profit. They signed the petition opposing the persecution. Mazur said, "It is hard to imagine that such killing exists in the current civilized world."
He also said, "They (Falun Gong practitioners) are so good that they should enjoy freedom of belief. No matter where one lives, he should have basic human rights and freedom of belief. Such persecution should not exist in this world."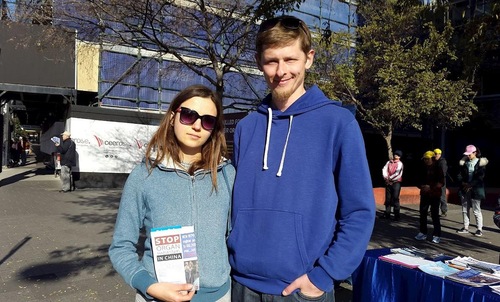 Kasia Krol and Bartosz Mazur, from Poland.
Louise Carnevale, who works in child education, said, after feeling the positive energy from Falun Gong practitioners demonstrating the exercises, "I wish to join them. It is a pity that one practicing Falun Gong would be taken away, and his basic rights deprived. I feel miserable."
She wept and continued, "I think this is a crime, and is inhumane. I hope the practitioners can have basic human rights and freedom of belief. They just practice it for better health and heart nature. If everyone follows Truthfulness-Compassion-Forbearance, the world will become more peaceful and beautiful. There will be no war in the world."
She wrote down the address of the group practice site nearby and asked about meeting times. She said she wished to join the group practice.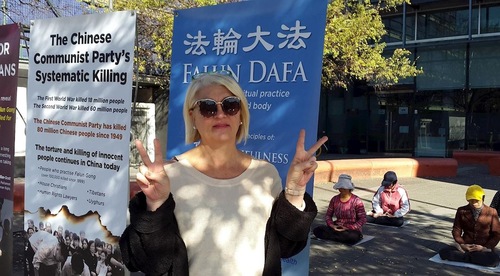 Louise Carnevale
A lady with the family name Liu from China came to to visit her child studying in Australia. She saw the practitioners demonstrating Falun Gong exercises. She stood behind them and followed their hand gestures. She said later, "Today I learned that Falun Gong is so good. Such a good practice must be good for health. Very well, I want to learn Falun Gong."
Liu said she had been misled by the CCP's media propaganda against Falun Gong. She finally learned that Falun Gong was quite different from the CCP propaganda.
She read the poster boards with Falun Gong information and chatted with a practitioner. She said, "Now I know that Falun Gong teaches people to be good. Jiang Zemin (the former CCP head who initiated the persecution) is the culprit. Everyone knows that Jiang made a mess with rampant corruption in China. I agree with the poster saying 'the biggest sorrow is not the arrogance of bad guys, but the silence of good people.'"
She agreed that more people should stand up to call for an end to the persecution. She quit her membership in the CCP on the spot.