Taiwan: A Special Spot at a Popular Taipei Tourist Attraction
July 15, 2017 | By a practitioner from Taiwan
(Minghui.org) Falun Gong practitioners from Taipei, Taiwan, have come to a famous tourist spot, Sun Yat-sen Memorial Hall, every day for the past nine years, to tell Chinese tourists the facts about the ancient self-improvement cultivation practice.
The persecution of Falun Gong in China has been ongoing for 18 years. In addition to the brutal physical torture and financial and emotional persecution that has been inflicted on practitioners, the Chinese Communist Party has employed state resources to generate propaganda campaigns that defame Falun Gong and incite hatred of the practice. Many Chinese people have been deceived by the lies, and thus have misguided understandings about the practice, whose guiding principles are Truthfulness-Compassion-Forbearance.
Ever since people from mainland China were first allowed to visit Taiwan in 2008, practitioners from Taipei have made efforts to "clarify the truth about Falun Gong," undo the Communist Party's lies, help their Chinese fellows recognize the evil nature of the persecution, and call upon them to quit the Party for their own wellbeing.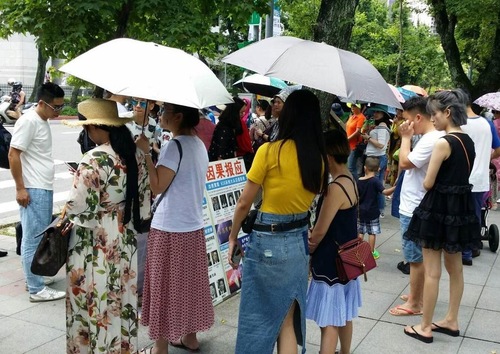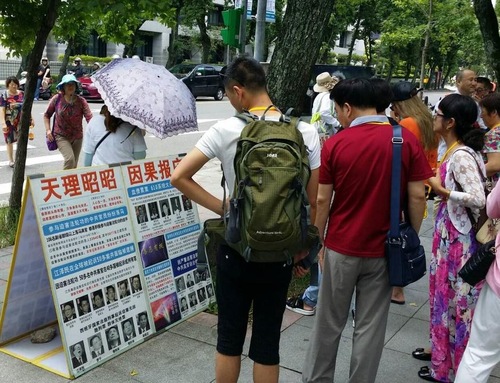 Chinese tourists view the Falun Gong display boards.
The practitioners' time and energy were not wasted. During the past nine years, countless Chinese fellows have talked to them, accepted the materials, learned the truth, and quit the Party.
Many Chinese tourists are amazed and touched to see Falun Gong practitioners here. They take photos and videos of the exercise demonstrations.
One Chinese man said to his tour group, "I've seen Falun Gong in Europe and America, too. They have freedom outside of China. What a pity they cannot practice in our country.
"Everybody has freedom of belief. Isn't Falun Gong a belief? The persecution is so wrong."
Such comments have often been heard at the memorial hall.
Falun Gong's booth has become a scene and a landmark. Many tour guides tell their clients to assemble there after the free activity.
The guides tell the tourists, "If you get lost, go find Falun Gong. They are very nice, and will help you."
Some guides also give practitioners their phone numbers, so they can help any lost tourists to call them.
One day, a senior guide, who had misunderstandings about Falun Gong, came to find out what Falun Gong really is. He said he supported freedom of belief, but didn't know that Falun Gong actually is a belief system that is related to Buddhism.
After talking to a practitioner for a long time, the senior guide said, "Now I see. Falun Gong's teaching is really profound. It embraces the teachings of all other religions that I know. The principle of 'Truthfulness-Compassion-Forbearance' is the universal law."
He tells the tourists what he learned, and helps practitioners pass out materials to his clients.
A Chinese tourist in his 60s stopped at the practitioners' booth one day. At first he was quiet and didn't respond to the practitioner who started to explain the basic teachings of Falun Gong.
The practitioner then told him about the persecution. When the practitioner tried to convince him to quit the Party, the man suddenly put hands together in front of his chest, looked up to the sky, and said, "Heaven is my witness: I swear I will not have any relationship with this Party. I quit now. Falun Dafa is good!"
He then took several photos of the Falun Gong materials and said he would show them to his friends in China.