Canada: Falun Gong's Tian Guo Marching Band Awarded at Calgary Stampede Parade
July 14, 2017 | By a Falun Gong Practitioner in Calgary, Canada
(Minghui.org) Close to 200 Falun Gong (also called Falun Dafa) practitioners from Toronto and Vancouver participated in the 2017 Calgary Stampede Parade on July 7, 2017. Among more than 113 participating groups, the Falun Gong procession left a deep impression on spectators with their colorful costumes, bright smiles, and their high-spirited music and dance performance.
The Falun Gong practitioners' Tian Guo Marching Band won second place in Total Musical Performance, and the top score on two criteria, Total Musical Performance and Total Visual Performance.
The ten-day Calgary Stampede is a large annual event that attracts businesses, tourists, politicians, media and other circles of society from all over the world. The Stampede Parade is the largest parade in Canada and second largest in North America. About 4,000 people participated in the parade, which attracted 200,000 spectators this year.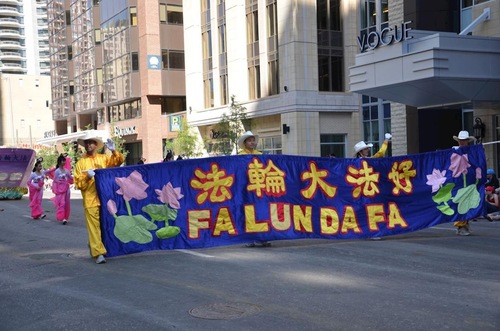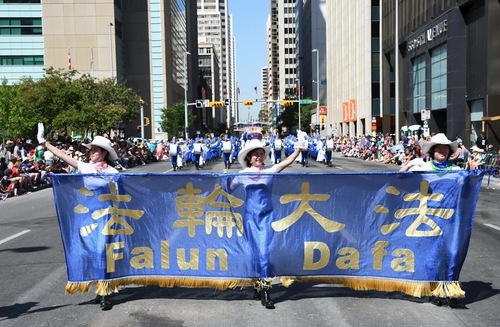 Falun Gong practitioners participate in 2017 Calgary Stampede Parade.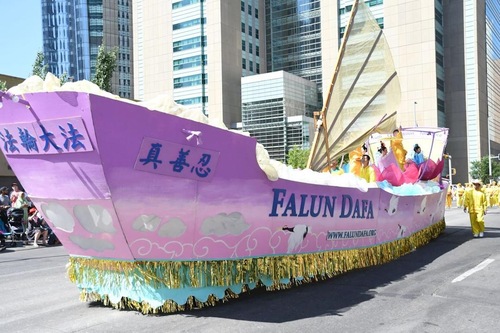 Falun Dafa float in the Stampede Parade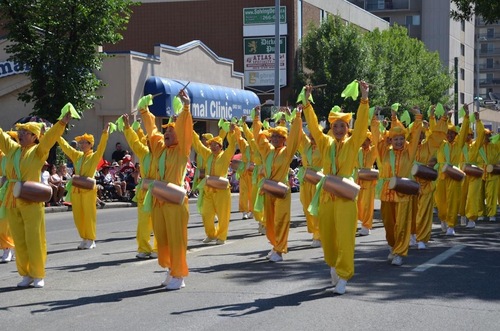 Waist Drum Troupe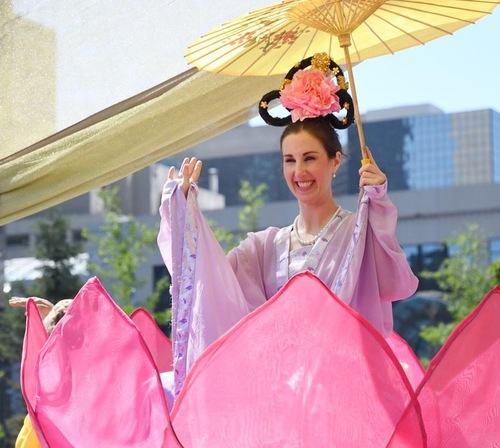 A Falun Gong practitioner in a celestial maiden costume waves at spectators.
The Falun Gong procession presented the powerful music of the Tian Guo Marching Band, an elegant large float, dancing celestial maidens, and the waist drum dance troupe. Their beautiful performance in the two-hour-long parade received warm applause. People gave them thumbs-up and said, "You are the best!" "I'm so touched!" "You did great!" Some congratulated Falun Gong practitioners after the parade. A woman asked if her son could join the band.
Ms. Li Yi, a Chinese Canadian, told the reporter, "When the Tian Guo Marching Band approached, people got quiet with their eyes wide open, as if they were waiting for a major event. The music is so great. It was a wonderful experience listening to it. It made me feel warm and excited, and I was touched by its magnificence! I don't know why, but tears came to my eyes."
Mrs. Zhang, 80, from Shanghai, China, said it was the first time she had seen Falun Gong in a parade. She thought it was heart-shaking, the girls looked gorgeous, and the drummers seemed very familiar to her. Mrs. Zhang was interested in Falun Gong and had looked for the Falun Gong group exercise site in the downtown area. Seeing so many practitioners in the parade, she said, "I would like to practice Falun Gong too!"
Alen, a lady from the Ranchlands area in Calgary, recognized the Tian Guo Marching Band as soon as she saw their blue and white uniforms. She said that the band had performed in her community last year. The pictures were still on her community's website. She commented, "Their music sounds great!"
Amy from Spain and her family watched the entire parade. She said of the Falun Gong practitioners, "You are the best!"
Falun Gong practitioners also participated in other performances and activities after the parade. They were glad to be able to share the beauty of Falun Gong with so many people.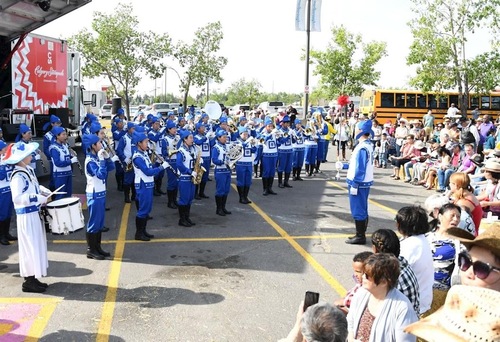 The Tian Guo Marching Band performs at Marlborough Mall.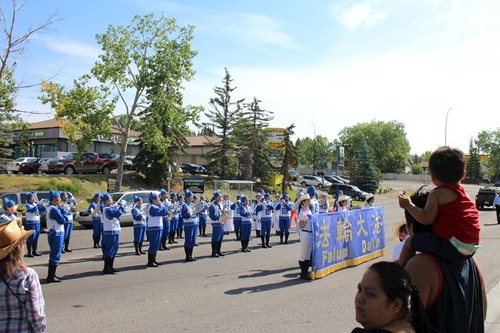 The Tian Guo Marching Band at Ranchlands Community
http://www.minghui.org/mh/articles/2017/7/12/卡尔加里牛仔节-观众赞扬法轮功(图)-350988.html