Practitioners Introduce Falun Dafa in Central Europe
July 12, 2017 | By Falun Dafa practitioners in Prague, Austria, and Slovakia
(Minghui.org) July marks 18 years since the persecution of the spiritual discipline of Falun Dafa began in China. Practitioners in Austria, the Czech Republic, and Slovakia held a series of events to introduce Falun Dafa to the public and raise awareness of its ongoing persecution in China.
Best Culture vs. Most Vicious Regime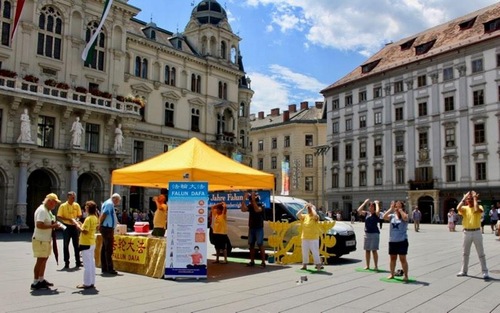 "Information day" put on by Austrian practitioners in Graz on July 8, 2017
Austrian practitioners went to Graz, the second biggest city in Austria, on July 8. They set up a booth, displayed posters, and talked with passersby about Falun Dafa.
One local resident interested in Chinese culture was surprised to hear about practitioners being mistreated in China for their belief. After talking to practitioners, he said, "I know China used to have the best culture in the world, but now it has been damaged by this vicious regime."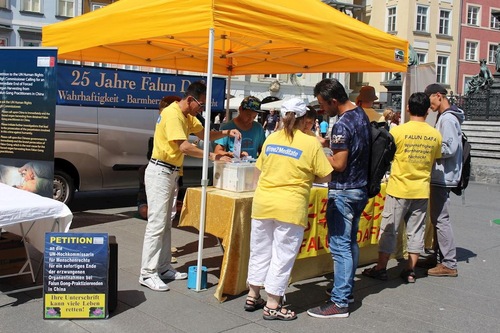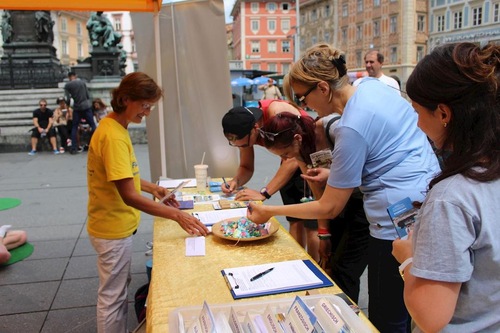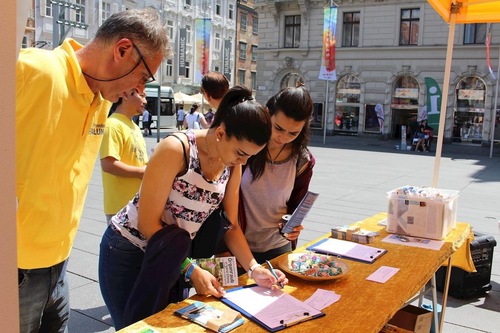 Passersby learn about Falun Dafa and sign petitions calling to end the persecution in China.
Several pedestrians said they wanted to try practicing Dafa after hearing about its health benefits. One woman said that its principles of Truthfulness, Compassion, and Forbearance were enlightening.
"The Brutality Will Not Last Long"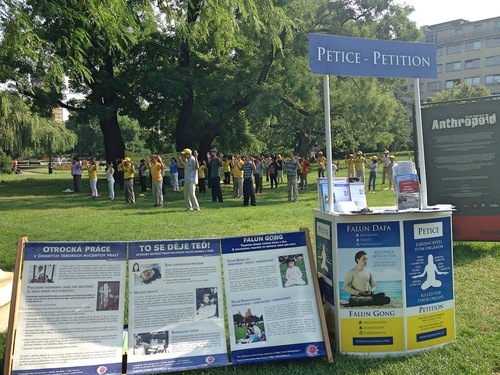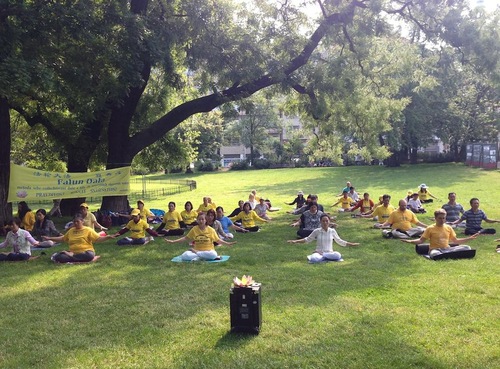 Practitioners demonstrate the Falun Dafa exercises at Karlovo náměstí (Charles Square) in Prague on July 6, 2017.
Falun Dafa practitioners in Prague went to Karlovo náměstí (Charles Square), one of the biggest public squares in the world, on July 6 to raise awareness of the suppression in China. Many passersby stopped to read posters, talk with practitioners, or watch videos.
Five Chinese tourists watched the practitioners' group meditation. But when one practitioner went over to talk to them, they started to walk away. The practitioner told them, "We follow the teachings to improve our health and become better citizens. Please do not blindly believe the lies from Chinese Communist Party." The tourists took some handouts to read later.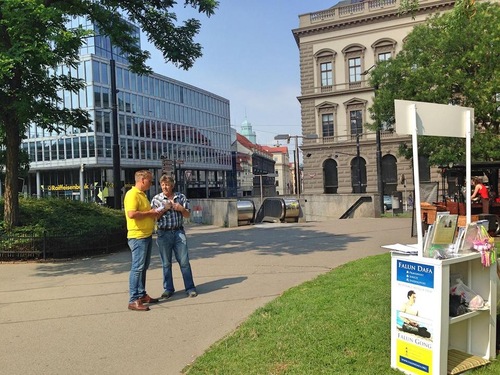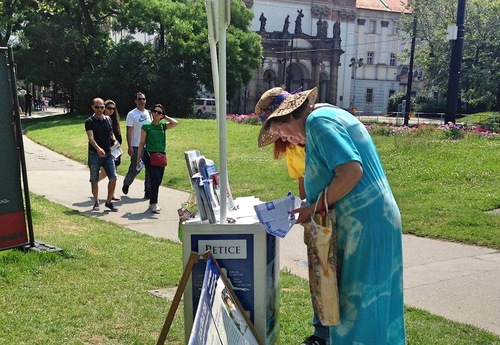 Pedestrians stop to learn more about Dafa.
One Chinese man said he had lived in Prague for four years. He often reads Falun Dafa materials and supports practitioners. "Trust me, the brutality will not last long," he said. "Many high officials who suppressed Falun Dafa have been arrested for corruption—they deserve it."
"I Will Send This Picture to China"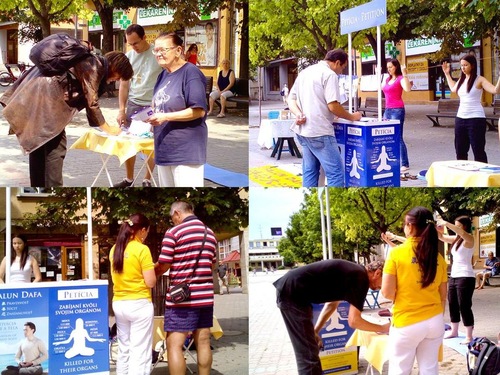 Event in Nové Zámky in southern Slovakia on July 7, 2017
When practitioners went to the central square in Nové Zámky in southern Slovakia on July 7 for a signature drive, many signed petitions in support and some were eager to learn the five exercises.
A Chinese couple who owned a restaurant talked to practitioners. After learning how people have been detained and tortured in China for practicing Falun Dafa, both agreed to renounce their memberships in the Chinese Communist Party and its affiliated organizations. "The communist officials are corrupt, and the Party has no future," said the wife.
Shocked by the atrocities committed against practitioners in China, a young man and his friends all signed petitions to condemn the persecution. They then took a group photo in front of a practitioner's banner.
"I will send this picture to China to show them that we strongly support Falun Dafa here," he said.
Related reports in Chinese:捷克布拉格学员向民众介绍法轮功(图)斯洛伐克民众签名支持法轮功反迫害(图)