Hamburg, Germany: Falun Gong Practitioners Raise Awareness of Persecution During 2017 G20 Summit
July 11, 2017
|
By a Minghui correspondent in Hamburg
(Minghui.org) During the recent 2017 G20 Summit in Hamburg, Germany, on July 7 and 8, Falun Gong practitioners took the opportunity to reach out to international leaders, visitors, and local residents to draw attention to the ongoing suppression of Falun Gong in China.
In front of the Grand Elysee Hotel in the center of Hamburg and on the major walkway of the Landungsbruecken (Hamburg's historic dock area), practitioners held banners, distributed informational materials, and talked with passersby about how the Chinese regime brutally persecutes people for their belief in Falun Gong.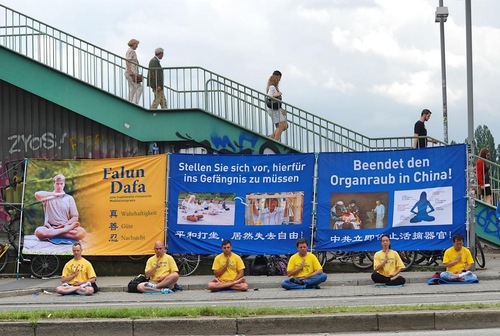 Falun Gong practitioners meditate and display banners during the 2017 G20 Summit in Hamburg, Germany, on July 7 and 8, 2017.
One local resident said he had heard about the short waiting time for organ transplants in China more than 10 years ago. Upon learning that the Communist Party detains law-abiding practitioners and kills them for their organs, the man's expression became solemn.
"The communist regime won't last long," he said to a practitioner. "Please keep up your work of raising awareness, both for your sake and for those persecuted in China."
Mr. Zhou, manager of a software company in Hamburg, took part in the event. For him, the persecution in China has hit particularly close to home. "My mother-in-law, Ye Julan, was arrested at her home in China in December 2014 for practicing Falun Gong. In May 2015, officials sentenced her to three years of imprisonment and held her at the Nanhui Prison in Shanghai," he said.
Practitioners talk to passersby about Falun Gong and the suppression in China during the G20 summit in Hamburg.
Ms. Ye, 69, was formerly an engineer for a Hunan Radio Station. However, because of heart disease and severe joint pain, she had to retire early, while only in her 40s. "Shortly after she began to practice Falun Gong in 1998, her heart disease was completely resolved," said Mr. Zhou. "The joint pain and leg pain was also gone. She was so happy."
But after the Communist Party started to suppress Falun Gong in 1999, Ms. Ye could no longer freely practice her belief. The local police often came to her home to harass her, and she was arrested in 2002 as she was distributing materials about Falun Gong. She was arrested again in 2010, then most recently in 2014.
"Falun Gong helped my mother-in-law become a healthier person and a better citizen. That is why she would never give up her belief no matter the pressure," Mr. Zhou explained.
"I hope that more people can help us bring about an end to this persecution," he added.
Related article:Daughter Appeals in Hamburg for Ms. Ye Julan's Release