Los Angeles: Falun Gong Entry a Unique Sight in Independence Day Parade
July 10, 2017 | By a Falun Gong practitioner in Los Angeles
(Minghui.org) The Los Angeles Falun Gong group won second place for "Best Float" in the largest Independence Day parade on the West Coast. Among the 250 groups that participated in the parade in Huntington Beach, CA on the 4th of July, the Falun Gong group's "lotus flower" float and waist drum team stood out.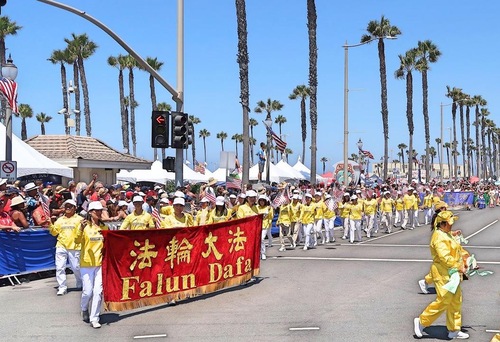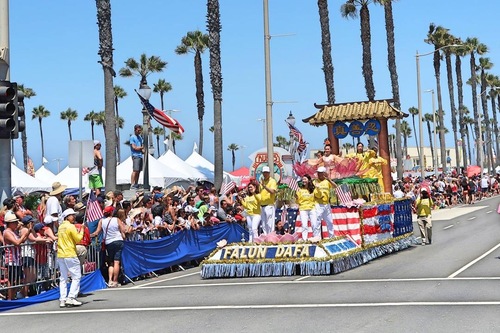 Falun Gong group in the largest July 4th parade in the West Coast
"You cannot see this very often," said one spectator from a nearby town.
One of the highlights in the Falun Gong entry this year was a group of practitioners dressed in traditional costumes from six Asian ethnicities, including Chinese, Mongolian, Yi, Vietnamese, Korean, and native Taiwanese.
Since Falun Gong has been persecuted in China for the past 18 years, many Chinese tourists in the crowd were surprised to see the Falun Gong group taking part in this American celebration.
Ms. Yuan from China was amazed to see that the Falun Gong group was the largest one in the parade. Mr. Yao said it made him feel proud to see such a large group of mostly Chinese presenting Chinese culture in America. He took a lot of photos. "I will show these to my friends in China. Most of them don't have a chance to see the real Falun Gong," he said.