Houston: Falun Gong Booth a Hit at Health Expo
July 10, 2017 | By Minghui correspondent Shu Jing in Houston, U.S.
(Minghui.org) Falun Gong practitioners held a booth at a Health Expo at a Chinese community center in Houston on June 24, 2017. Around 30 exhibitors took part in the expo, which was hosted by US-based, Chinese language media, New Tang Dynasty TV and The Epoch Times newspaper.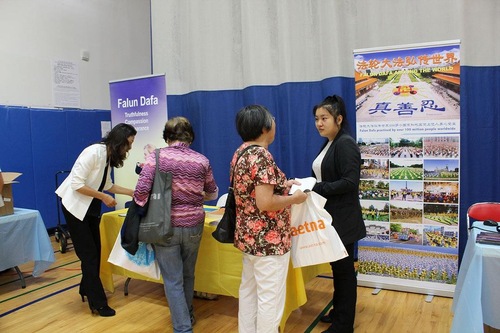 Falun Gong booth
Falun Gong, also known as Falun Dafa, is a spiritual practice that has brought physical and mental well-being to millions of people around the world since its introduction to the public in China in 1992.
Many event-goers stopped at the Falun Gong booth to learn about the benefits of the practice. They also learned that practitioners of this peaceful practice have been persecuted by the Chinese Communist regime in China for the past 18 years.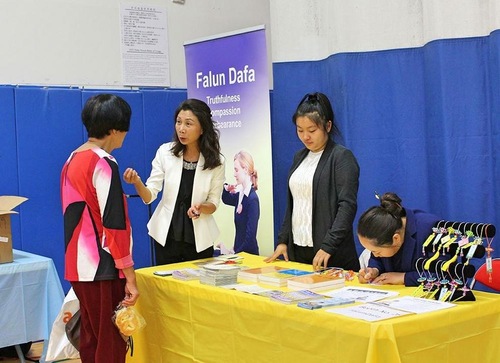 A woman learns about Falun Gong at a Health Expo in Houston
Impressed by Falun Gong's Healing Power
Ms. Han from China came to the expo looking for health improvement methods because her husband suffers from cancer.
A booth volunteer told her about a man named Dr. Wang Zhiyuan, who recovered from ALS within three months of taking up Falun Gong. ALS is a neurodegenerative disorder often referred to as Lou Gehrig's disease, which the World Health Organization identifies as one of the top five terminal illnesses.
Not only did all of Dr. Wang's illness symptoms disappear, he regained the weight he had lost and even weighed more than before becoming ill.
Mr. Wang's recovery is not an isolated case, explained the volunteer. Countless people with incurable illnesses experienced dramatic recoveries after taking up the practice.
Ms. Han said she was excited about learning Falun Gong and would show the information to her husband as well.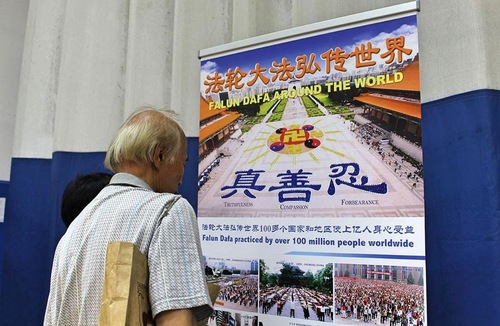 A visitor studies a poster on Falun Gong's worldwide popularity
Taking a Stance Against the Communist Regime
Several booth visitors who had immigrated to the US from mainland China decided to take a stance against the communist regime's brutal persecution by declaring their withdrawal from the Chinese Communist Party (CCP) or its youth organizations.
The "Quit-the-CCP" movement has been building momentum in China and around the world since 2004 when the Nine Commentaries on the Communist Party was published.