Calgary, Canada: Falun Gong Practitioners Perform in Lilac Festival Parade
June 09, 2017 | By a practitioner in Canada
(Minghui.org) In the recent Lilac Festival held on June 4 in Calgary, the third largest municipality in Canada, Falun Gong practitioners brought waist drums and formed a flag team to celebrate with the community.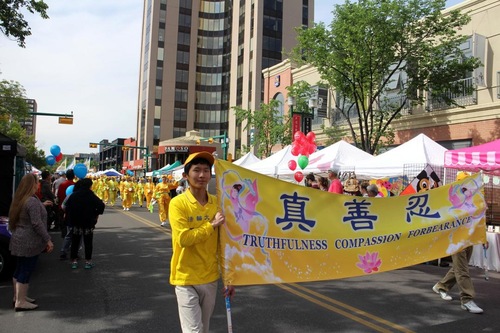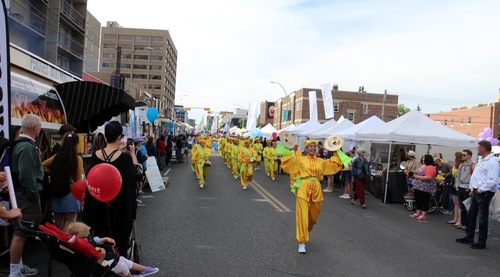 Falun Gong practitioners performed waist drums and displayed colorful flags at the Lilac Festival in Calgary on June 4, 2017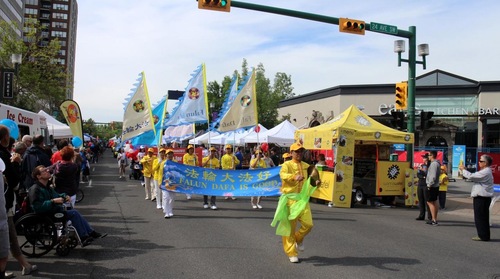 Flag team in the parade.
"I like the yellow costume," said local resident Jack to a practitioner. "And the music is great too! It's an excellent performance."
Started as a neighborhood celebration about three decades ago, this one-day festival attracts more than 100,000 people each year and is often known as the best free festival in the region.
Many people stopped by the Falun Gong booth after the parade to learn more about the health benefits of the practice. Some made note of the free exercise instruction offered in a local library and said they would consider joining the weekly meditation group.
From reading the posters and talking with practitioners, quite a few people learned about the persecution of practitioners in China for their belief. One person who knew about the suppression took his friends to the booth, where both of them signed petitions calling to stop the persecution. His friends took several copies of all the materials to give to others.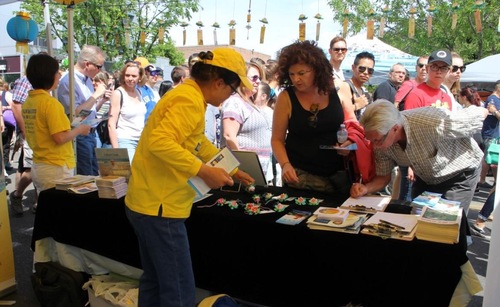 People stopped at the booth to learn about the meditation practice and signed petitions against the persecution of Falun Gong in China.
Signatures were also collected to rescue Sun Qian, a Canadian citizen detained in China for practicing Falun Gong. "The Chinese Communist Party is vicious," said an elderly woman. "Persecuting Falun Gong is one example."
"What you are doing are important, and it will change history," she said to a practitioner.