Toronto: Ancient Meditation Practice Draws Interest at Health and Fitness Exposition
June 02, 2017 | By a Falun Gong practitioner in Toronto, Canada
(Minghui.org) Practitioners of Falun Gong demonstrated the meditation practice at the Toronto Pro SuperShow, which took palce at the Metro Toronto Convention Centre on May 27-28, 2017.
With more than 100 exhibitors, this is Canada's largest health and fitness exposition. Many attendees came to know Falun Gong during these two days, and some expressed interest in learning the practice.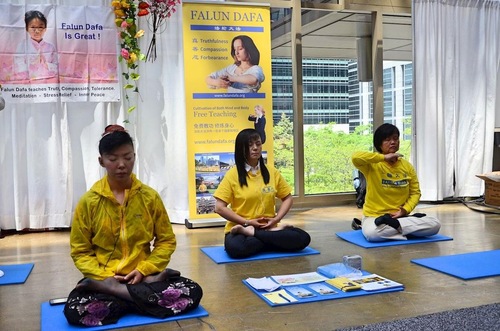 Practitioners demonstrate the Falun Gong exercises.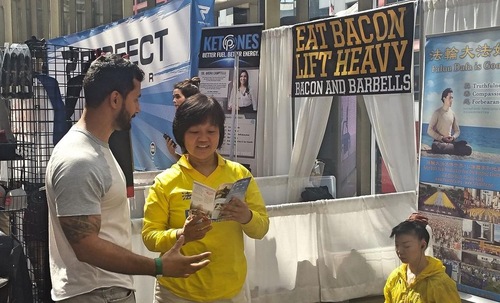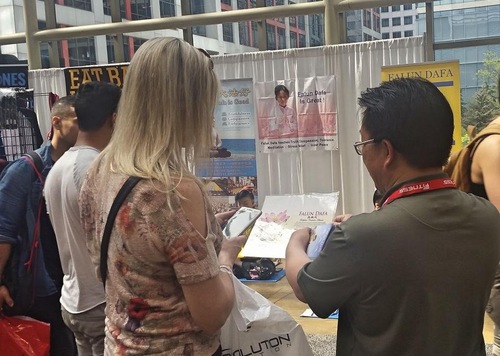 Attendees stop by the booth to learn more about Falun Gong.
Peace and Energy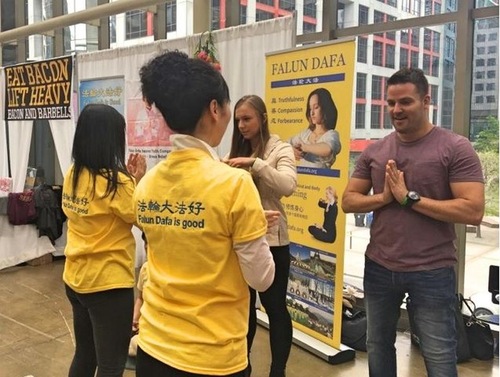 Carolina and Trevor said they liked doing the exercises.
Carolina and Trevor, who stopped by the booth, were glad to learn that Falun Gong can improve one's physical health and reduce stress. They learned the exercises from two practitioners. Trevor said, "I like it here because I can feel the peace and energy."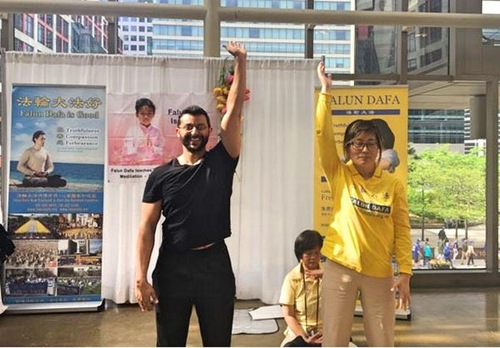 Bart learns the Falun Gong exercises.
Bart, an immigrant from India, is a personal trainer. Having heard about Falun Gong a few years ago, he said he was pleased to meet and talk with practitioners in person. After reading some introductory materials, Bart learned all five sets of Falun Gong exercises. "I really enjoyed it," he said. "It helps one become relaxed and refreshed."
In addition to learning the exercise movements, some attendees wanted to learn the teachings of Falun Gong as well. Upon hearing of free exercise instruction at a community center in downtown Toronto, Farisa said she wanted to attend. "I plan to finish reading Zhuan Falun once before going there," she added, referring to the main book of Falun Gong.
'You represent the real China'
Andy emigrated from Lebanon and currently lives in Alberta in Western Canada. "My home country is in a war now," he explained to a practitioner. "I wish everyone could follow the principles of Truthfulness-Compassion-Forbearance, because that would help us have a better world."
Quite a few people already knew about the suppression of Falun Gong by the communist regime in China. Van Anderson asked a practitioner if the persecution has stopped. "I cannot understand why China would mistreat a peaceful group like Falun Gong," he said.
The practitioner explained Falun Gong's popularity before 1999 and how former Communist Party leader Jiang Zemin launched the suppression out of fear that he would lose power. Despite the harsh persecution in China, the practitioner said, people over 100 countries continue to practice Falun Gong.
Van Anderson said, "Canada welcomes you because your group helps to make our society better. In fact, you represent the real China."