Denmark: Introducing Falun Gong at Asian Culture Festival
June 15, 2017 | By Shu Qi
(Minghui.org) The Asian Culture Festival was held in Aalborg, Denmark on June 9-11, 2017, at a square near the sea port. Falun Gong practitioners participated in the event on Saturday.
A French naval ship was in the port at the time, and some sailors disembarked to watch the events, including a speedboat show in the port. Crowds of people attended the events on the square, including multicultural shows, and various booths and food stands. On the stage were cultural performances, music, and dancing.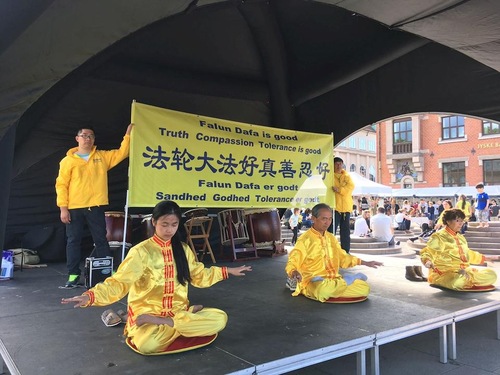 Falun Gong exercise demonstration on the stage.
Falun Gong practitioners twice demonstrated the five sets of exercises on the stage. One practitioner introduced the exercises while others did the demonstration. The seats near the stage were filled with spectators. Many accepted Falun Gong flyers and folded paper lotus flowers.
The event-goers also visited the Falun Gong booth, including one young man who said he had practiced martial arts for years. He said to a practitioner, "I have contacted several martial arts instructors and people who practice martial arts. Some seem to have good character, and others do not. But I don't understand what effect personal character has on martial arts skill."
"Falun Gong teaches people to be good. This principle is good. Returning to one's true-self makes sense. Now I know that one's skills will improve once one's heart nature improves. I will download Falun Gong books to read after going home."
He signed the petition opposing the Chinese Communist Party's (CCP) state-sanctioned live organ harvesting from Falun Gong practitioners for profit. He said, "The CCP has perpetrated many unacceptable wrongdoings. I will try my best to help these innocent people."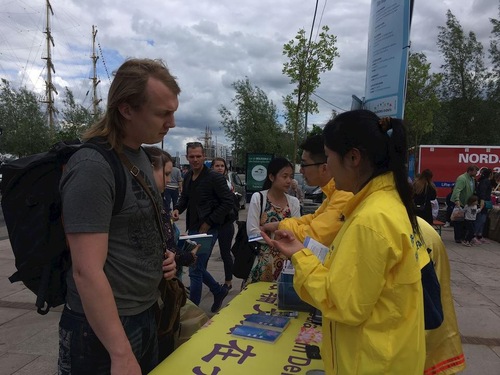 A young man who practices martial arts was interested in Falun Gong.
One young couple asked more information about Falun Gong and the five sets of exercises. A practitioner told them there would be an exercise demonstration held soon, so after waiting patiently, they carefully watched the exercise demonstration. The man said excitedly after watching the demonstration, "Falun Gong is awesome! I want to learn it." They bought the books Falun Gong and Zhuan Falun. Both were happy.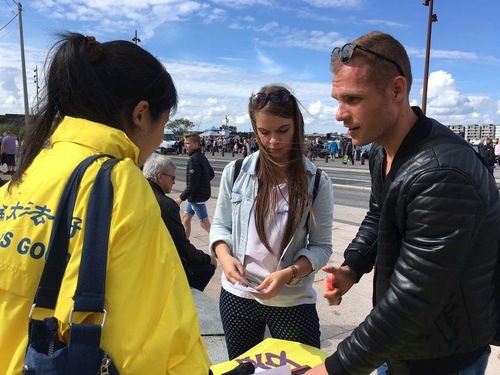 A young couple was interested in learning Falun Gong.
A bicyclist passed by and paused to watch the exercise demonstration. He signed the petition against the persecution, and said, "I am very happy to see you. I practiced Falun Gong 15 years ago. I support you. I know this persecution is ongoing. I have not practiced Falun Gong for a long time, and need to review the exercises."
A practitioner corrected his hand gestures as he did the exercises on the spot, as many watched with interest. He was grateful afterwards.
Chinese visitors accepted Falun Gong information materials, and some renounced the CCP Youth League on the spot.