Hiroshima, Japan: Falun Gong Practitioners Participate in Flower Festival
May 09, 2017 | By a Falun Gong practitioner in Japan
(Minghui.org) The 41st Hiroshima Flower Festival was held on May 3-5, 2017, on Peace Boulevard, in Hiroshima, Japan. Falun Gong practitioners were invited to participate in the festival for the 16th consecutive year.
The theme of the 2017 flower festival is "An ever peaceful future filled with flowers." The event opened with the Flower Parade on May 3 on Peace Boulevard. Ninety-seven teams and over 8800 people participated in the parade. Near 620,000 spectators watched the parade this year.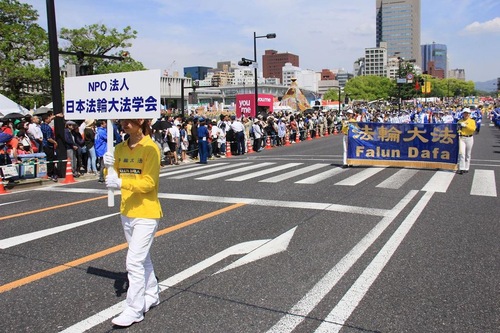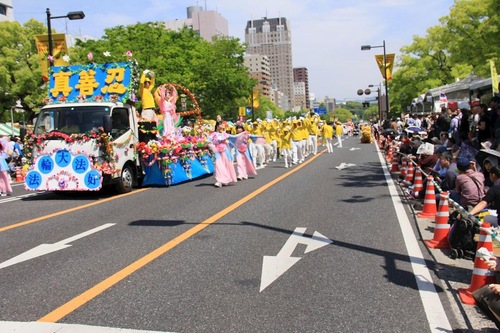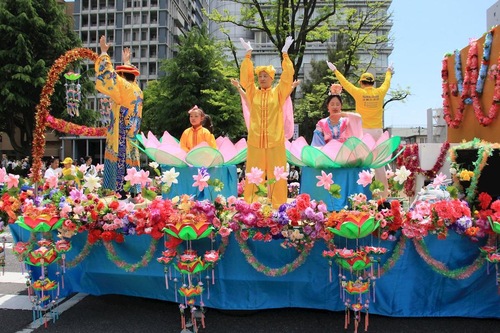 The Falun Gong practitioners' procession included the Tian Guo Marching Band, a float, and an exercise demonstration team.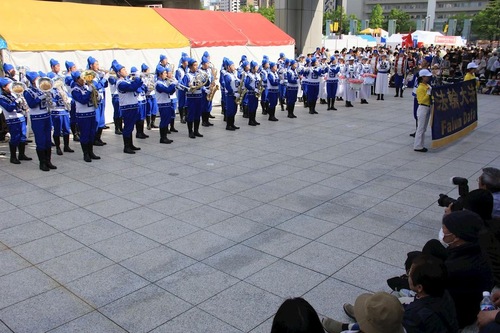 The Tian Guo Marching Band performs on performance square.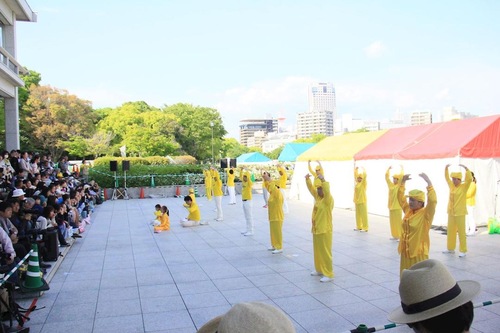 Falun Gong exercise demonstration.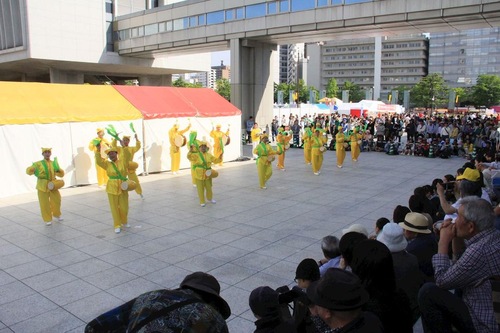 Waist drum team performs.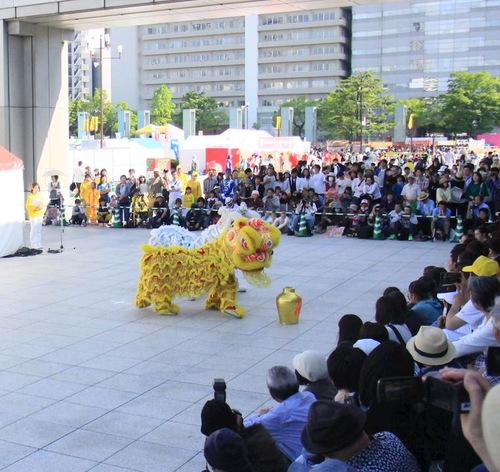 Lion dancing.
The Falun Gong procession was huge and consisted of the Tian Guo Marching Band, a float, a fairy team, an exercise demonstration team, and a waist drum team. A Chinese visiting student came to talk with the practitioners during preparation in the early morning. He said he and his friends would watch the performance of Falun Gong group around noon.
Crowds of spectators acclaimed the practitioners in the parade. Some practitioners distributed paper-folded lotus flowers. The moderator said after introducing Falun Gong, "They are distributing charms. Whoever's getting them are lucky!"
The Tian Guo Marching Band, waist drum team, lion dance team, and exercise demonstration team conducted performances on the performance square after the parade.
One Chinese tourist said, "Falun Dafa. This is Falun Gong. It is awesome outside of China!" He and his companion took photos.