Swedish Lawmakers Hold Forum on China's Organ Harvesting Crimes
(Minghui.org) Four Swedish Parliament Members held a forum on Wednesday to promote a bill banning "organ tourism" to China.
American reporter and China affairs expert Ethan Gutmann and a representative from the organization Doctors Against Forced Organ Harvesting (DAFOH), Dr. Harold King, were invited to speak at the forum.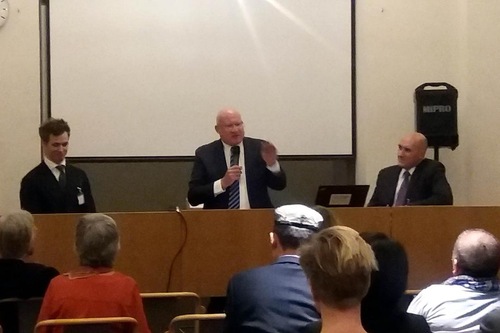 Ethan Gutmann (middle) spoke at the forum. On his right and left are Swedish lawyer Nicolas and Dr. Harold King.

Four Swedish parliament members that held the forum. From left to right: Lotta Johnsson Fornarve, Niclas Malmberg, Marta Obminska, and Hans Rothenberg
According to MP Marta Obminska, four lawmakers have come together to stop illegal organ trade.
MP Obminska believes that very few Swedes are aware of forced organ harvesting and organ tourism to China. She that it is necessary to discuss it and to initiate a dialogue with China, so that the Chinese regime will know that Sweden says "No" to this crime.
Dr. Harold King introduced the mission of DAFOH and how other countries have passed laws to prevent organ tourism to China, including Israel, Spain, Taiwan, and Italy.
Ethan Gutmann reviewed the evidence that he, along with David Kilgour and David Matas, two Canadian human rights activists, collected that proves the existence of state-sanctioned organ harvesting in China.
Gutmann encouraged Swedish lawmakers to help stop this crime.
MP Niclas Malmberg emphasized the necessity of such laws.
MP Lotta Johnsson Fornarve said that forced organ harvesting is shameful. She said if Sweden takes the initiative to pass such a law, other European countries will follow suit.
MP Hans Rothenberg said the most important step to stopping it is to let the public know about it, while the second step is to pass a law to prevent organ tourism. He said we must let the Chinese Communist Party know that forced organ harvesting is inhuman.
In conjunction with the forum, Falun Gong practitioners held a rally outside the parliament building.
After the forum, some of the attendees joined the rally and voiced support for the practitioners' efforts.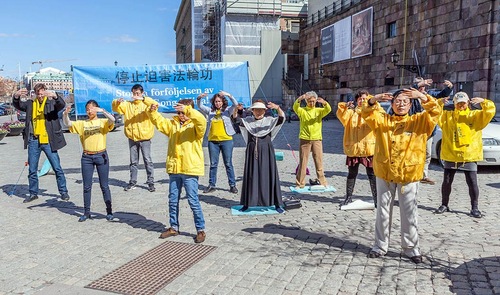 Demonstrating Falun Gong exercises at Mynttorget, outside the parliament building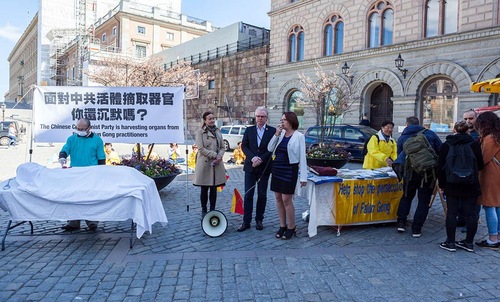 MP Lotta Johnsson Fornarve speaks at the rally.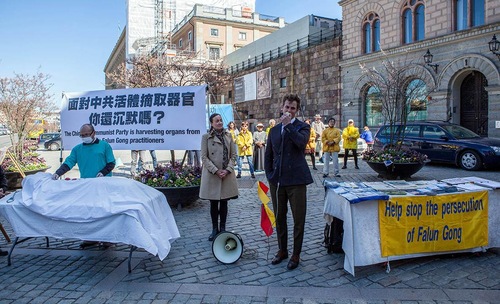 Nicolas, a Swedish lawyer, added his comments at the rally.
Dr. Harold King offers his support at the rally.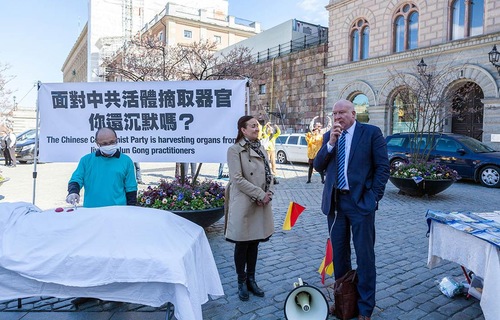 Ethan Gutmann speaks out against China's forced organ harvesting crimes.
The Falun Gong practitioners also handed out flyers, re-enacted forced organ harvesting, and collected signatures on a petition.
Related report in Chinese
http://www.minghui.org/mh/articles/2017/5/5/瑞典国会大厦外反迫害集会-政要到场声援(图)-346802.html