U.S. Senator Marco Rubio Commends Shen Yun Performing Arts
(Minghui.org) U.S. Senator Marco Rubio, Chairman of the Congressional-Executive Commission on China, wrote to the Florida Falun Dafa Association on May 15. He thanked the association for bringing Shen Yun Performing Arts to Florida and congratulated them on another successful year.
The letter stated, "You should be immensely proud of sharing unique and classical Chinese dance and music with communities across Florida. Your commitment to performing arts and to the preservation of traditional Chinese culture is no doubt an inspiration to your audiences. It is my hope that you continue to share your passion for music and dance with others."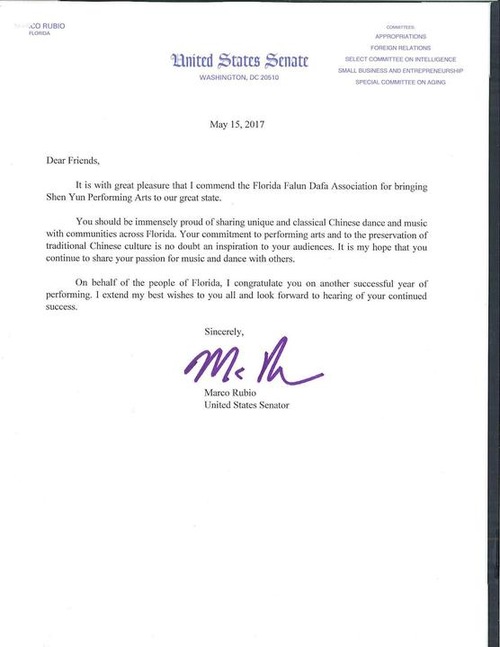 Letter from Senator Marco Rubio to the Florida Falun Dafa Association
Shen Yun Performing Arts conducted 21 shows in eight Florida cities from January 3 to February 12. Wherever it went, there were crowds of audiences. Tickets sold out and box office records were broken in several cities.
Shen Yun, a nonprofit organization, has five performance companies that tour around the world from the December to May. Shen Yun performed near 500 shows in over 140 cities this season. It brings the wonders of ancient Chinese culture to millions.