Spectators Moved by Falun Gong Entry in Annual Dance Parade in Manhattan
May 25, 2017 | By Minghui correspondent Caiju in New York
(Minghui.org) "Dance for Peace" was the theme of the 11th Annual Dance Parade and Festival held on May 20 in Manhattan this year. Nearly 10,000 spectators and 167 different dance groups gathered along Broadway to celebrate the event.
Falun Gong practitioners presented a float decorated with beautiful lotus flowers, followed by the lively Waist Drum Team and practitioners demonstrating the five exercises. Their presence received a warm reception.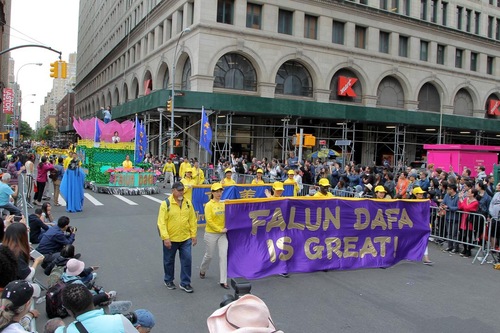 Falun Gong practitioners at the 11th Annual Dance Parade and Festival on May 20 in New York City.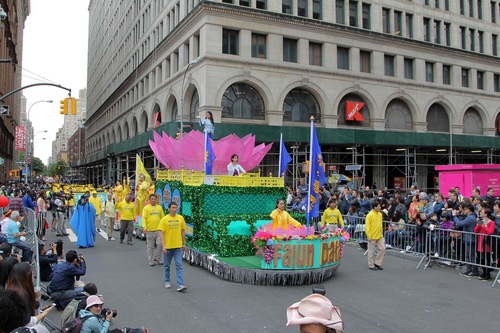 Practitioners demonstrating the exercises on the Falun Gong float.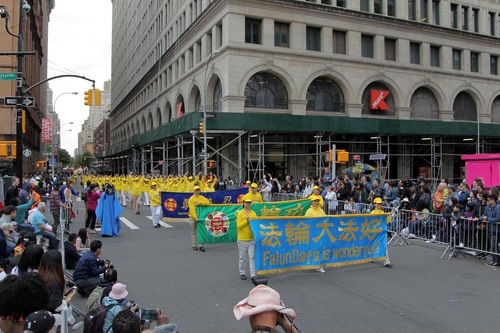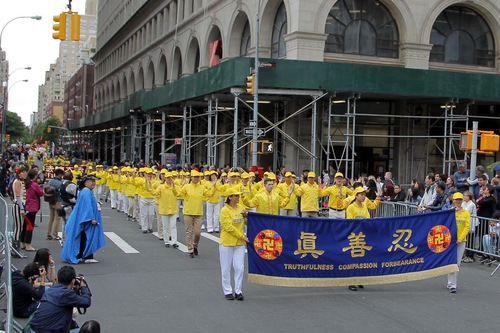 The slow, fluid exercise movements made an impression on many spectators.
The waist drum is unique to Chinese culture.
The Annual Dance Parade is the largest of its kind in northeastern U.S. and turned Broadway into a mobile stage. Thousands of performers demonstrated 80 unique styles of ethnic dances from southeastern Asia, Europe, and South America. The Falun Gong entry radiated energy and touched the spectators.
Mr. Gao, who took in the parade as a spectator, enjoyed the Waist Drum Team's choreography, "Especially the waist drums," he said. "They are unique to Chinese culture." Another Chinese person in the audience, Ms. Zhu Lin, said that New York City had truly given people of Chinese ethnicity a platform to demonstrate their authentic culture.
A spectator enchanted by the lotus flowers on the float said, "It's beautiful, very moving, quiet and compassionate."
Mr. Taki Fey shared that the Falun Gong entry made him realize that, "Culture isn't a war but a dance." "It's very warm, the energy, very powerful," added Mr. Taki's son Donovan.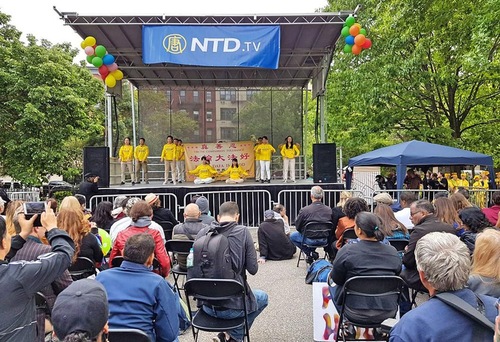 Falun Gong practitioners talk about the practice and demonstrate the five exercises onstage in Tompkins Square Park.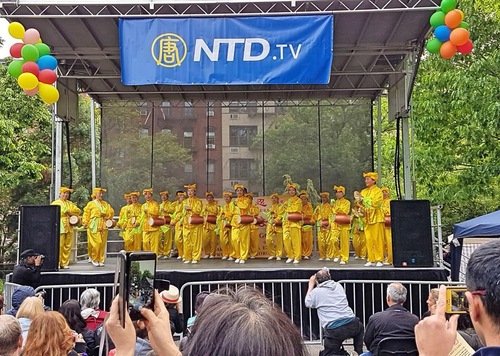 Playing the waist drums in a performance in Tompkins Square Park.
The parade wound through Astor Place Plaza as many New Yorkers sat in restaurants or outside on their porches watching the parade. Many took photos as the Falun Gong entry passed.
The parade ended at Tompkins Square Park, where the event organizers had set up five stages for free performances and dances. Falun Gong practitioners demonstrated the exercises and played the waist drums onstage. Many audience members followed along with the practitioners' movements to learn the exercises.