Finland: Practitioners Introduce Falun Dafa to the Community
May 23, 2017 | By practitioners in Finland
(Minghui.org) Falun Dafa practitioners around the world have held numerous events recently to celebrate World Falun Dafa Day and introduce the self-improvement system to the public. Events were held in Finland on May 6 and 20.
Falun Dafa Day Celebration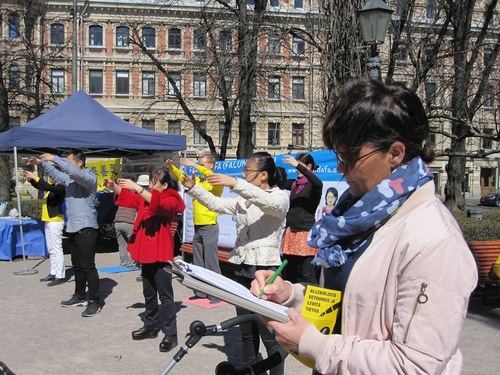 Doing the exercises together on May 6, 2017
Practitioners gathered in a park on May 6 to celebrate the 25th anniversary of Falun Dafa's public introduction. Several of them shared their experiences after everyone did the exercises together.
Wu Zhiping, who began to practice 21 years ago, said Falun Dafa made a big difference in his life. "At that time, I had hepatitis B, and I tried everything I could to find a cure, from doctors and medicines to physical exercises. But nothing worked." The situation left him worried and depressed. "To kill time, I often went to a nearby park to play chess. But in my heart, I only had bitterness and despair."
Learning Falun Dafa was a turning point for him. By reading Zhuan Falun, Wu learned to calm his mind and keep a positive attitude. "Not only did my health improve, I also found my life more productive," he explained.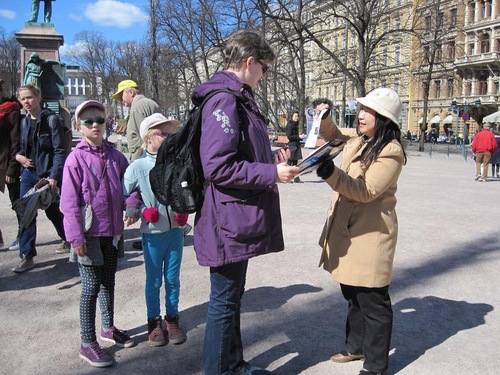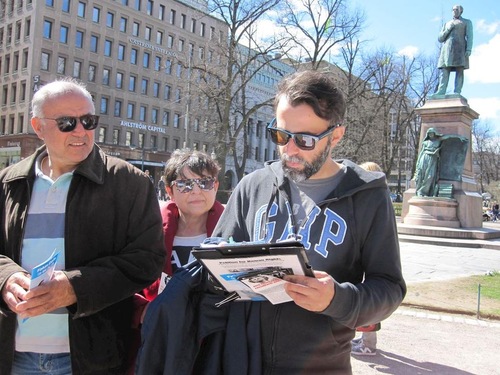 Pedestrians sign petitions of support after hearing about the suppression in China.
Ms. Tao, a young practitioner, said she felt the same way. After first hearing about Falun Dafa in 2013, she began to practice it in 2014. "It is very cold on winter days in Finland, and that was difficult for me," she recalled. "But the practice of Falun Dafa changed everything—I hardly got sick and was not afraid of the cold anymore." In addition, by following the principles of Truthfulness-Compassion-Forbearance, she became more open-minded and willing to help others.
Information Day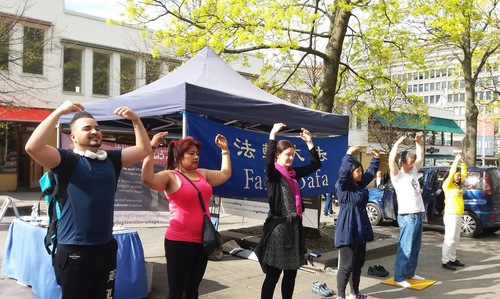 Passersby learn the exercises at an Information Day activity on May 20, 2017.
An Information Day took place on May 20 in Helsinki, the capital of Finland. Practitioners did the exercises together and put up posters so that pedestrians could learn about Falun Dafa.
Impressed by the meditation, Omar and his wife stopped by to learn more. They also did the second exercise and said they liked it very much. "I could feel strong energy," said Omar.
They signed the petition calling for an end to the persecution in China.
A lawyer who signed a petition said he was aware of the suppression in China. "If the basic freedom of belief cannot be protected [in China], that is really terrible," he commented.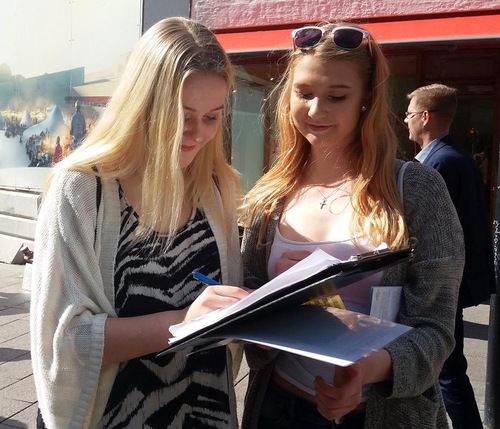 When people heard that Falun Dafa was being persecuted in China, many signed a petition calling for it to end.