Nine-Day Falun Dafa Instruction Session Held at Tianti Bookstore in Seoul, South Korea
May 20, 2017 | By a Falun Dafa practitioner
(Minghui.org) The Tianti Bookstore in Seoul holds Nine-Day Free instruction sessions every month. New practitioners who participated in the April session shared their experiences of practicing Falun Dafa.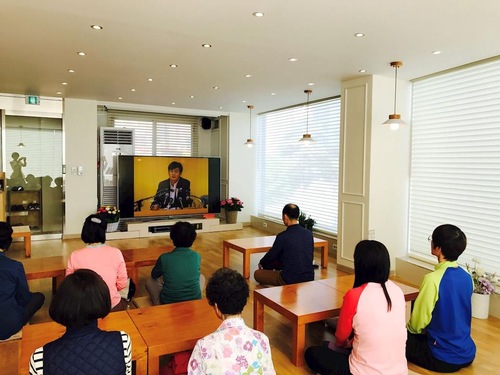 New learners watch the video of Master Li's lectures.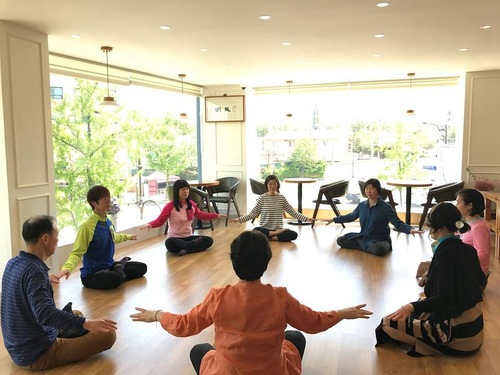 New practitioners practice the sitting meditation.
Mr. Zhao, who is in his 50s, learned about Falun Dafa online last summer. His health condition at the time was poor. He followed the exercise instruction video online and learned the exercises. He recovered from his illness after practicing.
His wife also watched the exercise-teaching video. But they felt they needed more, so they participated in the nine-day session. She said she became energized after practicing Falun Dafa. She said, "I would quarrel with others when facing conflicts before. I can easily compromise on those occasions now."
Ms. Park, in her 50s, said that she had tried many qigong schools, and recently started practicing. She felt that Falun Dafa was different from other schools, with free instruction, no registration, and no special requirements.
After she began practicing, she had some marvelous experiences. She said, "I could not rid of attachments before. Now I can. It's magic."
Ms. Zhang, in her 40s, said, "I found climbing stairs very easy after participating in the nine-day session. I also notice that I am kinder. I enlightened that Master's teaching is meaningful. That has inspired me to read the Dafa books every day."
She said she was eliminating her attachments and felt delighted. The biggest change she noticed was that she could talk with her children sincerely. She now thinks from the standpoint of her children, instead of forcing them to do what she thinks is right.
She said, "Recently my daughter felt my sincerity while chatting. We don't have any conflicts now."
The Tianti Bookstore is located at Itaewon Road, Yongsan-gu, Seoul, South Korea. The next nine-day session will be held on May 23-31, 2017.