Tainan, Taiwan: Falun Dafa Day Celebrated by Elected Officials and Everyday People
May 02, 2017 | By Minghui correspondents Sun Bai and Su Rong
(Minghui.org) The upcoming May 13th will mark the 25th anniversary of Falun Dafa being introduced to the public. Practitioners in Tainan recently held several activities to celebrating the special occasion of World Falun Dafa Day, including marches and rallies.
Marches on April 30 were held in several locations, including Dongning Park, Fort Provintia, and Tainan Railway Station. Many elected officials praised Falun Dafa during the rallies, and practitioners shared how they have benefited from the practice, both physically and spiritually.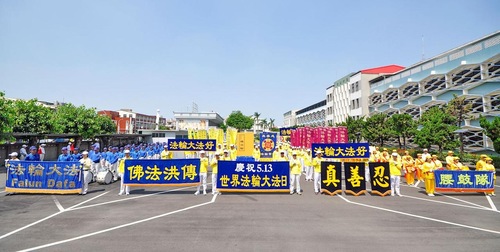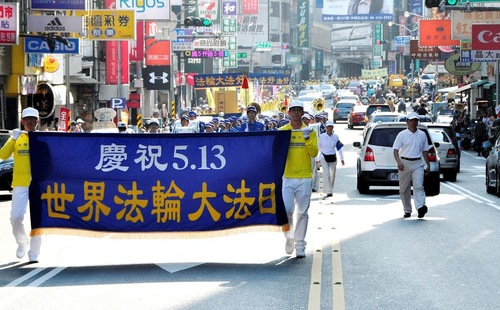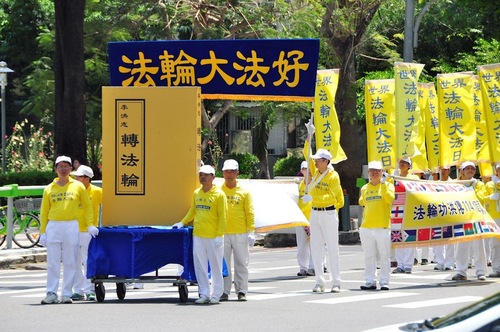 Marches by Falun Dafa practitioners on April 30, 2017.
Blessing to the Community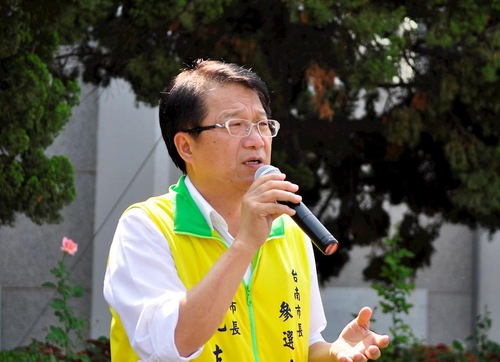 Former Tainan mayor Yan Chun-zuo said the activities held by Falun Dafa are important for the public.
Former Tainan mayor Yan Chun-zuo said that he heard about Falun Dafa more than ten years ago. He said, "I am a physician, and I am impressed that the practice has brought health to so many practitioners."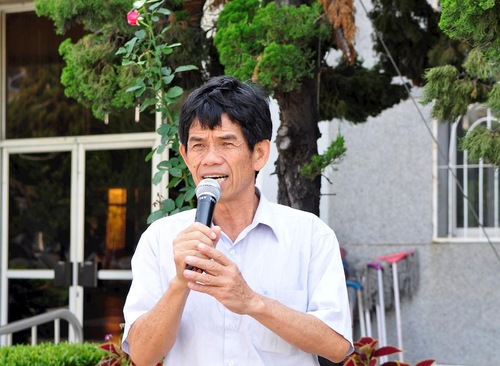 Tainan City Councilor Lee Wen-cheng said that Falun Dafa brings people hope.
Tainan City Councilor Lee Wen-cheng said that he especially liked the principles of Truthfulness-Compassion-Forbearance, which are cherished by practitioners. He said, "No matter who you are or where you are, you will always be blessed by them." He also thanked the Tian Guo Marching for bringing peace and energy to the community.
Taiwan Legislative Member Chen Ting-fei praised practitioners for their high caliber, saying, "Everyone has good manners, something I seldom see at other events around here. Very impressive."
Another Legislative member, Huang Wei-cher, knew about the suppression in mainland China. He said, "Falun Dafa is well received in Taiwan and other nations. Only the Chinese communists ban the practice and mistreat practitioners." He said that every government should condemn the Communist Party's brutality, and help end the atrocity.
Uplifting Moral Standard
Xiong Yu-xian, coordinator of the Taiwan District of Kiwanis International, has practiced Falun Dafa for 13 years. He said, "Through the years, Falun Dafa has changed me significantly. My stomach problems and insomnia disappeared, and I now have more energy for life and work." He said as he has applied the principles of Truthfulness-Compassion-Forbearance in daily life, his work performance has improved, and some coworkers have joined him in practicing Falun Dafa too.
Wei Min, who works at an IT firm, heard about the practice more than ten years ago, from his teacher. Although he liked the teachings, his busy schedule at graduate school and other life activities stopped him from continuing the practice. He later had an affair and his wife argued with him all the time, but nothing seemed to solve the problem. He then recalled the principles in Falun Dafa, that a person should not have extra-marital affairs, and suddenly knew what to do. He resumed practicing Falun Dafa. Recalling this detour in his life, Wei is very grateful to Mr. Li Hongzhi, the founder of Falun Dafa. He said in tears, "I am so thankful that Master did not abandon a person like me, and gave me another opportunity."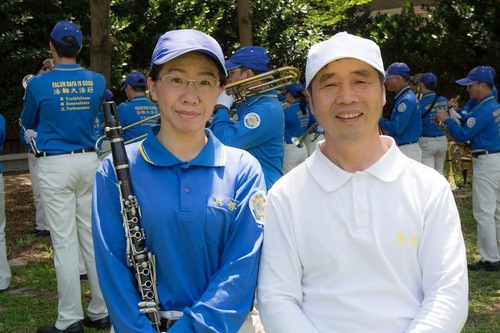 Shujuan and her husband have both benefited from Falun Dafa.
Shujuan works in news media, and many members of her family are practitioners. She said, "I had poor health since I was young, and things got worse after I got married and had two children." She said she visited the doctor almost every day, but nothing worked for her. She recalled, "One day in June 2000 when I was walking in a nearby park, someone introduced Falun Dafa to me." She began reading the book Zhuan Falun later that day, and went to learn the exercises the following morning. Her health has since improved dramatically, and her husband and two children have also become practitioners.
Seeing the marches by practitioners, passerby Tsai and his friend were impressed, "We did not know so many people practice Falun Dafa. Seems now we will need to try it, too."
Related article in Chinese:http://www.minghui.org/mh/articles/2017/5/1/法轮大法日-台湾府城学员感恩师父(图)-346504.html