Practitioners Share Takeaways from the 2017 New York Falun Dafa Experience Sharing Conference
May 17, 2017 | By Minghui correspondent Zhang Yun in New York
(Minghui.org) About 10,000 practitioners from 58 countries attended the 2017 New York Falun Dafa Experience Sharing Conference at Barclays Center in Brooklyn, New York on May 14. Mr. Li Hongzhi, the founder of Falun Dafa, came onstage at around 2:00 p.m. to deliver a lecture and answer questions for about two hours.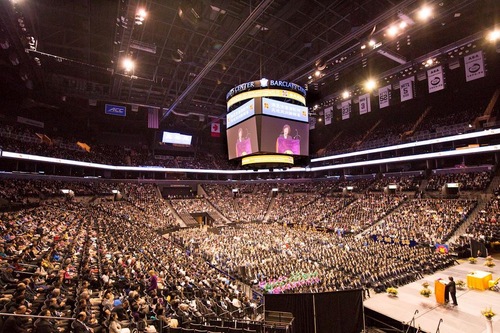 Practitioners of various ethnic groups and cultural backgrounds from 58 countries and regions attended the 2017 New York Falun Dafa Experience Sharing Conference at Barclays Center in Brooklyn, New York on May 14.
This was the 20th annual conference held in New York since 1997, when about 4,000 practitioners attended. Thirteen practitioners shared their experiences of applying the principles of Truthfulness-Compassion-Forbearance in their daily lives. They also discussed how to help more people learn about the practice and the persecution in China.
Afterwards, several practitioners shared their impressions of this year's conference.
Practitioner from Korea: Following Master's Teachings and Cherishing Oneself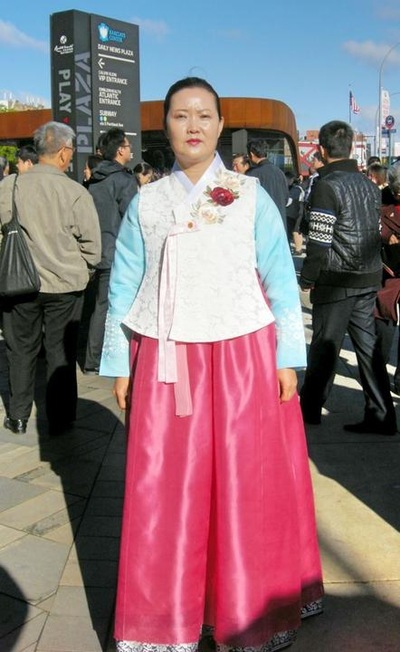 Ms. Kim, from Seoul, Korea.
Ms. Kim, manager of a real estate agency company in Korea, has been practicing Falun Gong since 1995. She shared, "Master changed me from a selfish person to one who is considerate of others. I use my personal experience to tell people about this ancient spiritual practice and have been able to eliminate misunderstandings about Falun Gong brought on by the Chinese Communist Party's (CCP) lies. Many of my friends and clients now hold a positive view of Falun Gong."
After listening to Master's lecture, Ms. Kim noted that Master mentioned that we can't talk at too high a level when talking to people about the practice. We should simply tell them the basic facts about Falun Gong, at a level that they can understand. Ms. Kim said she will follow Master's teachings in her future truth clarification efforts.
She also said that Master once again brought up the principle, "Cultivate as you did at the beginning, and you are sure to succeed!" ("Fa Teaching Given at the 2014 San Francisco Fa Conference")
Ms. Kim said that she has made up her mind to seize the time to cultivate herself well, and won't slack off with various excuses. She will follow Master's teachings, cherish herself and the path that she is walking, because Master has said that divine beings all cherish us.
Hong Kong Practitioner Expresses Thanks to Master for Protecting Practitioners When Going Through Ups and Downs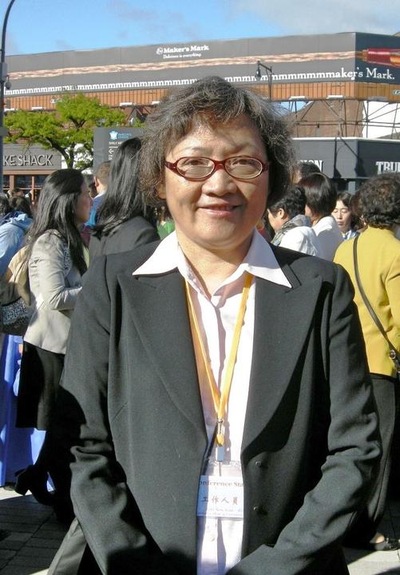 Ms. Liu Huiqing from Hong Kong.
Ms. Liu Huiqing is a teacher in Hong Kong. Her sister in Seattle mailed her a copy of Zhuan Falun in 1997, and once she began reading it, she could not put it down. She has cultivated diligently ever since then.
Ms. Liu worked as a security guard during the conference. After listening to Master's lecture, she said that Master said that he cherishes practitioners, and we fellow practitioners should also cherish each other. Whenever there are conflicts or friction between practitioners, we should not argue or fight but should cherish each other. Cherishing practitioners is cherishing ourselves, because Master said, during the question and answer section, that there are no enemies among us; we are all fellow practitioners.
Practitioner from Japan Deeply Feels the Huge Responsibility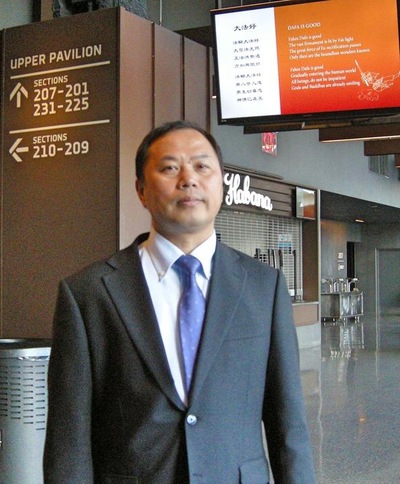 Mr. Bei Miaohua from Japan.
Mr. Bei Miaohua, a software engineer, has lived in Japan since 1999. After he began practicing Falun Gong in 1996 while still in China, he quit smoking and drinking and became considerate of others. His family witnessed his positive changes, and they too began to practice Falun Gong – including his wife, three children, and his mother.
Mr. Bei mentioned that what impressed him the most in Master's lecture was that Master said each Dafa disciple used to be a "king." He said he had heard that Master taught this Fa before, but he just took it as a story. This time, he felt that his responsibility is huge. Because he has been living in Japan for so many years, he believes that he might have karmic relationships with people in Japan. He now feels duty-bound to save them.
Young Practitioner: Thank You, Master, for Not Giving Up on Me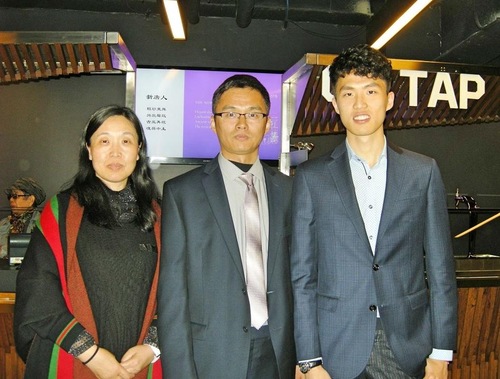 Mr. Zhao Tianzhang and his parents from Toronto.
Mr. Zhao Tianzhang, a 22-year-old from Toronto, began cultivating with his parents when he was young. He said that he benefited a lot from the conference because many of his doubts and questions were answered through the practitioners' experience sharing and Master's lecture.
Mr. Zhao noted that Master mentioned that today's society is filled with negative things, and many temptations may drag us down. He feels that this relates to him quite well. Many times he would find excuses not to cultivate seriously, for example, "I don't have time, I need to go to school, or I need to go to work ..." For a period of time, he was trapped in modern society's environment, and cultivated only halfheartedly. He seldom did the exercises or studied Master's teachings. One morning his cell phone suddenly played the exercise music automatically. He said, "I realized that Master hadn't given up on me, and was reminding me to do the exercises."
Mr. Zhao said that Master also said that the Fa is so immense, and one will change as long as one studies it. He said he will make sure to do the exercises and study the Fa earnestly, as well as be more involved in the group cultivation environment. A Fa-study and sharing group for young people in Toronto has recently been set up, and he plans on communicating more with the young people in this cultivation environment. He is also committed to doing the three things well and seizing the time to move forward diligently, so as to be worthy of Master's expectations.
Practitioner from Indonesia: Thank You, Master, for Changing My Fate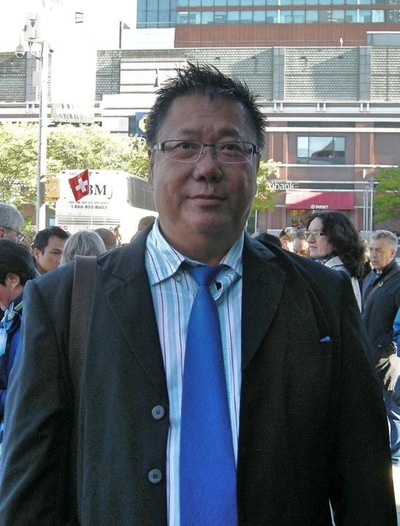 Mr. Tjhing, from Indonesia.
Mr. Tjhing, a manager at a plastic bag factory, has cultivated for seven years. He said he'd actually heard about Falun Gong from a friend 20 years ago, but he didn't start cultivating due to some negative propaganda about Falun Gong and also because he was busy with his business and with making money. Then seven years ago, his company was in debt for several hundred thousand dollars, and on the verge of collapsing.
Mr. Tjhing related that when his life was at the lowest point, his friend brought up Falun Gong once again, and this time he chose to cultivate without hesitation. He soon quit smoking, became more tolerant of his staff, and learned to be considerate of others. His business suddenly began to improve, and things kept getting better and better. He said, "I understand that Master gave me all this because I've changed for the better."
Mr. Tjhing said he regretted having delayed his cultivation practice for 13 years after listening to Master's lecture. He said he will seize the time to cultivate himself well. Master said that there is still an opportunity for those who haven't done well, and Mr. Tjhing will certainly cherish this opportunity.
After the Fa conference ended, many practitioners said that Master's lecture reminded them of the urgency of cultivating well and saving more people. They also saw where they fell short while listening to their fellow practitioners' experience sharing reports. Practitioners said that they will be quicker to let go of their human attachments, cooperate well with each other, and form an indestructible entity. They are determined to make a big step forward in their cultivation, fulfill their promises made long ago, and save sentient beings.