Falun Dafa Practitioners Grateful for Master's Compassionate Salvation
(Minghui.org) May 13th marks the 25th anniversary since Falun Dafa was introduced to the public. It is also the 18th World Falun Dafa Day and the 66th birthday of Mr. Li Hongzhi, the founder of Falun Dafa.
A large number of greetings have been received by Minghui to celebrate this special occasion and thank Master Li for the compassionate salvation. Below are some of the greetings recently received.
One family in Yichun City, Heilongjiang Province, wrote, "We are very fortunate to be Falun Dafa practitioners. As this special occasion, we want to do better in following the principles of Truthfulness-Compassion-Forbearance and cultivating genuinely. We hope to do well and return home with Master."
One group of practitioners in Zhaoyuan City wrote, "Five of us are elderly practitioners, from 68 to over 80. Despite our old age, we keep doing the three things and putting saving people as the highest priority. Regardless of the hot summer or the cold winter, we always go out to distribute materials and tell people about Falun Dafa."
Practitioners in Shiiazhuang City wrote,"Eighteen years of rain and wind,unable to change our determination of returning to the origin;Solid cultivation to uplift mind and body,returning Master's compassion and fulfilling our prehistoric vows."
The remaining greetings came from:Langzhong City, Sichuan ProvinceZhaoyuan City, Shandong ProvinceRizhao City, Shandong ProvinceMianyang City, Sichuan ProvinceAnhui ProvinceJilin ProvinceBeijing Shougang CorporationAnqing City, Anhui ProvinceChangping District, BeijingXinji City, Hebei ProvinceTaiyuan City, Shanxi ProvinceHaidian District, BeijingShijingshan District, BeijingYichun City, Hebei Province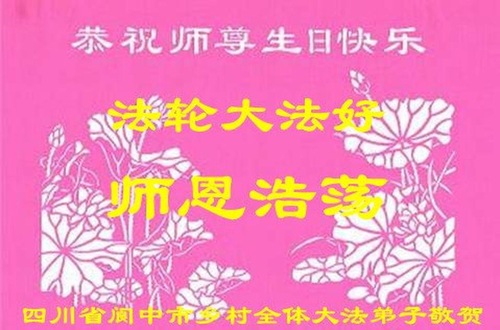 Greetings from Langzhong City, Sichuan Province: "Falun Dafa is good" and "Thank you, Master, for your compassion."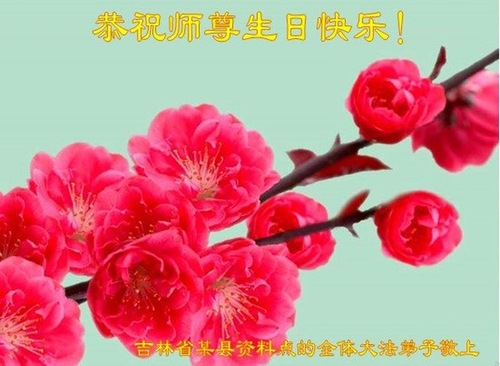 "We sincerely wish Master Li a happy birthday!" from Jilin Province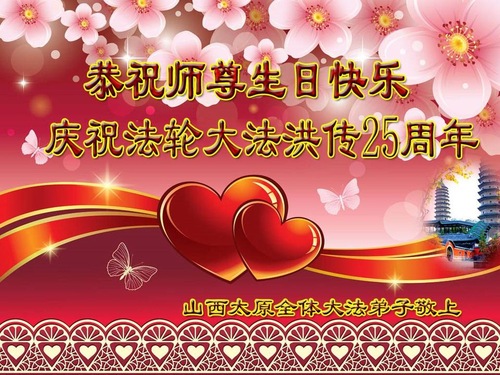 Greetings from Taiyuan City, Shanxi Province: "Celebrating the 25th anniversary of Falun Dafa's introduction to the public. Thank you, Master!"